This post may contain affiliate links, which means we may receive a commission if you purchase through our links. Please
read our full disclosure here
.
As many of you warned me in the beginning, the hardest part of my entire study abroad journey was definitely leaving London. However, now that my requisite moping days are done, there are many reasons I'm excited to be home! Therefore, for my absolute last and final Study Abroad Style Diary post, I wanted to celebrate all that has me excited to be back in the USA!
Look One: All American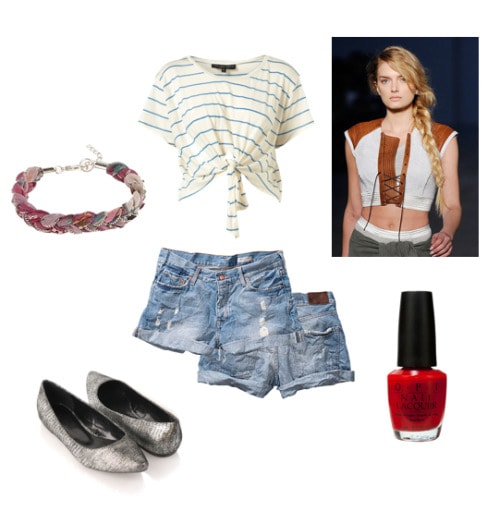 Product Information: Top: Topshop.com, Shorts: H&M.com, Bracelet: Urbanoutfitters.com, Flats: Forever21.com, Nail Polish: Nailpolishdiva.com, Look: Alexander Wang
Americana style is huge for this summer, which was exciting for me to see when I came back! Bits of American pride are everywhere in fashion, from Beyonce and Lady Gaga's flag-inspired attire in the controversial "Telephone" video to the sporty, fresh Alexander Wang looks that took the fashion world by storm this past season.
For this look, I wanted to go all-American without making an outfit that you could only wear on the Fourth of July. A tied, striped shirt is casual, cute and definitely a born-and-bred American look that isn't too obvious. Denim is of course a "must" for anything Americana, so rock a high-waisted, light wash pair of cutoffs with that top.
To give the outfit some polish, add accessories that pop, like bright red nails (who says nails can't be an accessory?) and silver flats. Then finish off the look with a braided bracelet, natural makeup and just-messy-enough hair in the style of that gorgeous Alexander Wang runway show for a look that is cool, causal and patriotic!
Look Two: New York, New York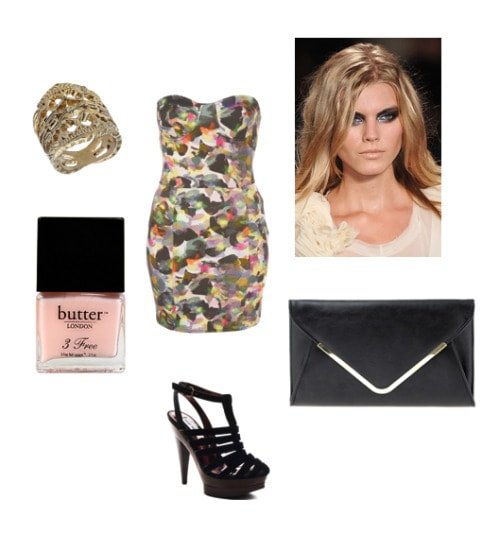 Product Information: Dress: Topshop.com, Ring: Topshop.com, Nail Polish: Harveynichols.com, Heels: Heels.com, Clutch: Asos.com, Look: Diane Von Furstenburg
I have to admit: as much fun as I had in Europe, I really missed my home base, New York! And as soon as I got back, I was excited to reach into my closet and pull out some of my favorite NYC looks.
However, I quickly realized that there was a slight issue with most of my New York attire–the majority of it is very dark! And now that summer is here, I wanted to brighten up my urban outfits with some color. If you're in a similar predicament and looking for a single piece to take your wardrobe into summer, I suggest going for a great floral dress–it'll open up a world of outfit possibilities and will pair well with your typical dark accessories.
Since one of my favorite parts of New York is its night life, I wanted to create a going out look that would be a summer alternative to the LBD. I love this floral, tie dye-style dress, which I dressed up with some black accessories, like strappy sandals and a simple clutch.
The bright dress allows you to do a deep, smokey eye (I particularly love this one from the DVF runway, as it has great metallic highlights in it) without worrying about your look appearing too goth. To counter the dark eye, I went for light, girly nails highlighted with a large, ornate ring.
Look Three: Summertime!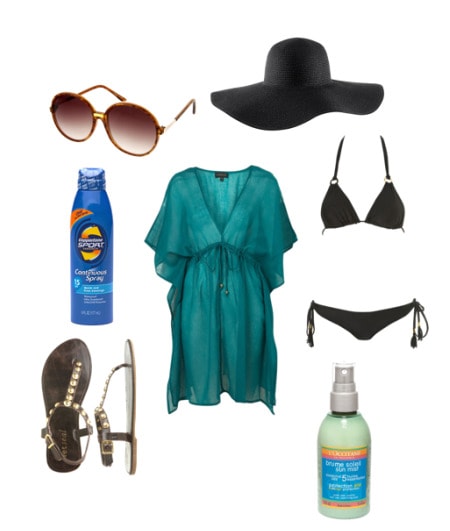 Product Information: Kaftan: Topshop.com, Sunglasses: Asos.com, Sunblock: Drugstore.com, Sandals: Wetseal.com, Hat: H&M.com, Bikini: Topshop.com, Hair Protectant: Usa.loccitane.com
Finally, I was obviously excited to come home to three gorgeous months of summer! The first thing on my mind as soon as I saw the lovely summer sun here was that I wanted to get my summer going with a trip to the beach.
A flattering bathing suit is a must for any college girl's summer wardrobe. I'm a big fan of solid, darker-colored suits, as they tend to flatter a variety of different shapes. This plain bikini manages to stay interesting with the addition of some adorable tassles and gold detailing! I wanted to highlight those two details, so I went for sandals that had similar studs and a bright blue kaftan that had studded ties on it as well.
I love the glamour of a kaftan with a big, floppy hat and oversized sunglasses (a look that combines the vintage glamour of Jackie O. with the bohemian-chic of Rachel Zoe), so I added those accessories into my look as well. The absolute most important accessory, though, is the one that will protect your body from the sun, so don't skimp on that sunscreen!
Also, as a girl who dyes her hair perhaps too often, I definitely advocate looking out for your locks in the summer with a protectant spray. Even if you don't dye your hair, the summer sun and salt water are extremely drying, so spray away before going out!
What Do You Think?
What's your favorite part of returning home for the summer? What looks are you going for this summer? What are your favorite summer products? Let us know in the comments!