With Fashion Weeks all over the globe coming to an end, there is plenty of Street Style inspiration to go around. Whether it's still cold and rainy, or the winter chill is starting to thaw, I've found some amazing looks from around the web you can wear in any weather, be it hot or cold. After all, weather shouldn't put a damper on your style choices!
Want to see the looks I came up with? Read on to see some inspired looks from some stylish folks around the globe!
Denim Doll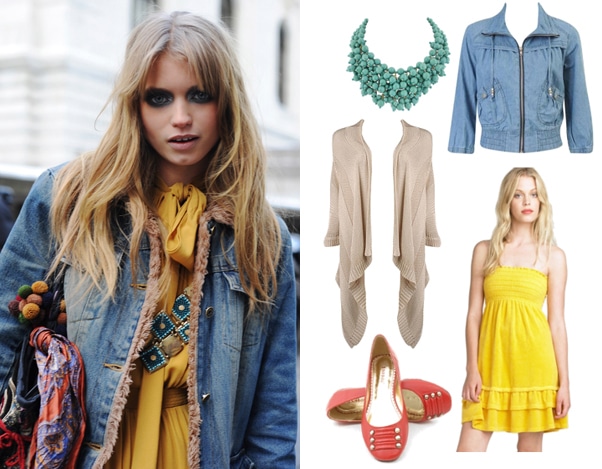 (Source: Hanneli| Necklace, Drape Cardigan, Denim Jacket, Dress, Shoes)
Model Abby Lee Kershaw certainly knows how to rock the boho-chic look. I love everything from her (hopefully faux) fur lined denim jacket to the statement necklace hanging around her neck.
To get a similar look, I first chose a cute tube dress in a bright yellow color. Simply grab a cardigan like the one I chose above, and then on top of that, layer on a denim jacket if you get the chills. Then find a necklace in a turquoise hue like the one I found above, slip on some ballet flats, like the red ones I chose, and you'll be looking stylish and ready for spring in no time!
Buttoned Up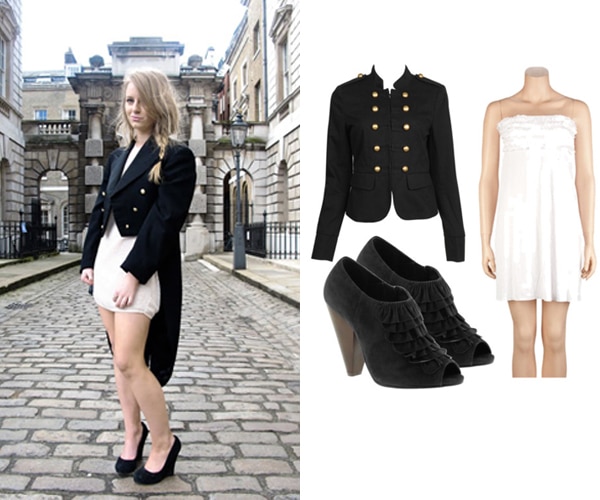 (Source: Facehunter| Jacket, Dress, Shoes)
This look is relatively simple, but somehow still manages to be incredibly chic. I love the long coat-tails on this girl's jacket and I honestly cannot get over how cute those wedge heels are; I wish I could find a pair like them!
For my inspired look I tried to stay in-step with the colors of this outfit. First, I chose a cute tube top with ruffle details. Then I found a tailored coat reminiscent of the Beatles Sgt. Pepper's look to layer on top. Finally, I found a pair of cute peep-toe ruffle heels. (Don't worry, the heels are not too high- that way you can still walk around campus!) Like I said, it's a simple yet chic look that you can wear to class or for a day in the city!
Floral Frenzy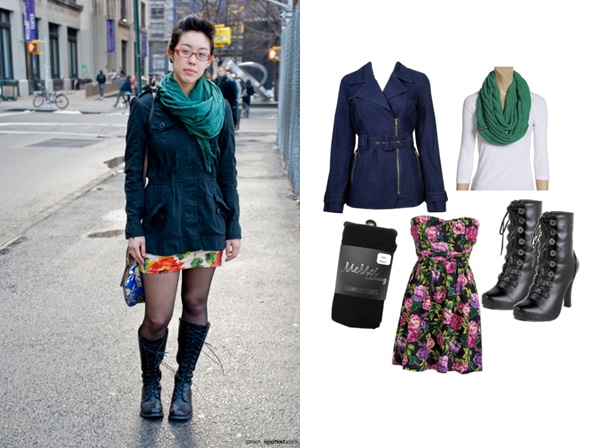 (Source: Street-Spotted| Jacket, Scarf, Tights, Dress, Shoes)
My, my, this look is an example of perfectly balanced color harmonies (please excuse my inner art-geek coming out). I love that stripe of color at the bottom of her dress, it's the perfect amount of peek-a-boo floral; meanwhile that scarf is a perfect complement to the jacket.
To create a similarly styled look, I first chose a cute floral dress. To dress it up, I chose a pair of heeled lace-up boots and a circle scarf in an emerald green. Finally to keep you warm, I chose a nice, simple blue coat and black tights. Not quite spring-appropriate, but certainly not overly wintery, this outfit is a perfect segway between seasons.
Cat Eyes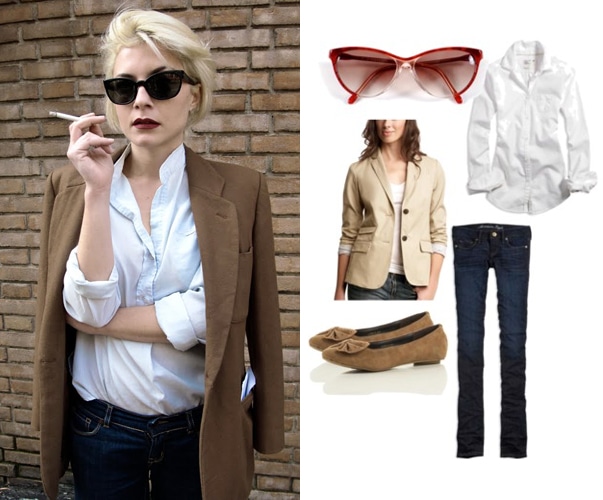 (Source: Facehunter| Sunglasses, Blazer, Button-Up, Flats, Jeans)
This girl sure has attitude, huh? I'm loving those cat eye 'stunna shades' and that baddass attitude; it totally gives her preppy outfit a rebel edge. Can't argue with that, can you?
To get a similar look, I first searched for a pair of Alexander Wang inspired Cat Eye Sunglasses– they totally set the mood for rock n' roll chic. Next, I chose an oxford shirt and a pair of denim skinny jeans. Throw on a beige-colored blazer and ballet flats, and you've got the look down- now all you need is that "I-Could-Care-Less" attitude (that can't be that hard, just pretend you're in your accounting class).
Tip of the Hat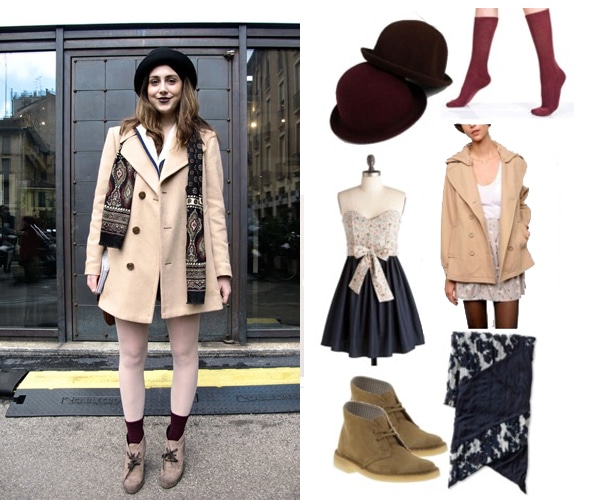 (Source: Facehunter| Hat, Coat, Dress, Shoes, Socks, Scarf)
While I searched for looks to post up for this week, I definitely noticed one trend- bowler hats are back in among the fashion elite. Whether or not I'll be sporting one is debatable, but nonetheless, this girl certainly pulls it off in a perfectly adorable manner. I love her coat and how she plays with shape and color in her outfit.
To get a similar look, I first chose a very cute coat in a beigey-brown. Then I found this lovely dress with floral prints on the top and denim on the bottom. Grab some colored socks like the magenta ones I found, stuff your feet into some desert boots, wrap a scarf around your neck, and you'll be good to go. All that's left is that intriguing bowler hat. Whether or not you wear it is up to you, but with or without it, you will look lovely (as I'm sure you always do).
Thoughts?
In the spirit of Fashion Week I tackled some more fashion-forward trends (bowlers, cat eye sunglasses, lace up & desert boots). What are your thoughts on these trends? Are you going to be wearing them anytime soon? Which look did you like the best? Did you like my inspired looks? Whatever your thoughts, let me know in the comments! I love your feedback!