From the costumes to the set, from the words of the script to the movements of the actors, everything on stage tells a story. Stage-Inspired Fashion explores ways to add a little dramatic flair to your style.
The original Broadway cast recording of Once is the perfect album to listen to on rainy fall days, and the costumes are the perfect inspiration for fall fashion.
Behind the Scenes
Once, with book by Enda Walsh and music by Glen Hansard and Markéta Irglová, is a stage adaptation of the 2007 movie. Set in Dublin, it follows the relationship between an unnamed guy and girl. Guy is a vacuum repairman and busker trying to get over a bad breakup; Girl is a Czech immigrant and pianist adjusting to life in a new country. They bond over their shared love of music.
The Broadway production immersed the audience in its world. The set was a bar that actually served the audience before the show and during intermission. All of the actors doubled as musicians; when their characters weren't in a particular scene, they still stayed onstage to play music. They had an incredible, joyous energy that emphasized the show's ideas about how music connects people. When people talk about "the magic of theatre," they often mean special effects, but the magic of Once was in its music.
I've created three outfits inspired by the characters of Once. Keep reading to see them all!
Girl
Are you really here? Or am I dreaming?
I can't tell dreams from truth.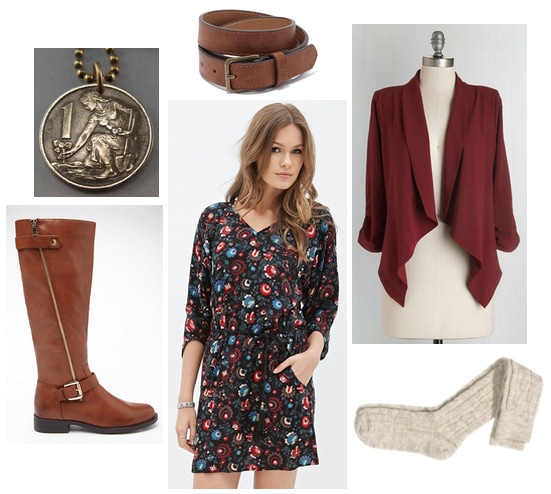 Products: Dress, Blazer, Socks, Boots, Belt, Necklace
Capture Girl's iconic look with a three-quarter sleeve dress with a floral pattern reminiscent of classic Eastern European textiles. Over it, add a maroon blazer and a thin brown belt. Keep your feet warm with knit knee socks and brown riding boots. Finish the look with a necklace made from a Czech coin that represents Girl's heritage.
Guy
Oh, broken hearted Hoover fixer sucker guy…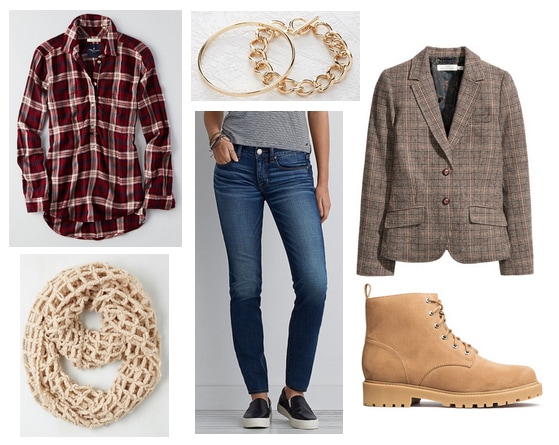 Products: Flannel, Blazer, Jeans, Scarf, Boots, Bracelets
Guy's outfit is inspired by his look on the album cover. Start with comfy jeans and a soft maroon flannel shirt and add a wool blazer (in case one kind of plaid isn't enough for you). Accessorize with an oatmeal-colored open knit scarf and a set of gold bracelets that reference the song "Gold." Finally, finish the look with sturdy tan work boots.
The Ensemble
Ej pada, pada rosicka!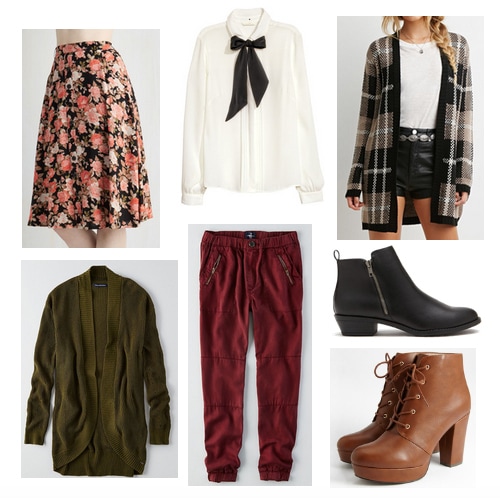 Products: Blouse, Skirt, Joggers, Green Sweater, Plaid Sweater, Platform Boots, Boots
The actors/musicians that make up the ensemble take on a variety of roles throughout the show. Their costumes are beautifully designed–they give each person a separate personality, but still look great together.
The ensemble costumes use lots of warm colors, plus some neutrals and pops of green. They also utilize layers, often in contrasting patterns. I've put together some pieces inspired by their costumes that can be mixed and matched–a white blouse with a bow, a patterned skirt, red joggers, a plaid sweater, a green sweater, brown platform boots, and black zipper boots. Be bold with your choices!
Epilogue
Once manages to be sweet and sad at the same time. Its beautiful, heartfelt music transforms a classic love story into something fresh and compelling. The idea of art bringing people together applies not only to music, but also to fashion. That's why we're all here on this website, isn't it?
Your Thoughts?
Have you seen a production of Once or heard the music? Do you have a really strong connection to music? Are there any plays or musicals you would love to see covered in this column? Let us know what you think in the comments below!