This post may contain affiliate links, which means we may receive a commission if you purchase through our links. Please
read our full disclosure here
.
From the costumes to the set, from the words of the script to the movements of the actors, everything on stage tells a story. Stage-Inspired Fashion explores ways to add a little dramatic flair to your style.
Last time, I covered the biggest show on Broadway. This time, we'll look at a tiny one.
Behind the Scenes
Important Hats of the Twentieth Century, written by Nick Jones of Orange is the New Black, is about rival fashion designers in 1937 New York: rising star Sam Greevy and his less-successful former classmate Paul Roms.
Roms gains the upper hand when he steals a time machine hat, which he uses to snatch clothes from a teenager's closet in the year 1998 and recreate them in 1937. Roms' time-traveling tears at the fabric of spacetime — but, more importantly, his unisex designs are unsightly. The play pokes fun at everything from the fashion industry to science fiction to '90s culture to the audience itself. It's unashamedly silly and self-aware.
Manhattan Theatre Company produced the premiere of the play this month. Although it recently closed, you can visit their website to see production photos and learn more about the play.
I've created outfits based on three of the main characters (there are over thirty characters total, played by nine actors). Keep reading to see them all!
Sam Greevy
You can't treat a woman like a potato, Paul. She needs to feel beautiful.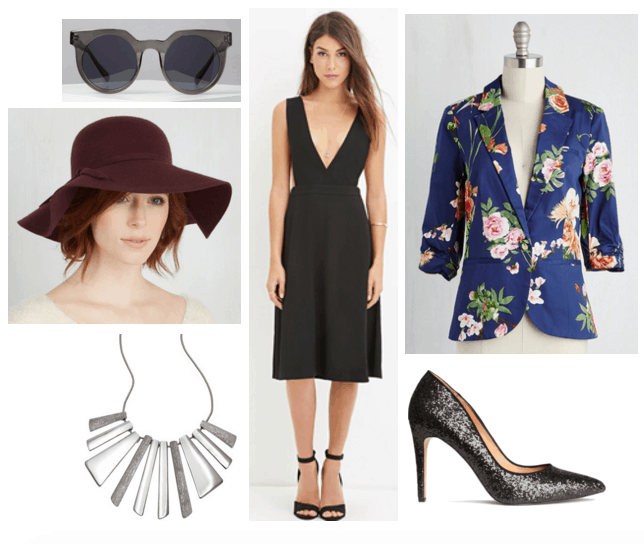 Products: Dress, Blazer, Heels, Necklace, Hat, Sunglasses
Sam Greevy believes he is the best designer because he knows women better; he makes clothes that make women feel beautiful.
Get Sam's classic aesthetic in a black midi dress, and channel his wild personality with a navy blue floral blazer and glittery black pumps. Add a futuristic necklace that echoes the towering metal hat Sam designs, and complement it with metallic sunglasses that echo Sam's round glasses. Finally, tie everything together with a very important wide-brimmed burgundy hat.
Paul Roms
These pants are beautiful for dramatizing the struggle of remaining clothed.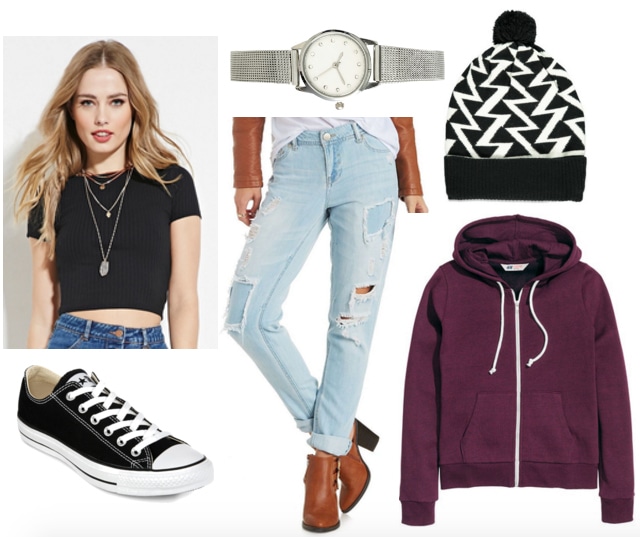 Products: Top, Jeans, Sweatshirt, Sneakers, Hat, Watch
Unlike Sam, who designs clothes for their beauty, Paul Roms designs "practical clothes for regular people." As the play goes on, Paul adds increasing amounts of 1990s pieces to his fashion collection and his own wardrobe.
Channel Paul with patched boyfriend jeans, a '90s-style ribbed crop top, and a comfortable plum-colored hoodie. To keep it casual, put on black Converse and a black and white patterned beanie. Finish the look with a silver watch that represents the time machine hat.
T.B. Doyle
That's the word on the street. A homeless man told me.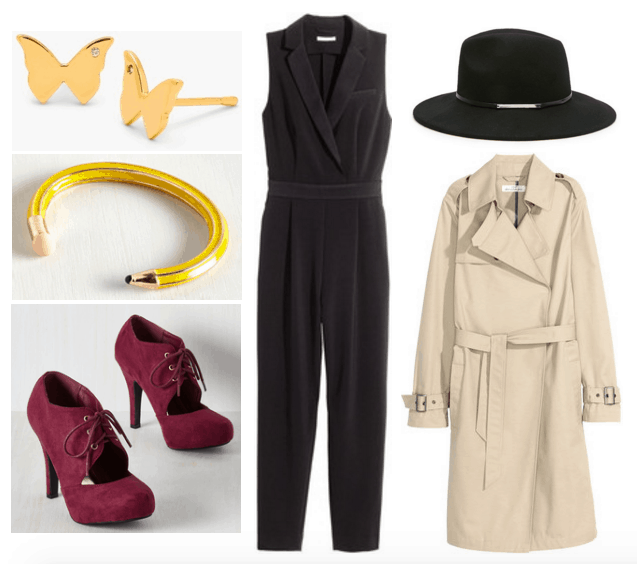 Products: Jumpsuit, Coat, Heels, Hat, Bracelet, Earrings
Ted, a famous fashion critic, reluctant beat reporter, and Sam's boyfriend, dresses like a film noir detective. Get his look with a black jumpsuit with the look of an actual suit, a belted tan trenchcoat, and a classy black fedora. Add a pop of color with cranberry heels, and accessorize with a fun pencil bracelet that represents his job as a journalist.
Finally, put on butterfly earrings that reference the other role of the actor playing Ted (and one of my favorite jokes of the evening): a butterfly, that may or may not travel through time.
Epilogue
Important Hats asks an important question: what are clothes for? Sam believes the answer is beauty; Paul believes the answer is practicality. In this column, we use fashion for self-expression and fun and as a means of paying tribute to art (such as this play) that we enjoy.
Your Thoughts?
What's your philosophy about the purpose of fashion? Did you get to see Important Hats at MTC? Let us know what you think in the comments below!