This post may contain affiliate links, which means we may receive a commission if you purchase through our links. Please
read our full disclosure here
.
From the costumes to the set, from the words of the script to the movements of the actors, everything on stage tells a story. Stage-Inspired Fashion explores ways to add a little dramatic flair to your style.
Hi there! My name is Kayla, and I'm a senior English major and history and musical theatre minor at Northeastern University. I enjoy reading, watching, and performing in plays and musicals, and I'm really excited to write the Stage-Inspired Fashion column.
I recently heard of Fun Home because of its sweep at the Tony Awards in June. After watching young star Sydney Lucas's captivating Tony performance, I had to find out more about the show.
Behind the Scenes
Jeanine Tesori and Lisa Kron adapted Fun Home from Alison Bechdel's graphic novel of the same name. Structured as a memory play, it follows Alison as she writes her memoir and looks back on her relationship with her deceased father.
Three actors play Alison at different points in her life: "Small Alison," age 8; "Medium Alison," age 19; and "Alison," age 43. The multiple actors allow the audience to enter Alison's mind, viewing memories that overlap and flow seamlessly together as she thinks of them.
The show raises many important questions about family and identity. Small Alison sees a butch delivery woman in a diner and experiences an intense moment of connection with her; Medium Alison has a sexual awakening at college and comes out to her parents. Alison struggles to understand her father's closeted homosexuality and violent suicide, and come to terms with parts of herself that are like parts of him.
Fun Home is a major achievement for women in theatre. It's the first Broadway musical to feature a lesbian protagonist, and its writers are the first female team to win the Tony Award for Best Original Score. The show also won Tonys for Best Musical, Best Book of a Musical, Best Direction of a Musical, and Best Leading Actor in a Musical.
I created a look inspired by each Alison, drawing inspiration from their songs and dialogue, as well as their costumes. Scroll down to see all three outfits.
Small Alison
I thought it was supposed to be wrong, but you seem okay with being strong.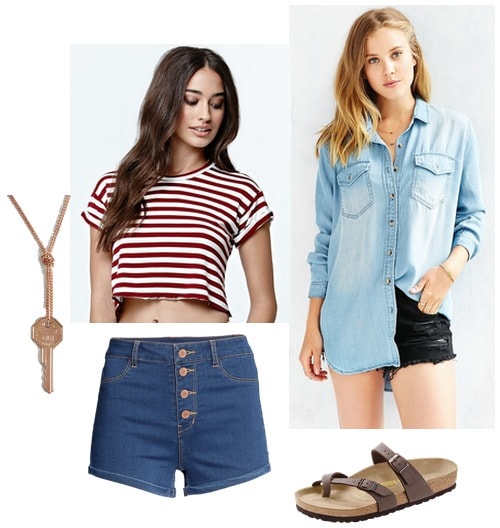 Striped Shirt, Denim Shirt, Shorts, Shoes, Necklace
Update Small Alison's look with a red-and-white striped crop top and high-waisted denim shorts. The light-wash denim shirt references Small Alison's beloved denim jacket, while the copper-colored key necklace connects to her song "Ring of Keys." The brown Birkenstock sandals add a modern touch and fit Small Alison's style motto: be comfortable.
Medium Alison
Am I falling into nothingness, or flying into something so sublime?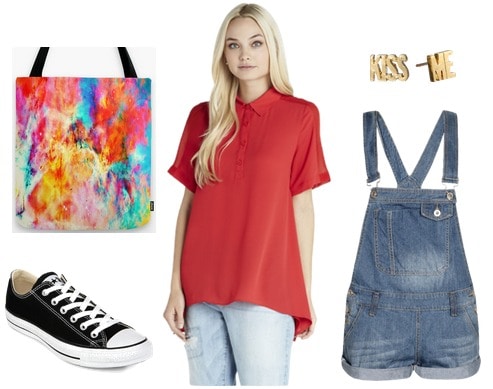 Shirt, Overalls, Shoes, Earrings, Bag
Get ready for summer classes with an outfit inspired by Medium Alison. Instead of a polo shirt and jeans, try this lighter collared shirt and short overalls. Accessorize with cute earrings that hint at Medium Alison's relationship with Joan, as well as classic black Converse. Carry your books to class in a bright galaxy-printed tote bag that references Medium Alison's art skills.
Alison
Caption: Every so often there was a rare moment of perfect balance when I soared above him.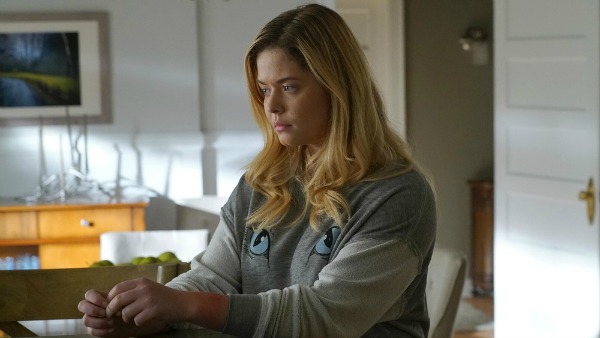 Shirt, Jeans, Shoes, Necklace, Sunglasses, Belt
Get Alison's look with a comfy maroon t-shirt and slightly distressed boyfriend jeans. Be ready for when inspiration strikes with a gold pen necklace that actually writes! Complete the outfit with a black belt, sleek black slip-on sneakers, and a pair of sunglasses that look like Alison's glasses.
Epilogue
Fun Home is a captivating new musical about family and identity that is inspiring in ways beyond fashion. Alison Bechdel's story contains beautiful moments of connection, and Jeanine Tesori and Lisa Kron's accomplishments provide hope that more women in theatre will be recognized for their outstanding work.
Your Thoughts?
Have you seen Fun Home or listened to the cast recording? Were you as blown away by Sydney Lucas's Tony performance as I was? Are there any plays or musicals that you would love to see covered in this column? Let us know what you think in the comments below!