From the costumes to the set, from the words of the script to the movements of the actors, everything on stage tells a story. Stage-Inspired Fashion explores ways to add a little dramatic flair to your style.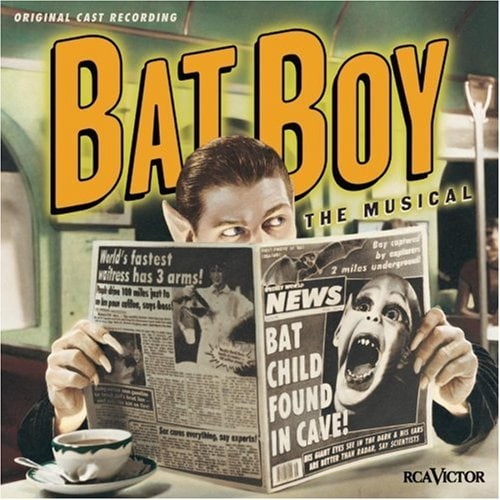 Bat Boy, a dark comedy/horror musical, isn't just a show; it's an experience. The rock score is catchy, the dialogue is hilarious, the characters are memorable, and the story is weird.
Behind the Scenes
Bat Boy, written by Keythe Farley and Brian Flemming with music and lyrics by Laurence O'Keefe, is based on a Weekly World News story about a half-human, half-bat creature called "Bat Boy." Set in the small town of Hope Falls, West Virginia, the musical follows the journey of the Bat Boy as he is captured, adopted, and renamed "Edgar" by the town vet and his family. Dr. Thomas Parker, his wife Meredith, and their teenage daughter Shelley do their best to integrate him into society, but the townspeople see him as a monster.
Bat Boy combines absurdity, camp, violence, and tragedy in an unsettling but entertaining way. But, as the opening song states, the audience is there "not to laugh, but to learn." The show speaks of the importance of compassion and acceptance, using its outlandish, exaggerated characters to send a message applicable to our actual lives.
I've created outfits based on the show's four main characters. That's right–four! Keep reading to see them all.
Edgar/Bat Boy
Let me walk among you. Let me show my face.
I could learn to live with you; I can earn my place.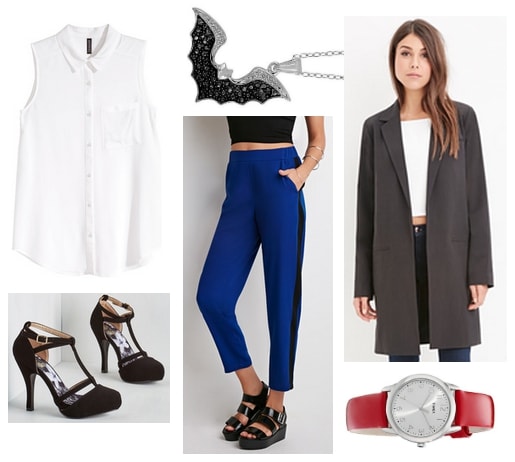 Products: Shirt, Pants, Coat, Shoes, Necklace, Watch
Throughout the first act, the Parker family educates Edgar. He progresses from communicating through grunts and squeaks to having an immense, complex vocabulary. His style also goes through a transformation; he starts out barely wearing clothes and acquires a stylish suit and top hat.
Update your nighttime look with royal blue tuxedo pants, a bright white blouse, and a long black blazer inspired by Edgar's classy new wardrobe. Add strappy black heels, a watch with a red leather strap, and a bat necklace that references his origins.
Dr. Parker
Meredith, I'm sorry. All of this is me.
I can't bear to look at him. You are all I see.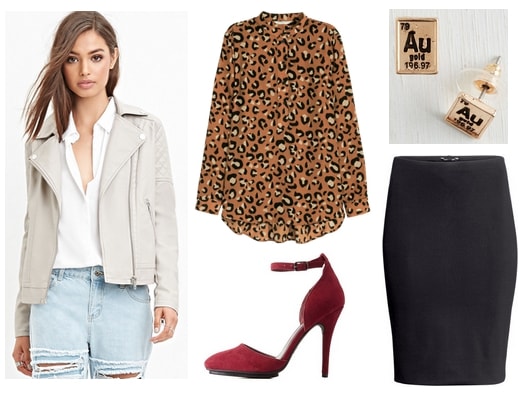 Products: Shirt, Skirt, Jacket, Shoes, Earrings
Dr. Parker is an ambitious, authoritative veterinarian. For a professional look based on his character, start with a cheetah print blouse that represents his job and a classic black pencil skirt. Replace his lab coat with an off-white leather jacket, and add a pop of contrasting color with red heels. Finally, accessorize with earrings featuring the atomic symbol for gold that reference Dr. Parker's love of scientific experiments.
Shelley & Meredith
Gonna get a homeowner's loan;
Gonna get an unlisted phone;
Gonna get away from this town gone insane!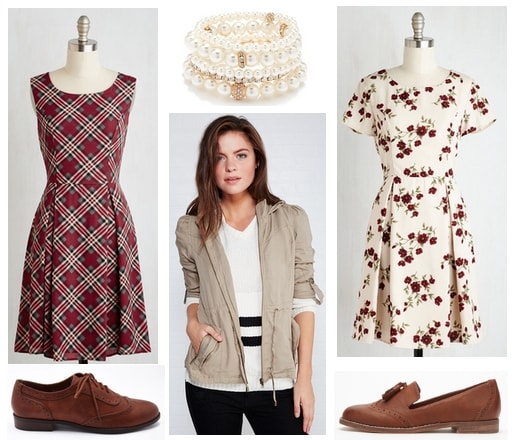 Products: Shelley's Dress, Shelley's Shoes, Meredith's Dress, Meredith's Shoes, Jacket, Bracelet
Shelley is often costumed like a schoolgirl in order to emphasize her immaturity, while Meredith is often costumed like a 1950s housewife in order to emphasize her motherliness. As Shelley grows up, she becomes more like her mother.
I picked dresses and shoes in similar colors to represent the similarities between the two characters: they are both unflinchingly stubborn, become more compassionate people, and maintain an optimistic opinion that everything will turn out okay. Add a tan utility jacket that represents the practical measures that Shelley and Meredith are prepared to take in "Three Bedroom House," and complete each look with a set of pearl bracelets.
The bursts of red in all of the outfits represent the violence throughout the show that affects all of the characters.
Epilogue
Bat Boy is a weird and fun and sad musical that explores what it means to be a family and what it means to be human. Fashion-wise, it teaches us to be bold; life-wise, it teaches us to be kind.
Your Thoughts?
Have you seen a production of Bat Boy or listened to the cast recording? Do you have a favorite dark comedy musical? Are there any plays or musicals you would love to see covered in this column? Let us know what you think in the comments below!