This post may contain affiliate links, which means we may receive a commission if you purchase through our links. Please
read our full disclosure here
.
As someone who has absolutely no sense of rhythm but is a writer, I consider the lyrics of a song to be just as important as the tune. I'm a sucker for a clever rhyme, and if said lyrics happen to involve a fashion reference? Even better.
In that spirit, I've recalled some of the great sartorial lyrics of recent years and styled outfits inspired by them. Wear them to class, for a night out, or to pen your next Billboard #1 hit.
1. Style
"I got that good girl faith and a tight little skirt" and "that red lip classic thing that you like" — Taylor Swift, Style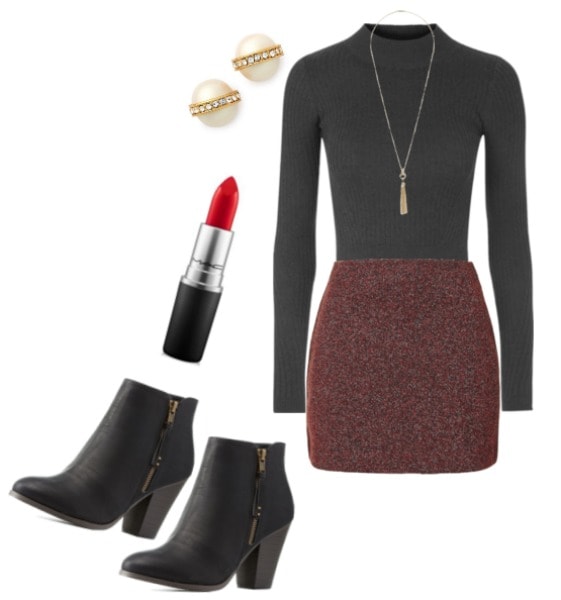 Products: Top, Skirt, Booties, Lipstick, Earrings, Necklace.
You knew this one was coming the second you clicked on this post.
Taylor Swift loves to sing about her red lipstick, and I don't blame her. A great red lip elevates any outfit, makes your eyes pop, and feels sexy and classic all at once. Plus, it adds unexpected polish to your tightest mini. Even if your destination is not a date with Harry Styles, this look will keep you feeling glam all day.
Hearing these lyrics makes me picture a very Swiftian outfit, like the one above. A sleek turtleneck is super modern, not grungy or granny, when worn with a body-con skirt, ankle booties, and minimal jewelry. Pair with some good girl faith, and it'll never go out of style.
La La Land
"Who says I can't wear my Converse with my dress? "–Demi Lovato, La La Land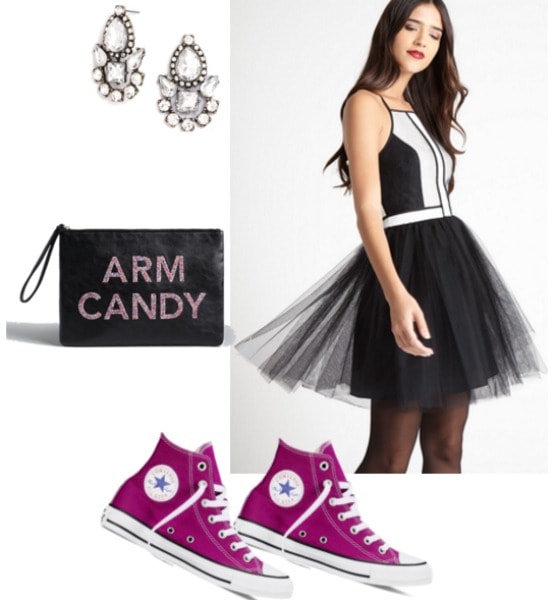 Products: Dress, Sneakers, Clutch, Earrings.
This song came out around my freshman year of high school, when the idea of pairing sneaks with a dress was trendy and revolutionary, not a well-instituted tradition of the stylish like it is now. (Remember Hailee Steinfeld rocking this look after her first Oscars?) Still, I love this outfit for taking a good-ol'-trip down memory lane to 2008, or just for keeping your feet comfy for a long night on the dance floor.
A flouncy tulle skirt has the coolest contrast with classic sneakers. High-tops keep the proportions a bit more balanced, while low-tops may cut off your leg in an awkward place. I love using the sneaks as a pop of color that's tied in with a trendy statement clutch.
Finally, I think an outfit like this demands a great piece of sparkly jewelry. But baby, that's just me.
Marry the Night
"I'm gonna lace up my boots, throw on some leather and cruise, down the street that I love, with my fishnet gloves" — Lady Gaga, Marry the Night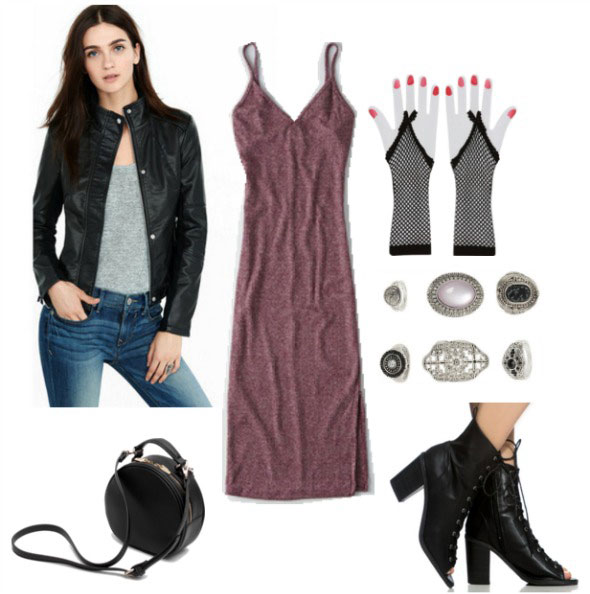 Products: Dress, Jacket, Booties, Bag, Gloves, Rings.
Lady Gaga is probably the queen of song lyrics about fashion. I mean, just listen to "The Fashion of his Love". But one the most vivid (and most wearable) outfit descriptions comes in her rocking tune "Marry the Night."
Imagine yourself strutting down the streets of NYC in a fantastic pleather (thanks, Lady G, but I prefer the animal-friendly option) jacket, body-con slip dress, and lace-up ankle booties. The look works just as well for a party on campus or a night out with friends.
I love the cheeky addition of fingerless gloves to an outfit. Lace or fishnet ones are a super cool contrast with a girly dress, or look awesome peeking out of a sexy layered look like this one. It's an easy way to add a touch of Gaga to your look without going too wild. To give this look even more edge, get creative with hair gel and try a sleek new style, add a smokey eye, or put on a single statement earring. Then, hit the town like the warrior queen you are.
What do you think?
What are your favorite songs or lyrics about fashion? Would you wear any of these looks? Or would you interpret these fashionable quotes differently? Let me know in the comments.