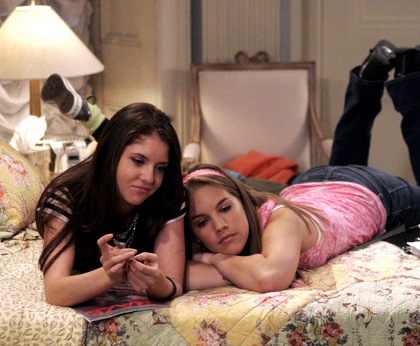 Photo Credit: ABC
Set on the Philadelphia Main Line in PA, One Life to Live has made a name for itself as the soap where cowboys rule the boardroom, Snoop Dogg frequents the local watering hole, and people are known for having multiple personalities. However, it's also making a name for itself with its down-to-earth, small town style.
Continuing our Soap Opera Style series (in case you missed it, check out our last series on General Hospital fashion), I'm going to break down the styles of four of the show's best dressed ladies, starting with this week's pick, Langston Wilde.
Who is Langston Wilde?
Known for her ever-changing hair color, Langston Wilde is far from being simply the girl next door. She's fiercely loyal, especially to best friend Starr, and she isn't afraid to stand up for what she believes in. After losing her parents in a tragic accident, this raven-haired beauty was taken in by Starr's aunt and gained a ton of support from her new family. She's been through her share of heartache from guys and judgmental peers, but she always knows Starr has her back. At the end of the day, guys may come and go, but best friends are forever.
Outfits Inspired by Langston
Here are the key looks to adding a little bit of Langston into your wardrobe:
High School Never Ends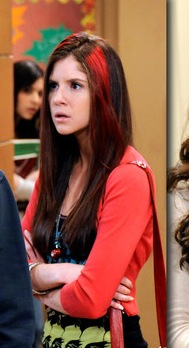 Photo Credit: ABC
From the moment she burst onto the scene, Langston has always marched to the beat of her own drummer. Her unwillingness to follow high school norms earned her the label of "Freak" in class. However, she refuses to let anyone get her down, and she carries herself with an unshakable confidence that is respected by adults and peers alike.
Incorporate Langston's funky style into your outfit rotation by starting with the perfect t-shirt. Look for one in a dark color with a fun design like the Emily the Strange one below. (If you want to make the look a little more mature, you could always go with a more plain top instead.) Pair it with some black skinny jeans and black Chuck Taylors. Add in some metal and leather accessories to really make the look pop. To get the full Langston effect, invest in a set of colored hair extensions. They come in a rainbow of colors, so you'll be able to change your hair color as often as Langston does.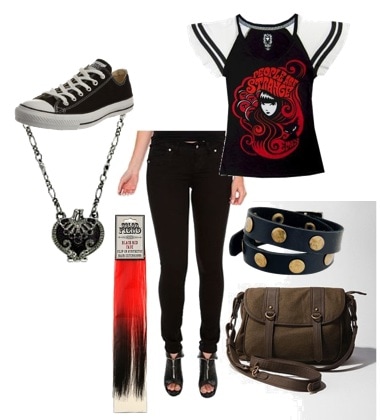 Shoes, Jeans, Shirt, Necklace, Bracelet, Bag, Extensions
Collegiate Chic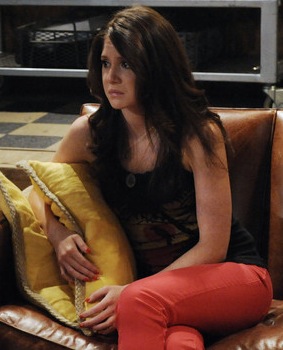 Photo Credit: ABC
Though she may have added more natural colors into her hair dye rotation, Langston has has refused to give up her edgy style now that she's in college. However, she's traded in her old t-shirts and sneakers for rockstar heels and funky tops and tanks. She's also developed a knack for finding just the right eye-catching pieces and combining them for a look that's all her own.
Get Langston's edgy, grown-up look by finding a great asymmetrical top like below or a vintage-style printed tank like Langston wears in the picture above. Next, it's all about skinny jeans – they've quickly become a Langston staple. Invest in a dark pair and a light, colorful pair – that way you can mix-and-match different jeans with different tops to prevent clashing. Complete your look with a pair of high-heeled combat boots and soften it up with a gothic cameo necklace.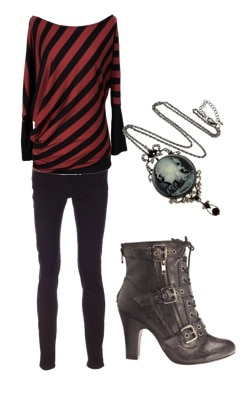 If I Were a Boy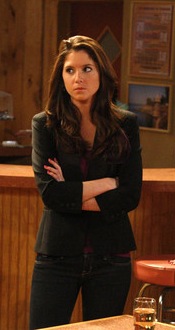 Photo Credit: ABC
Known as the show's resident tough chick, Langston far from being a girly girl. She'd much rather steal her boyfriend's jacket than wear the runway's latest trends. However, she sometimes has to tone down her look for family functions or class presentations. Through the years, she's learned how to pull together a polished look without compromising her own individual style.
Get Langston's boy-meets-girl look by pairing a great fitted blazer with a pair of skinny jeans in classic blue. Add in a pop of rock-and-roll with a funky band t-shirt to keep your look from becoming too serious. Tie it all together with a great pair of flat boots and a fun necklace.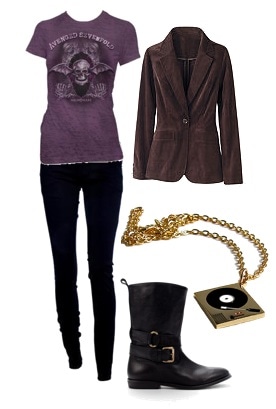 Shirt, Jeans, Jacket, Boots, Necklace
What do you think?
Do you like Langston's tough-girl style? Are you a fan of One Life to Live? What other Soap Opera characters would you like to see here? Let me know your thoughts with a comment.