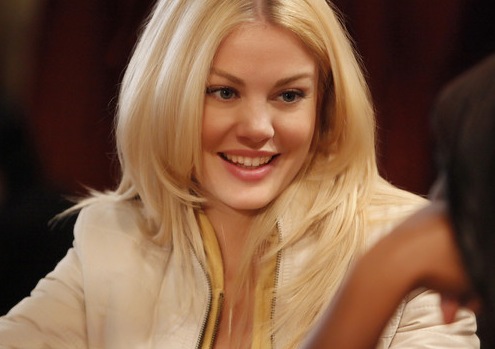 Photo Credit: ABC
Throughout my series on Soap Opera Fashion, I've mainly focused on the younger generation of One Life to Live with articles on the styles of Langston Wilde, Starr Manning and Dani Rayburn.
Today, we're going to give some attention to one of the show's veterans – the elegant Jessica Brennan.
Who is Jessica Brennan?
Known for her class, beauty, and ability to usually take the high road, Jessica Brennan may come from money, but her life has been anything but easy. From dealing with teen pregnancy to recovering from the deaths of her husband and unborn child, to being kidnapped and stalked several times, her life has been enough to make anyone go crazy … Oh yeah, she did go crazy. The years of turmoil led her to eventually split into three different personalities – sweet Jessica, uber-wild Tess, and stoic Bess. (Don't you love the soaps?) Her two alter-egos are anything but pleasant to deal with, but Jessica is working hard to stay in control. In short, Jessica's a whole lot of personality in one girl.
Outfits Inspired by Jessica
Here are a few key looks that will add a touch of Jessica's style to your wardrobe:
Uptown Girl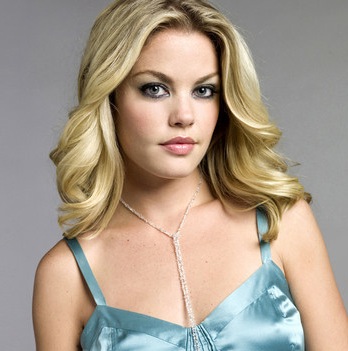 Photo Credit: ABC
Jessica may have a large bank account, but she's one of the most down-to-earth people you'll meet. A true girly-girl at heart, she loves pretty things. From her Victorian-inspired childhood bedroom to her love of feminine fashion today, she always puts together uptown outfits that reflect her sweet personality.
Perfect for a date or girl's night, Jessica's uptown look starts by pairing some dark jeans with a light-colored tank. Look for one with an embellished neckline that's fitted up top. When it comes to accessories, look for bright silver pieces that are dainty and feature girly elements like hearts and flowers. To fully achieve Jessica's upscale vibe, complete your outfit with a structured handbag and a classic pair of snakeskin pumps.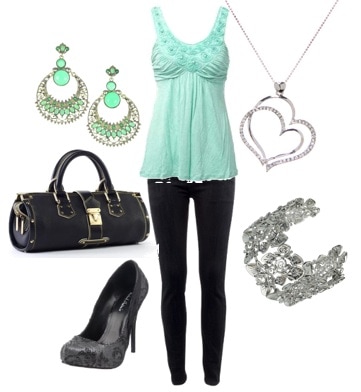 Shirt, Jeans, Shoes, Bag, Earrings, Necklace, Bracelet
Golden Goddess
Photo Credit: ABC
In this town, it seems like there is a wedding, a gala, or some sort of black-tie event going on almost every other week, and Jessica is always in attendance. As a direct representative of her upstanding family, she knows appearances are everything and the classier the look, the better. Taking a page from old Hollywood, Jessica loves to glam it up in classically fitted gowns and opulent accessories.
Use Jessica's golden-girl look as inspiration for your next big event. It all starts with finding the perfect gold dress. Look for one with a classic cut that flatters your curves and hugs your body, but keeps embellishments to a minimum. (This was the closest dress I could find to Jessica's, but a simpler gown would be better if you can find one!)
And don't be afraid of your dress looking too plain; this is where your accessories come into play. Sticking with the gold theme, look for opulent rings and cuffs adorned with lush gemstones. Add in long, Jessica-inspired pearl earrings and complete your outfit with an embellished clutch and gold heels.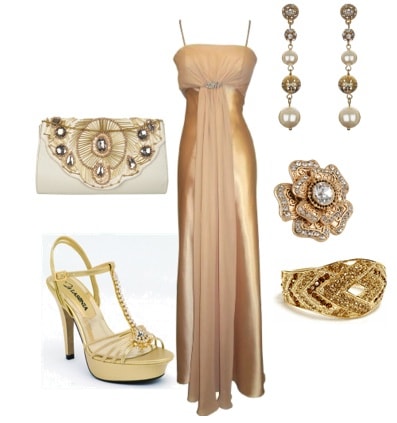 Dress, Shoes, Clutch, Earrings, Bracelet, Ring
Altered Appearances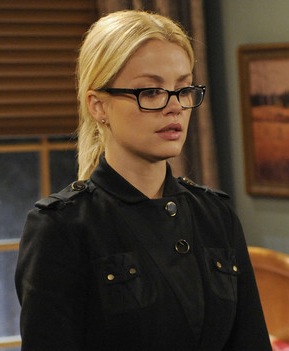 Photo Credit: ABC
While Jessica is in control most of the time, her alternate personalities Tess and Bess can sometimes find a way to take over and wreak havoc on her life. On the plus side, both alter-egos seemed to have inherited her eye for style. While I think Jessica may not feel some of Tess' more risque pieces fit her style, I have a feeling she might find the style of spectacle-lover Bess to be a little more up her alley.
Infuse a little Bess into your wardrobe by starting off with a simple, Jessica-inspired blouse. Look for one with girly embellishments or subtle pattern. Pair it with some flattering khaki or linen pants in a tan, brown or caramel color. Now, add the central Bess staple piece: the black trench. Complete your outfit with a large bag and a pair of structured heels. Want to pay homage to Bess' love of glasses? Don a pair of your favorite sunnies or non-prescription clear frames.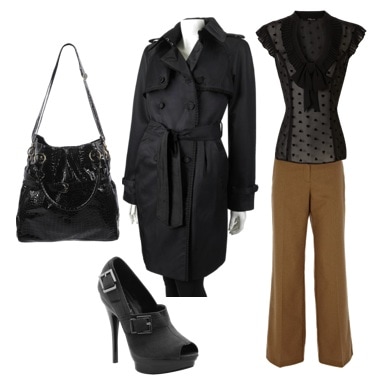 Jacket, Shirt, Pants, Shoes, Bag
Your thoughts?
What do you think of Jessica's style in comparison to those of her fellow characters on One Life to Live? Are there any other Soap Opera characters you'd like to see featured? Leave a comment!