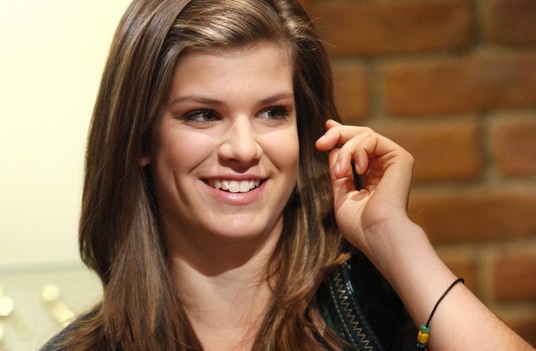 Photo Credit: ABC
So far in the One Life to Live series, we've looked at rebellious Langston Wilde and girly Starr Manning. This week, it's all about laid-back island girl Dani Rayburn.
Who is Dani Rayburn?
A child raised on the beach, Dani Rayburn grew up in Tahiti, spending her days surfing with the man she believed to be her father. However, she was shocked to learn her perfect life was a lie when it was revealed her dad wasn't really her dad. Then, to make matters worse, her mother was diagnosed with cancer. Thankfully, her mother survived, and Dani slowly started to develop a relationship with her biological father and siblings, which included Starr Manning. Stubborn and rebellious, Dani is a tough girl who isn't afraid of getting a little dirty.
Outfits Inspired by Dani
Add a little Dani into your wardrobe with these tips and sample outfits:
One of the Boys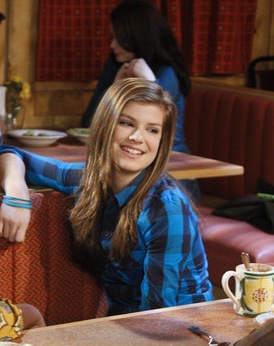 Photo Credit: ABC
Her big sister Starr might be a girly-girl, but Dani is just one of the guys. A tomboy through and through, she's much more comfortable in jeans and t-shirts than heels and frilly dress. From hanging out with her friends to escaping from boarding school, she's a laid-back lady who's down for anything.
A great look for class or a lazy weekend afternoon, Dani's tomboy-chic ensemble starts with a great pair of jeans and a plaid button-down shirt. The key to pulling off this look is to pick a color palette and stick with it. In a nod to Dani's passion for the ocean, I chose blue. Add in a pair of sneakers and Dani's signature rubber bracelets, and finish off the look with a beachy pukka shell necklace.
Shirt, Jeans, Sneakers, Necklace, Bracelets
Lovely and Layered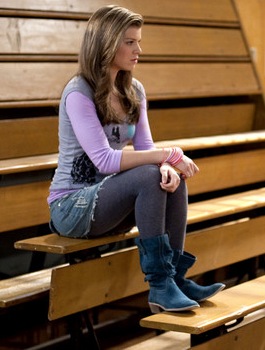 Photo Credit: ABC
Now that she's traded in year-round summer temperatures for the cooler weather of the northeastern US, Dani's had to tweak her entire wardrobe. Her solution? Add lots and lots of layers when the cold weather kicks in.
Take a cue from Dani and try out this layered look for class (if it's still cold where you are). Pair a distressed denim skirt with cute graphic tee – to truly capture Dani's essence, look for ocean-inspired designs. Add in a long-sleeved shirt and some leggings. (Use the color of your tee as a guide for choosing the colors of your layering elements.) Finish off your look with a funky bracelet set and a pair of Dani-inspired colored boots.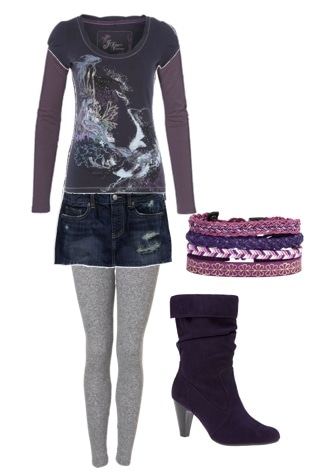 T-shirt, Long Sleeve Shirt, Skirt, Leggings, Boots, Bracelets
Surfer Girl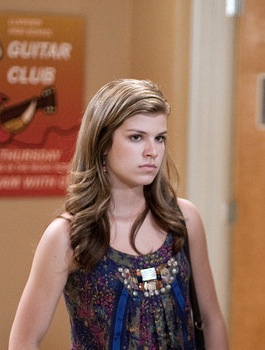 Photo Credit: ABC
Dani may live in Pennsylvania now, but her heart will always belong to Tahiti. This beachy beauty has a passion for surfing and loves to incorporate ocean-inspired pieces into her wardrobe. She's proof you can take the girl out of the island, but you can't take the island out of the girl.
Dani's ocean-inspired attire is perfect inspiration for your summer wardrobe. To capture Dani's island vibe, start with a flowy turquoise embellished tank and pair it with some distressed cutoff shorts. Add in a pair of flat embellished sandals. When it comes to accessories, stick with natural stones like turquoise to finish off your beachy look.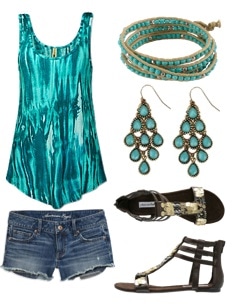 Top, Shorts, Sandals, Earrings, Bracelet
Your thoughts?
What do you think of Dani's style? Who is your favorite One Life to Live character? Any other soaps or soap characters you'd like to see featured next? Make sure to leave a comment.