This post may contain affiliate links, which means we may receive a commission if you purchase through our links. Please
read our full disclosure here
.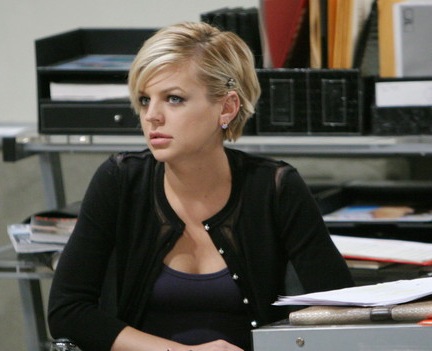 Photo Credit: ABC
Throughout our series on Soap Opera Style, we've looked at the styles of General Hospital's romantic Lulu Spencer, edgy Brook Lynn Ashton, and preppy Kristina Davis.
Now, we'll wrap it up with the show's glamor girl and resident fashionista, Maxie Jones.
Who is Maxie Jones?
If you looked up the word "tragedy" in the dictionary, you would find a picture of Maxie Jones next to the definition. From her heart transplant and her parents' abandonment as child to the deaths of her sister and two of her boyfriends, Maxie has learned time and time again what it means to be a survivor.
Now, with her hunky doctor boyfriend Matt and a cool job as a junior editor at a fashion magazine, everything is finally falling into place. Maxie has clawed her way to the top, and she'll do whatever it takes to stay there.
Outfits Inspired by Maxie
Here are three outfits to help you recreate Maxie's glamorous look yourself:
The It-Girl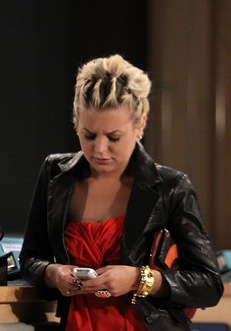 Photo Credit : ABC
Whether she's on a date or out with the girls, Maxie loves being in the spotlight. She turns every sidewalk into her own personal catwalk. With bold colors and eye-catching accessories, she dresses to turn heads and break some hearts.
It's easy to put together your own look-at-me ensemble a la Maxie for your next big night out. Start with an asymmetrical dress in a bold color like red or orange. Look for funky flourishes like ruffles or bows. Add a pair of sparkly heels for a touch of glitz and toss on a (real or faux) leather jacket to toughen up your look and ward off the night chill. Finish off your outfit with some chunky accessories, and you'll be ready to step out. No pictures, please!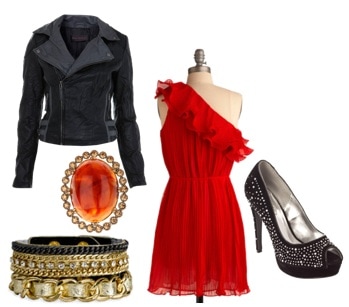 Jacket, Dress, Shoes, Ring, Bracelet
Glamor Girl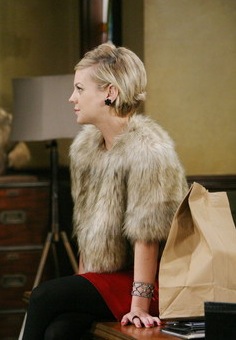 Photo Credit: ABC
She may be a modern girl, but Maxie still has a soft spot for the classic styles of old Hollywood. In one private eye-inspired fantasy scene, she donned the persona of an old-school detective's dame. With her classic bone structure and subtly seductive personality, she looked as if she had just stepped out of a black and white movie.
Capture Maxie's old Hollywood glamor look by starting with a strapless, embellished dress in a classic red shade. Keep the cut simple and form-fitting. Add a pair of black patent pumps and embellished tights for contrast. To really capture that old Hollywood vibe, slip into a cozy cropped faux fur jacket – a staple of sophisticated silver screen stars. Polish off your look with with a vintage-style bangle and a pair of black rose studs like the ones worn by Maxie on the show.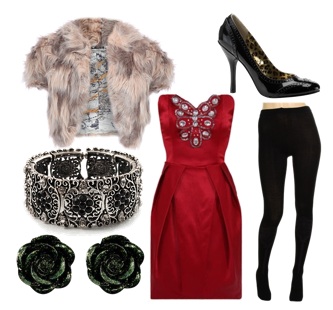 Jacket, Dress, Shoes, Tights, Bracelet, Earrings
Working Girl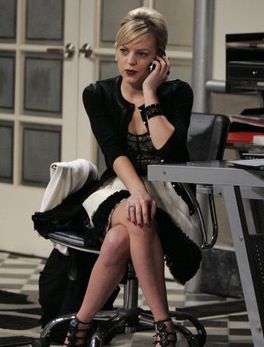 Photo Credit: ABC
Her work hours may be long, but Maxie wouldn't trade her job for anything. Her position in the fashion world requires her to stay up on all the latest trends and to look on-point at all times. With a penchant for dark colors and subtly trendy embellishments, she keeps her work look polished and chic.
Copy Maxie's stylish office attire by starting off with a classically-cut black dress with a unique touch like lace. To keep it professional, cover up with an embellished black sweater. Add a pair of embellished stilettos for fashionista flair. To really nail Maxie's look, stick with a theme for your embellishments, such as florals, as seen below. Complete your look with a floral bangle and pearl cluster earrings. You'll be perfectly polished just like Maxie!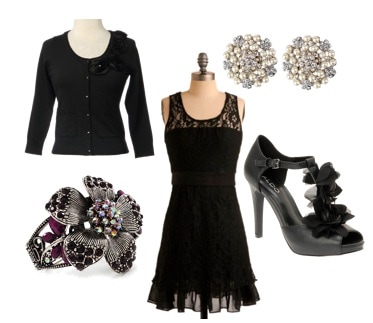 Sweater, Dress, Shoes, Bracelet, Earrings
What do you think?
Are you a fan of Maxie's style? Are there any other soap opera characters you'd like to see featured here in the future? Which outfit is your favorite? Leave a comment with your thoughts!