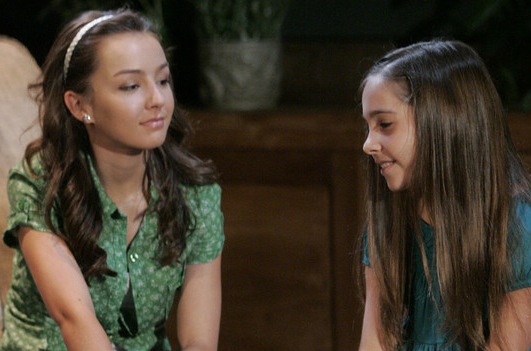 Photo Credit: ABC
In the past installments of our series on Soap Opera Style – General Hospital, we've broken down the looks of romantic Lulu Spencer and edgy Brook Lynn Ashton. This week, it's all about the preppy and lady-like style of mafia princess Kristina Davis.
Who is Kristina Davis?
Kristina Davis may only be a teen, but she's far from being a little girl. One part mafia princess, one part budding legal eagle, she's been torn between her father's criminal underworld and her mother's devotion to the law her whole life. This conflicting sense of right and wrong has led her down some dark paths, including an abusive relationship with her first boyfriend. Set on making a name for herself, Kristina is just trying to figure out who she is and what she wants out of life.
Outfits Inspired by Kristina
Here are the key looks you'll need to recreate Kristina's look:
Little Lady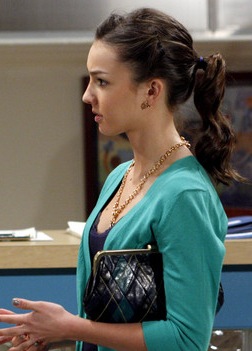 Photo Credit: ABC
She may be young, but Kristina already has her signature style down pat. Fittingly, her look straddles the line between grown woman and young girl: A girly-girl at heart, she loves taking dressy, feminine pieces and mixing them with bright colors and funky shapes.
To capture Kristina's ladylike look, combine a pair of your favorite jeans with a lace tank and a simple cardigan. Stick with brighter colors on top for a fresh, youthful vibe perfect for the spring season. Slip on a pair of black flats and grab a quilted black bag with a fun embellishment like a buckle or a bow for a hint of girly chic. Finish off your look with some chunky yet feminine jewelry.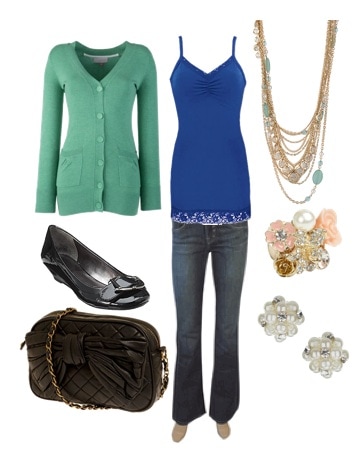 Cardigan, Tank, Jeans, Necklace, Shoes, Bag, Ring
Dinner Party Darling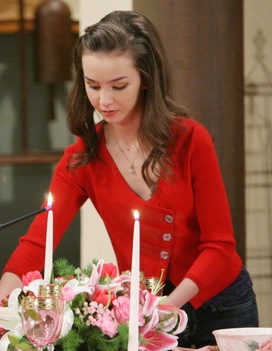 Photo Credit: ABC
Whether she's attending a family gathering or playing matchmaker for her mom, Kristina always looks pretty and put-together. She has a knack for choosing pieces that are both sophisticated and youthful in spirit. Taught from an early age the importance of a good first impression, she makes sure her look sets her apart from her father's dark reputation.
Perfect for meeting your boyfriend's parents or having dinner with your family, this look will help you channel Kristina's picture-perfect style vibe. Start off with a a pair of linen pants and a soft sweater. To make your look pop, seek out a sweater in an eye-catching color or unique cut, like this red wrap-style sweater. Add some two-tone heels and dainty pearl accessories for a look that is polished and sweet.
Necklace, Sweater, Earrings, Pants, Bracelets, Shoes
Island Getaway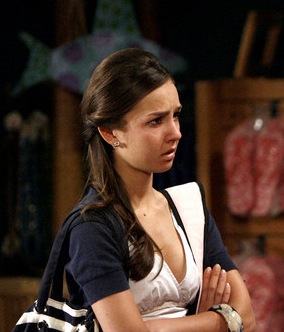 Photo Credit: ABC
Like most teenagers, Kristina loves the summer. However, she doesn't have to wait for the weather to warm up to hit the beach: Her dad has his own private beach-front property in the islands. Hey, being the daughter of a mob boss does have its perks.
Whether you're walking the boardwalk or lounging beside the pool, Kristina's island-inspired look (seen above) is perfect for any summer activity. Start off with a frilly white tank and a pair of denim shorts. Add in a navy blue short-sleeve cardigan and a pair of slip-on sneakers for a nautical feel. Finish off your look with simple accessories in ocean blues, and don't forget your canvas tote!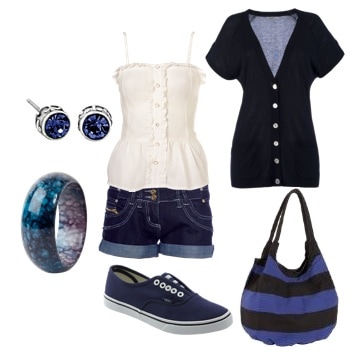 Earrings, Top, Bracelet, Shorts, Shoes, Sweater, Bag
What do you think?
Do you find Kristina's style inspiring? Which outfit do you like most? Let me know your thoughts by leaving a comment!