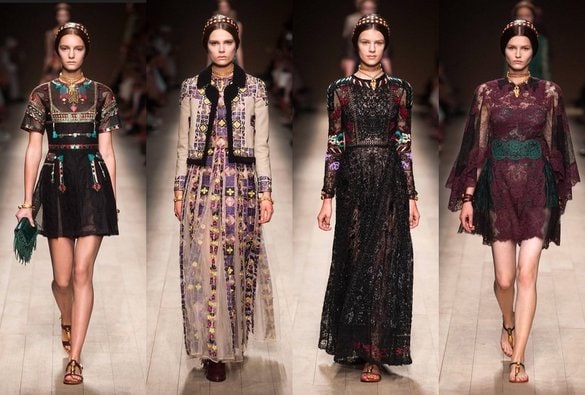 Valentino Spring 2014 RTW | ELLE
Valentino's Spring 2014 collection was, in my opinion, one of the most beautiful and balanced collections on the runway this season. There were gorgeous dresses in varying lengths, but there were also more casual looks, like jumpsuits, trousers, button-down blouses, and high-waisted shorts.
What tied all of these looks together was the incredible detail that went into the design and styling. From the chunky gold accessories and rich jewel tones to the embroidery and embellishment on the fabrics, the entire collection was so unique. It's easy to see why it got rave reviews!
In love with Valentino Spring 2014 RTW, but not with the prices? Keep scrolling for three budget-friendly outfits inspired by looks straight off Valentino's runway:
1. Wild Child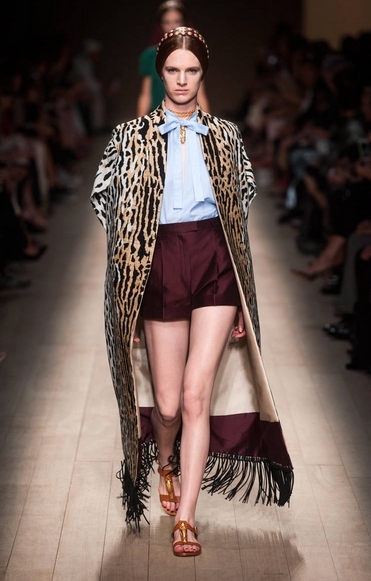 Photo: ELLE
This look is a perfect combination of street style details and luxury. Valentino mixed jewel-toned silks and a fab tiger print with a gold necklace, a fringe trim, and a cool headband to create chic outfit that's perfect for class, dinner with friends, or even a lax business casual setting.
Get the Look: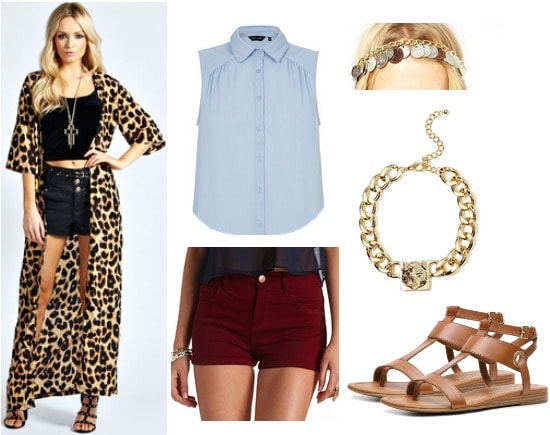 Product Info: Cardigan- Boohoo, Blouse- New Look, Shorts- Charlotte Russe, Shoes- DSW, Headband- ASOS, Necklace- Nasty Gal
Recreate this outfit by pairing a light blue button-down shirt with high-waisted shorts in a gorgeous wine color. Add a super-long cardigan in a bold animal print, as well as tan flat sandals. Don't forget to accessorize with a chunky gold necklace. To switch it up a bit, we finished up this ensemble with this boho-chic coin headband.
2. Chic Embroidery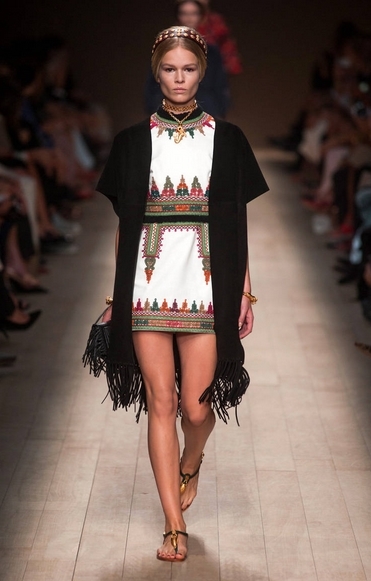 Photo: ELLE
The amazing detailing found throughout Valentino's spring collection is especially evident in this look. The colorful embroidery (Is it bohemian, folk,-inspired or both?) is a great contrast to the crisp white and black found throughout the rest of the outfit. The fringe adds a trendy and spring-ready aspect to an already cool outfit.
Get the Look: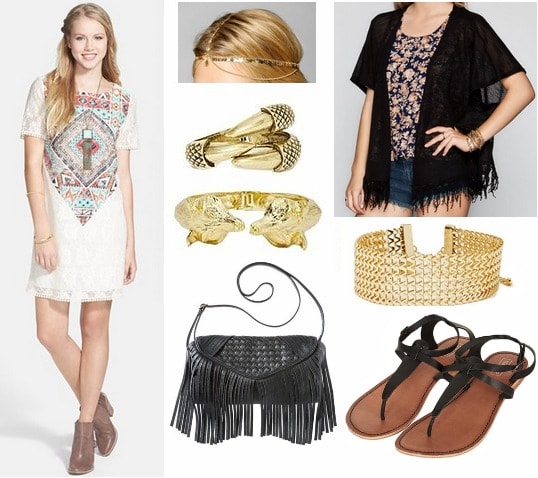 Product Info: Dress- Nordstrom, Cardigan- Tilly's, Shoes- Topshop, Bag- Target, Necklace- Nasty Gal, Fox Bracelet- Nasty Gal, Claw Cuff- Nasty Gal, Headband- Urban Outfitters
Get inspired with this chic embroidered shift dress from Nordstrom, then add a fringed kimono-inspired cardigan (which, by the way, is so in right now!). Accessorize with a gold choker and a couple of quirky, chunky cuffs. Grab some black sandals and continue the fringe detailing with a cute crossbody bag. Remember to complete the look with a metallic headband!
3. All About Accessories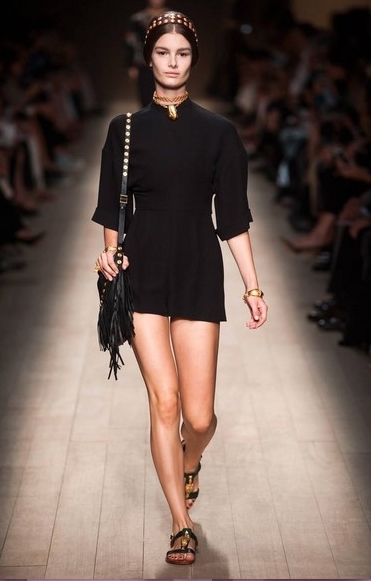 Photo: ELLE
The third and final outfit from the runway shows how accessories can elevate an otherwise no-frills look. The trendy chunky gold jewelry that is seen throughout the collection adds an elegant and luxurious feel to this ensemble, while the fringed handbag grounds the outfit. The look even has the continual gorgeous embellishments, only this time they're found in an otherwise casual sandal.
Get the Look: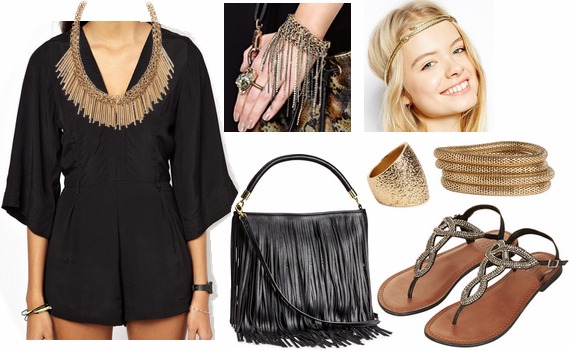 Product Info: Jumpsuit- ASOS, Bag- H&M, Shoes- Topshop, Ring- H&M, Bracelet Set- H&M, Fringe Bracelet- Nasty Gal, Necklace- H&M, Headband- ASOS
Start off with a black jumpsuit that has three-quarter length sleeves and build from there. Here, we added a fringe tote and black leather embellished sandals. Choose bold gold jewelry, like this four-stack bangle set and this fashion-forward, fringed bracelet. Continue piling on the gold with a statement necklace and a ring or two. We think this fab snake headband finishes off the outfit perfectly!
Your Thoughts?
What did you think of this collection? Are you feeling a bit inspired by these fab outfits from Valentino? Which look is your favorite and would you wear any of them? What designers do you want to see featured in upcoming weeks? Remember to let me know in the comments below!