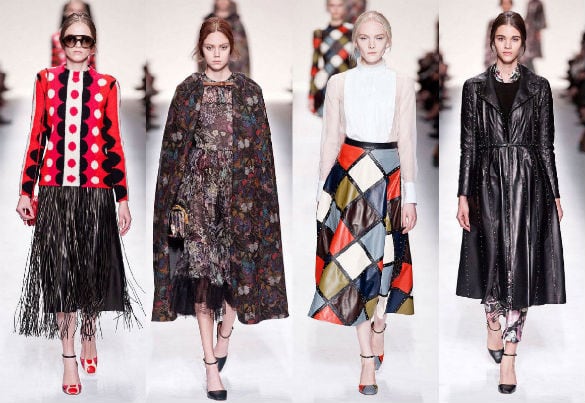 Valentino Fall 2014 RTW | ELLE
I feel like I have been writing this column long enough for you guys to try to guess my all-time favorite designer (hint: I refuse to be sick, I'm wearing it, for crying out loud!). Any guesses? If you haven't figured it out, it's Valentino and this designer's Fall 2014 RTW collection is gorgeous.
Though I may be biased, I honestly believe there is a little something for everyone in this collection, from capes and coats to trousers and skirts, plus the color palette incorporates both traditional spring colors (think bright pink) and the usual darker hues seen in fall clothing. The best part is that a major percentage of the looks can easily be recreated and dressed up or down!
Are you like me and can't actually wear Valentino, sick or not, since it's seriously out of budget? Keep reading for three wallet-friendly looks inspired by outfits straight from Valentino's fall runway:
1. Cozy in Leather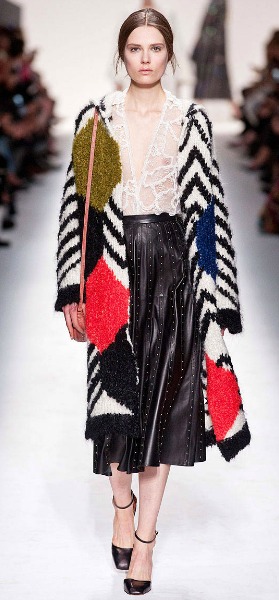 Photo: ELLE
When we think of a leather and lace combo, cozy is not the first word that comes to mind; sexy and modern, yes, but not cozy. However, this first getup is trendy enough to turn heads as you walk to class but still maintains warmth and comfort by pairing leather and lace with a fluffy coat/cardigan hybrid.
Get the Look: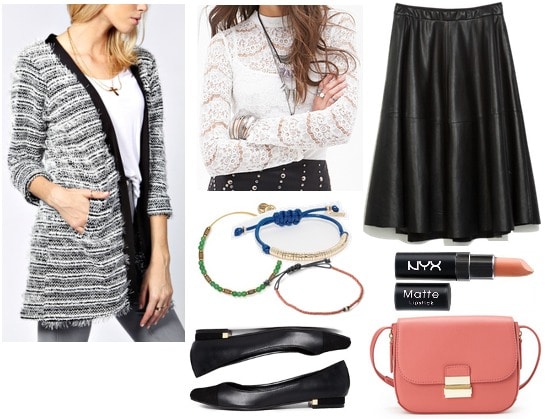 Product Info: Top- Forever 21, Skirt- Zara, Coatigan- Boohoo, Shoes- ASOS, Bag- Forever 21, Lipstick (in "Nude")- ULTA, Red Bracelet- PacSun, Blue Bracelet- ASOS, Green Bracelet- Bloomingdale's
To recreate this fab look, pair a modern midi-length faux leather skirt with a romantic lace top. Slip on a fluffy black-and-white knit "coatigan" and opt for a comfy pair of ballet flats instead of ankle-strap pumps. Accessorize with a pink bag and bracelets that match the pops of color in the original outfit. Finish with a bit of nude lipstick.
2. Pop of Red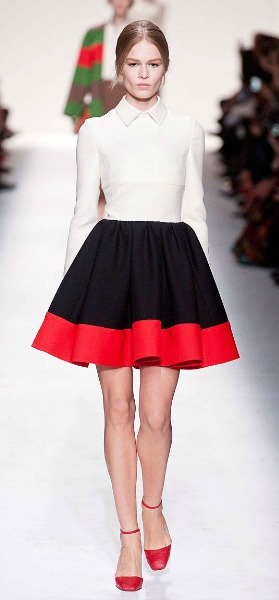 Photo: ELLE
Though the silhouette is a bit simple, this particular look is still memorable due to the bold colorblocking. By pairing the skirt with a collared white blouse and keeping the makeup and hair to a minimum, the skirt becomes the super-stylish focus of the outfit.
Get the Look: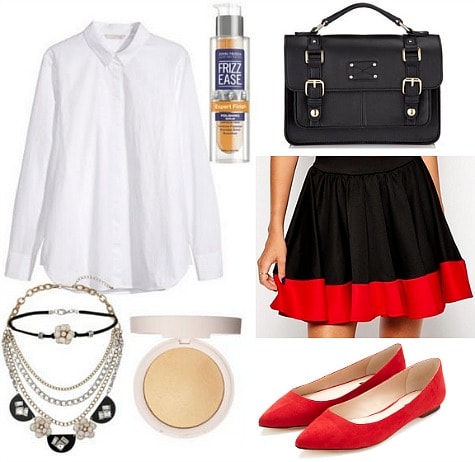 Product Info: Top- H&M, Skirt- ASOS, Shoes- Forever 21, Bag- Accessorize, Hair Product- Target, Highlighter (in "Sunbeam")- Topshop, Necklace- Topshop
This ASOS skirt is practically a dupe for the Valentino one, both in color and fullness! Style it with a crisp collared top and red suede flats. Carry a faux leather bag to not only create some variety in fabric choices, but to make this outfit internship-ready. Use a smoothing product and some highlighting powder to get the model's beauty look. If you happen to feel the need to accessorize, choose a feminine statement necklace.
3. Fall Florals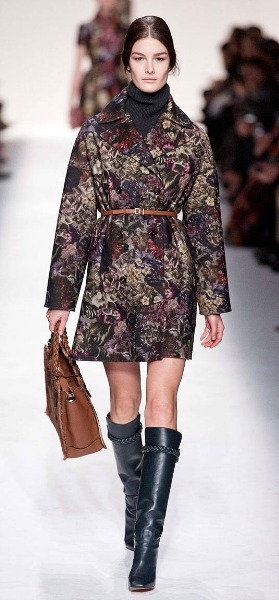 Photo: ELLE
As a Southern Californian, I have serious coat envy throughout fall and into winter and this Valentino coat did nothing to appease it. My personal favorite of the three looks, this outfit takes a print usually associated with spring and makes it fall-worthy by applying it to a cold-weather staple. Plus, who wouldn't want to pair that coat with those beautiful boots on a chilly day?
Get the Look: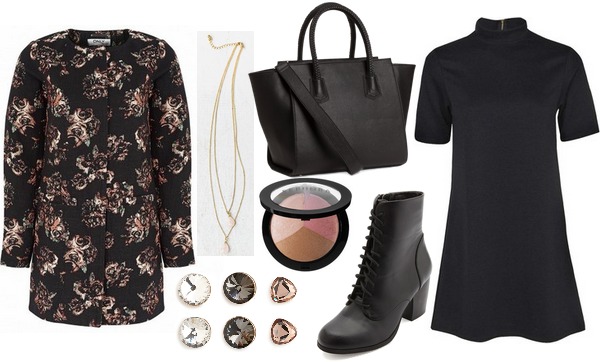 Product Info: Dress- Boohoo, Coat- Atterley Road, Shoes- Charlotte Russe, Bag- H&M, Sculpting Trio (in "Sweet")- Sephora, Earring Set- Forever 21, Necklace- Urban Outfitters
For this look, start with a black turtleneck dress, then amp up that LBD with a stunning dark floral coat. Choose edgy, lace-up boots to contrast dainty jewelry, such as this earring set and stone-pendant layered necklace. To finish, add a bit of warmth to your face with a bronzer-highlighter-blush trio and opt for a handbag with braided details á la the original bag.
Your Thoughts?
What did you think of this collection? Is Valentino inspiring your fall wardrobe? Which of these looks is your favorite? Would you wear any of them? Remember to let me know your thoughts in the comments below, along with any designers you'd like to see in upcoming posts!