Right now, I'm mentally preparing myself for the transition from summer to fall. I'm physically preparing, too, since it's time to switch up my wardrobe. Summer is my favorite season, so it's a little difficult, but the runway looks from Topshop Unique's Spring 2015 collection are telling me my summer pieces don't have to go straight to the back of my closet.
This effortlessly chic collection makes it easy for your summer pieces to work for the autumn breeze. The Topshop runway is filled with floral prints, stripes, killer heels, and red lippies because it's all about bold fashion this fall.
And don't forget about all the patriotic pieces– your reds, whites, and blues– you pulled out for summer barbecues. Take them into fall by using these Topshop runway looks as inspiration.
Are you in love with this Topshop Unique collection as much as we are, but you don't want to commit to the hefty price tag? Keep reading for three budget-friendly looks inspired by outfits straight off the runway:
1. Yankee Doodle
Once daylight saving time comes around, brighten up the sidewalk with bold pops of red. A structured red moto jacket is paired with a summery striped top and dark, skinny pants for an edgy yet chic ensemble. This runway look is topped off with a pair of killer lace-up heels.
Get the Look: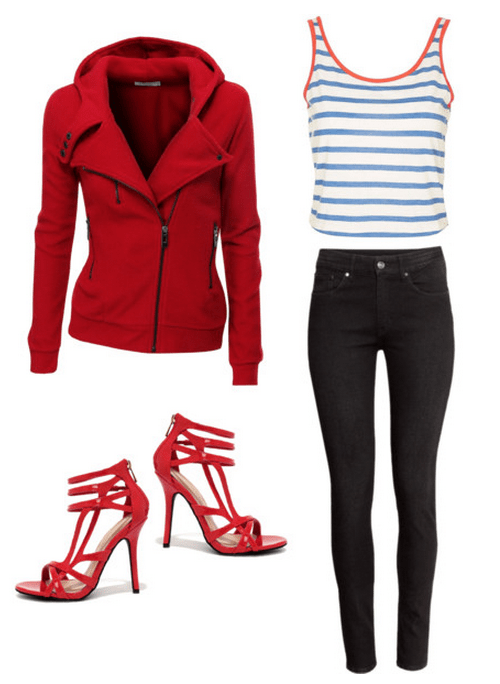 Products: Jacket, Heels, Top, Jeans
Recreate this runway look by grabbing a red, white, and blue tank top with a cropped silhouette. Pull on a red fleece zip-up and slip into a pair of dark-wash skinny jeans. For an additional pop of color, opt for red hot patent leather caged heels.
2. Blue Shores
This cool, beachy look is perfect for autumn. Although you can't go to the beach as often as you'd like, this outfit keeps the summer spirit going with a crop top, mini-skirt, and mesh jacket. The sea blue accents and hints of red add flair to this beach chic look.
Get the Look: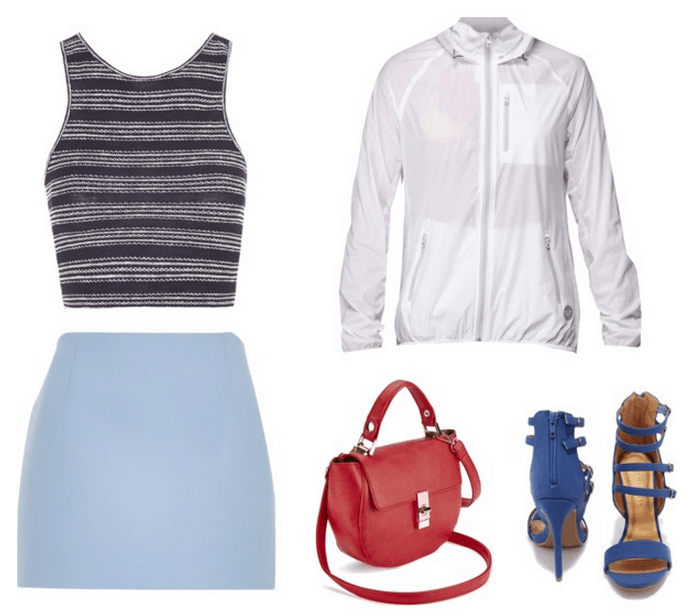 Products: Top, Skirt, Jacket, Bag, Heels
Pair a blue mesh mini-skirt with a striped jersey crop top for a sporty feel. To let people know you're not simply going for a run on the beach, strut your stuff in blue suede heels. Keep the mesh theme going by grabbing a white windbreaker for those gray, rainy, and windy autumn days. Don't forget a bold red satchel for a pop of color.
3. Fall in Step
As you fall into the step of things this autumn, you may begin to stray from your patriotic summer colors and experiment seasonal hues, like this mustard yellow coat. You may also forgo a tank top for a warmer striped scoopneck sweater. This runway look keeps things edgy with a black leather skirt, strappy heels, and a red handbag.
Get the Look: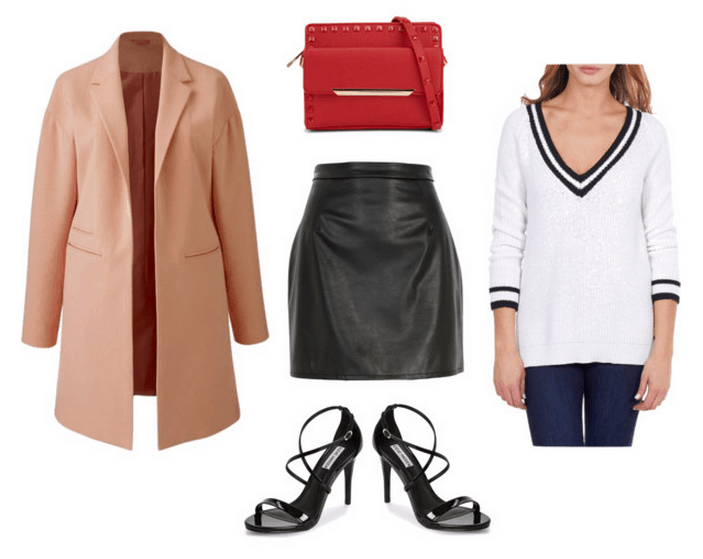 Products: Jacket, Bag, Skirt, Heels, Sweater
For a similar look, pull out a striped v-neck sweater from your closet. Tuck your sweater into a black leather-like A-line skirt. Layer a camel-colored duster coat over your top and skirt. Accessories, like ankle-strap heels and a red studded crossbody bag, add the finishing touches.
Your thoughts?
What do you think of the Topshop Unique Spring 2015 collection? Will any of these looks inspire your summer-to-fall wardrobe? Which one would you wear? Remember to share your thoughts in the comment section below!