It's that time of the year again where your TV screen is filled with back-to-school commercials. School is right around the corner and classes will soon be in session. Having trouble finding just the right outfit for that first day back on campus? Temperley London's Spring 2015 RTW collection may make choosing your look just a little bit easier.
Love the collection, but would like to keep some of your hard-earned summer cash in your pockets? Keep reading for three runway-inspired outfits that will fit your budget:
1. Layered Reflections
As autumn approaches, it's time to start layering. This Temperley London runway look is a perfect example of how you can layer up for the transition from summer to fall. Keep your shades as the summer sun sets and the autumn sun rises, then layer the rest of your summer pieces for the perfect fall outfit combo.
Get the Look: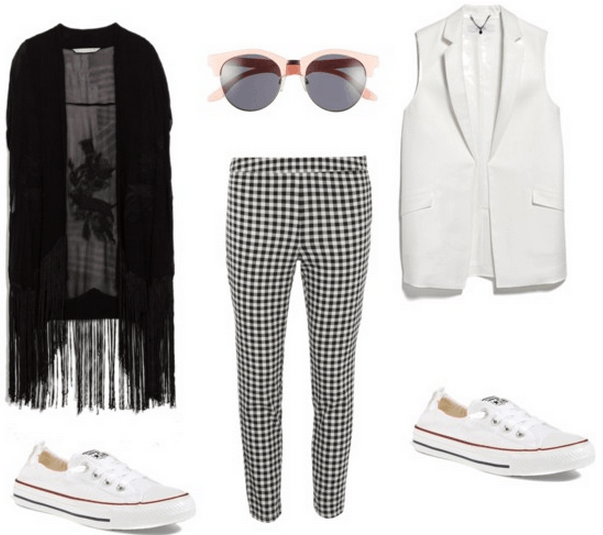 Products: Cardigan, Sneakers, Pants, Glasses, Vest
For this look, start with a white vest, and layer on a long, black fringe cardigan. (You can also layer a cami under the vest for more coverage.) Put on a pair gingham pants and slide your feet into classic white Converse. Accessorize with a pair of cool pink shades to complete your autumn-ready ensemble.
2. Pretty in Pink
Channel your inner schoolgirl by taking inspiration from this chic runway look. I'm in love with this textured, semi-pleated pink skirt, and the tucked-in blouse gives the outfit a classy touch. All of the models wore sneakers on Temperly London runway, and these shoes are perfect for walking from class to class around campus.
Get the Look: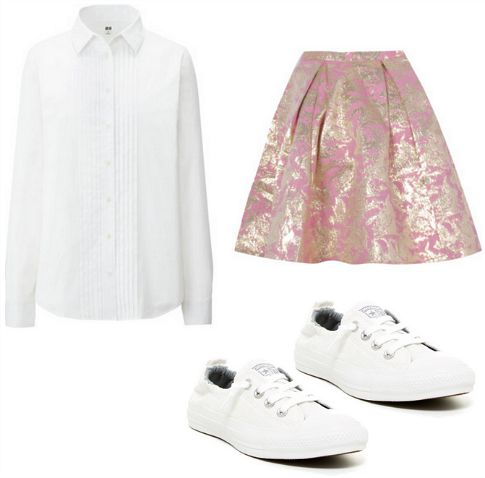 Products: Shirt, Skirt, Sneakers
Get this "schoolgirl chic" look for less with a classic white button-up that has a pin-tucked design. Tuck your shirt into a pink-and-gold textured skater skirt, then finish the ensemble with low-top white sneakers.
3. Living off the Edge
Walk through your college campus like someone walking through the waves at the beach in this statement-making look. The slits on this dress help to emulate the waves, while the scarf adds a Parisian touch. The sneakers add a laid-back twist to this otherwise dressy outfit.
Get the Look: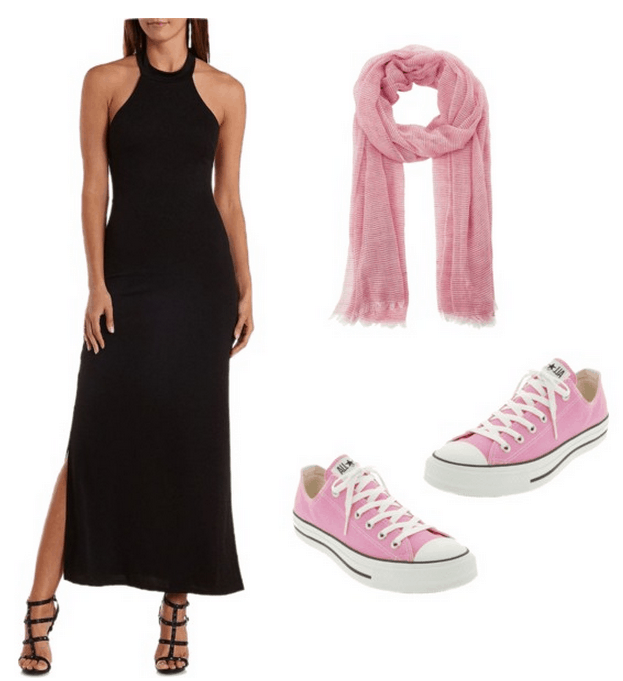 Products: Dress, Scarf, Sneakers
Recreate this outfit by grabbing this strappy backless halter dress off-the-rack. This dress would work for a special evening out, but looks dressed down for school when paired with pink Converse. Add another pop of pink with a scarf draped casually around your neck; it dresses down the look even more.
Your thoughts?
What do you think of the Temperley London Spring 2015 collection? Are you lusting over any of these looks as much as we are? Would you wear any of these ensembles? Remember to share your thoughts in the comment section below!