This post may contain affiliate links, which means we may receive a commission if you purchase through our links. Please
read our full disclosure here
.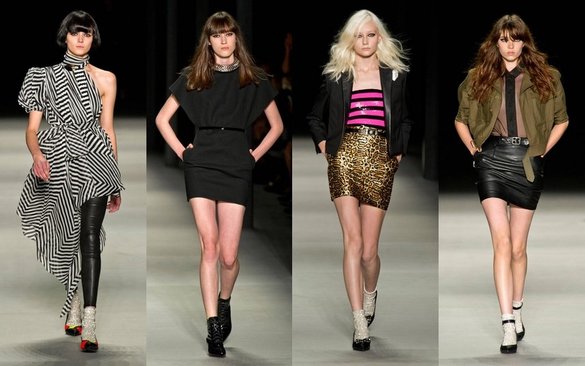 Saint Laurent Spring 2014 RTW | ELLE
If I'm being 100% honest, Saint Laurent makes me feel pretty darn fierce, so when the iconic French fashion house presented its Spring 2014 RTW collection, I knew I was going to end up coveting a few (if not all!) of its pieces.
Every outfit that walked down the runway was super-edgy, but exuded chic nonchalance. From the menswear-inspired jackets that put Saint Laurent on the map to the sequined bright shifts and the combination of femme socks and patent black heels, this collection is – in one word – fabulous.
Unfortunately, the actual collection's price tag isn't incredibly kind to a college student's budget, so continue reading for three lower-priced outfits inspired by looks straight off Saint Laurent's spring runway!
1. Zippers and Stripes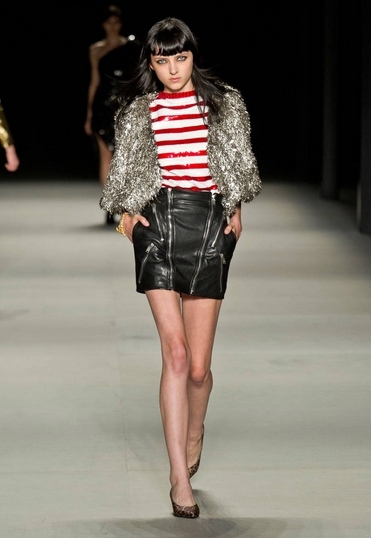 Photo: ELLE
Red striped tops tend to bring to mind nautical imagery. However, with details such as leopard heels, a zippered leather mini, and a metallic cardigan, this look is far from anything inspired by the sea!
Get the Look: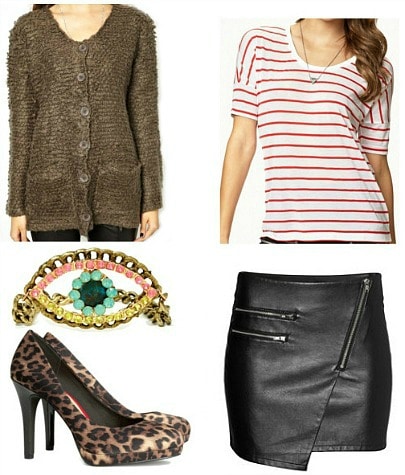 Product Info: Top- Forever 21, Skirt- H&M, Cardigan- ASOS, Shoes- H&M, Bracelet- NastyGal
To recreate this outfit, start by pairing a red striped top with a budget-friendly asymmetrical zippered mini from H&M. Continue this fashion-forward look with leopard print heels and add a metallic cardigan in a similar color scheme as your shoes. Accessorize with a standout bracelet and you'll have a designer-worthy ensemble for a fraction of the price.
2. Ain't Nothing but a Houndstooth Blazer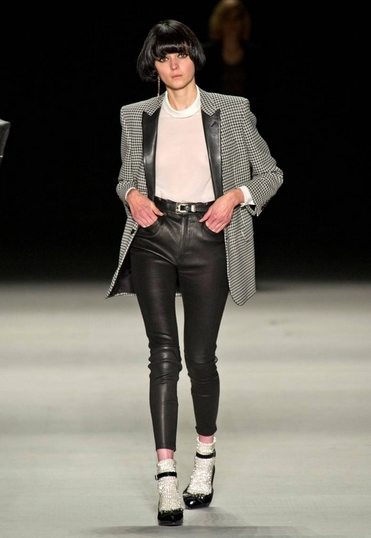 Photo: ELLE
This outfit is one of my favorites from the collection: it's polished, effortless, and will definitely turn heads. The simplicity of the color scheme is balanced by a flattering silhouette and edgy yet chic details. Plus, the houndstooth blazer and leather pants combination looks oh-so cool.
Get the Look: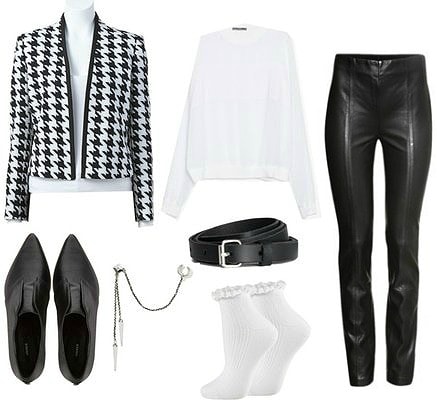 Product Info: Top- Zara, Pants- H&M, Blazer- Kohl's, Socks- Topshop, Shoes- Forever 21, Belt- H&M, Ear Cuff- NastyGal
For a similar look, grab a sheer blouse and a houndstooth print blazer – this one has a larger print than the original, but we think it works just as well. Combine these elements with faux leather trousers and a matching belt. Amp up the style with a unique pair of oxfords, frilly ankle socks, and a kick-butt ear cuff.
3. Punky in Pink
Photo: ELLE
Who else but Saint Laurent would pair a sequined pink dress with a menswear-inspired blazer? By doing so, this outfit embodies what the collection is about: a great juxtaposition of femininity with a borrowed-from-the-boys edge. We think this look is perfect for a night out!
Get the Look: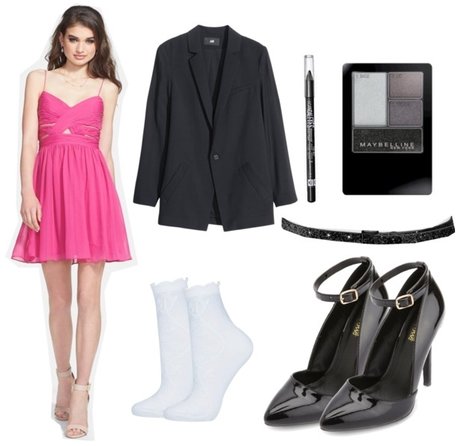 Product Info: Dress- Nordstrom, Blazer- H&M, Socks- Topshop, Shoes- Charlotte Russe, Belt- Nordstrom, Eyeliner- ULTA, Eyeshadow- Target
Begin with a cut-out pink dress with feminine accents, like sequins or chiffon. For this outfit, we went with the latter, but jazzed it up with a fab glittery belt. Add an oversized jacket, cute socks, and patent heels. Finish the look off with a sexy but casual smoky eye, similar to the one the model is rocking.
Your Thoughts?
What did you think of this collection? Are you feeling inspired by Saint Laurent's spring collection? Which of these looks is your favorite? Would you wear any of them? Do you have some recommendations for designers you'd like to see featured soon? Remember to let me know in the comments below!