Roberto Cavalli's Fall 2015 collection combines color and pattern to create a feminine, yet edgy, non-traditional winter vibe. Featuring bold animal prints, elegant ruffled neckties, and splashes of floral, Cavalli's latest offerings are sure to stand out in any crowd.
Does Roberto Cavalli's Fall 2015 collection inspire you? If so, get excited. Below I'll show you how to get three Cavalli-inspired outfits on a college budget.
1. Military Style
I love this look because it's so unexpected. Who would think to combine a deep green floor-length vest with a ruffled shirtdress? The combination makes a serious statement and is fantastic winter inspiration.
Get the Look: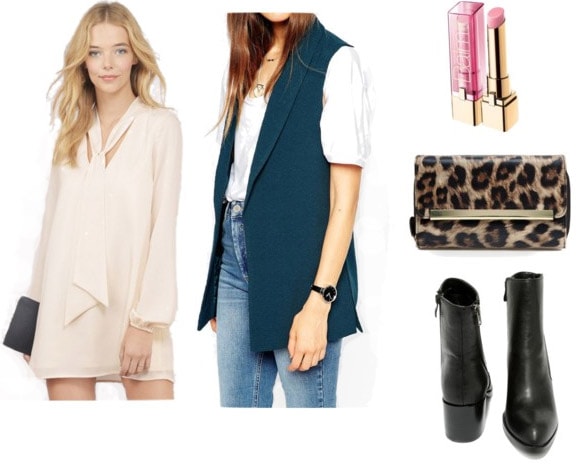 Products: Dress, Vest, Clutch, Shoes, Lipstick
To recreate this look, start with a cream chiffon dress and a versatile teal vest. Accessorize with a sassy leopard clutch and smooth pink lipstick. Polish the look off with black mid-calf boots. This outfit would be great for a girls' night out!
2. Lady in Leopard
In this look, a sweet, feminine ruffled blouse is perfectly balanced by a fierce high-waisted leopard skirt. A black neck tie and mid-calf boots incorporate two fun trends to complete this cool ensemble.
Get the Look: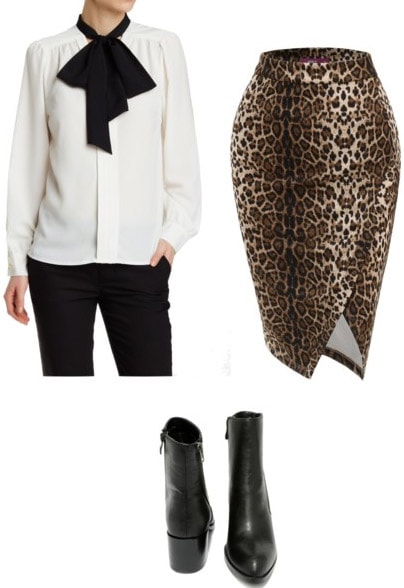 To snag this look for less, tuck a black and cream ruffled blouse into a tight leopard print skirt. Finish the outfit with the same black mid-calf boots from outfit 1. Wear this for a fancy dinner date and you're sure to impress.
3. Floral + Fur
This is one of my favorite looks from the collection, as it mixes fur and florals, two textures you might not think to combine. The blouse, in particular, stands out: Its high collar creates a classy look, while the pinstripe detail gives it a little extra interest.
Get the Look: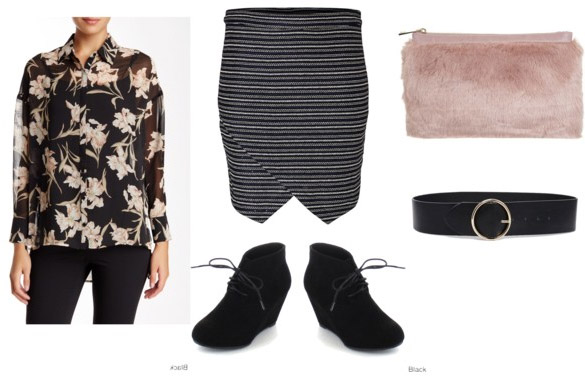 Products: Shirt, Skirt, Belt, Clutch, Shoes
Start this outfit with any floral print shirt (darker prints are ideal for winter) and match it with a striped skirt. Add a gold buckle belt and a glamorous fur clutch in blush pink. Complete the outfit with lace-up wedge booties and wear to your next concert or party!
Your Thoughts?
What do you think of Roberto Cavalli's latest collection? Which outfit is your favorite? Remember to share your thoughts in the comment section below!