This post may contain affiliate links, which means we may receive a commission if you purchase through our links. Please
read our full disclosure here
.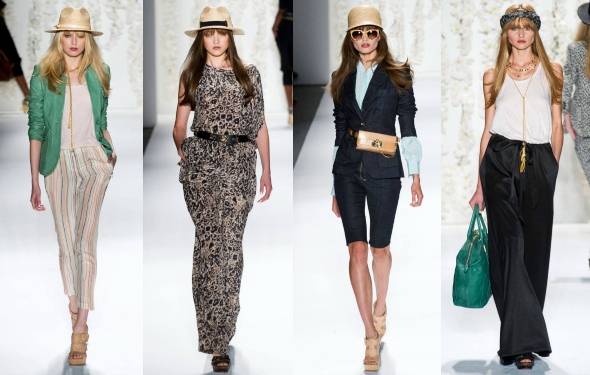 Rachel Zoe Spring 2013 RTW | ELLE
Since she's a stylist to the stars, we know Rachel Zoe has a fantastic eye for fashion. However, we were still pleasantly surprised by just how fab her Spring 2013 line is! For her latest collection, Rachel expertly mixed color, texture, and pattern to create inspiring, fashion-forward looks that were — of course– impeccably styled.
Want to snag a Rachel Zoe-inspired look for just a fraction of the price? Simply scroll on down to check out three budget-friendly versions of looks from Rachel Zoe Spring 2013:
1. Sequins & Shorts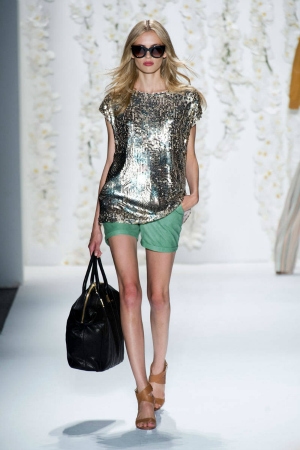 Photo: ELLE
While they're usually associated with glam evening looks, this ensemble from Rachel Zoe proves that sequins can also work for daytime. We can't wait to recreate the way she dressed down a sequined top with colorful, tailored shorts and a pair of cute and comfy sandals. Hurry up, spring!
Get the Look: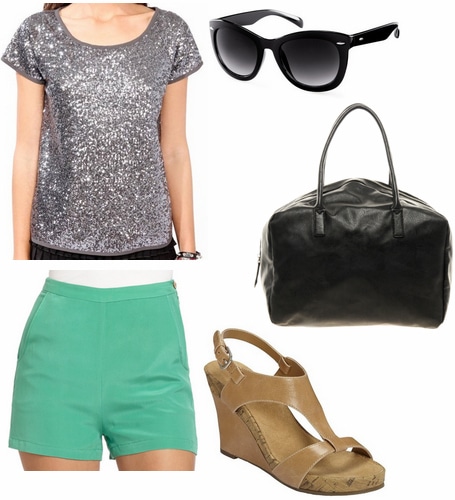 Product Info: Top- Forever 21, Shorts- Saks Fifth Avenue, Sunglasses- H&M, Bag- ASOS, Shoes- Target
For a similar look, pair a sequined tee with pastel green shorts for a glam, yet casual look. Tan wedges are the perfect mix of comfort and style, while an oversized black bag adds contrast to the outfit. Finally, accessorize with a pair of retro-inspired shades.
2. Repurposed Romper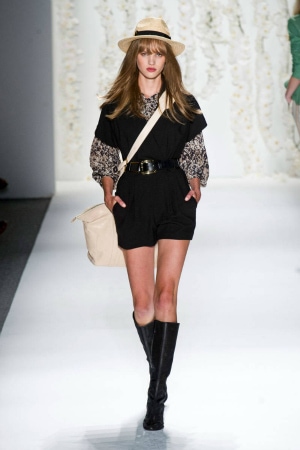 Photo: ELLE
A romper is a fashion-forward choice for spring and summer, but the look above shows that you can also rock one during the colder months of the year! Layering a top underneath the romper and adding a pair of sturdy boots instantly transforms a warm weather staple into a chic piece that can be worn year-round.
Get the Look: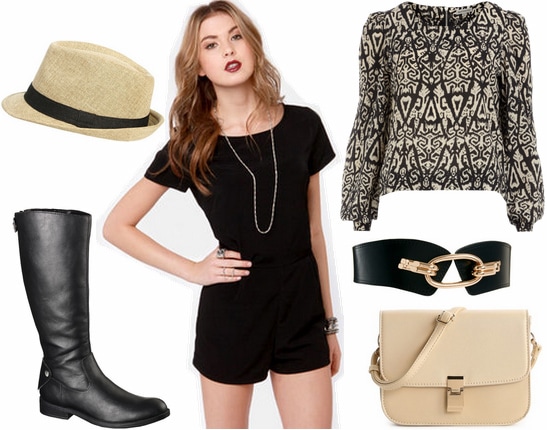 Product Info: Hat- Wet Seal, Romper- LuLu's, Top- Dorothy Perkins, Boots- Target, Belt- ASOS, Bag- DSW
Recreate this outfit for less by pairing a black-and-white printed blouse underneath a chic and simple romper. Add interest and define the waistline with this wide statement belt. Black riding boots lend a classic touch, while a straw fedora gives the look an effortlessly cool vibe. For the finishing touch, grab a sleek, neutral-colored cross-body bag.
3. Gray Lady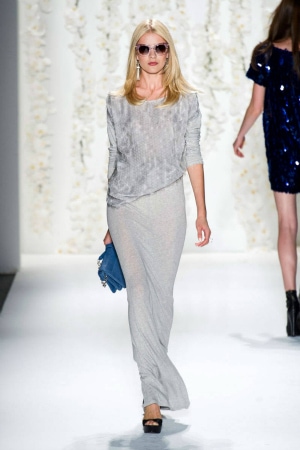 Photo: ELLE
We love the way Ms. Zoe paired a light gray maxi skirt with a matching top to create this gorgeous, monochromatic look. Maxi skirts instantly evoke a glamorous vibe, and the streamlined look Rachel Zoe created here takes the maxi to the next level of stylish.
Get the Look: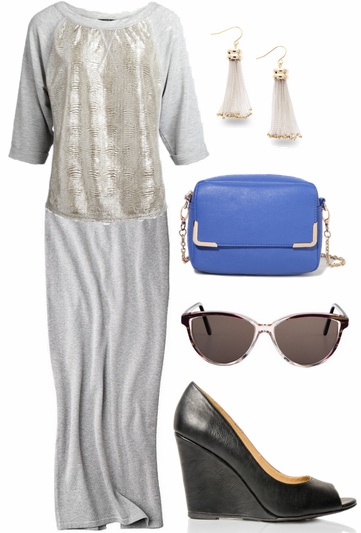 Product Info: Top- Nordstrom, Skirt- Target, Earrings- Lauren by Ralph Lauren, Bag- Forever 21, Sunglasses- American Apparel, Shoes- Forever 21
Mimic this monochromatic runway look by pairing a gray and silver metallic top with a matching maxi skirt. Peep-toe wedges give this outfit a stylish touch, while a pretty blue handbag adds a much-needed pop of color. Accessorize with some trendy tasseled earrings, then slip on a pair of cat-eyed sunnies to complete this ensemble.
Your thoughts?
What do you think of this collection? Are you a fan of Rachel Zoe's spring line? Which look is your favorite? Would you wear any of these outfits? Which designers would you like to see featured here next? Remember to leave a comment below and let me know what you think!