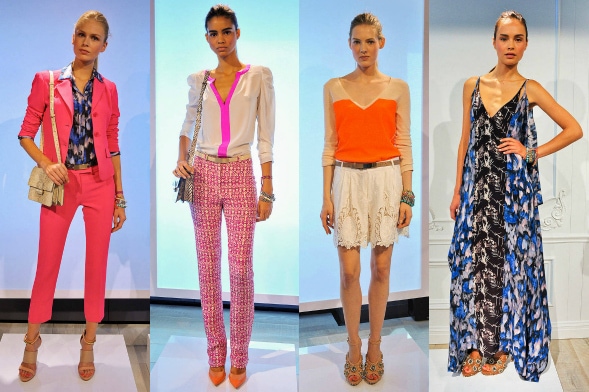 Rachel Roy Spring 2013 RTW | ELLE
Lately, we've been discussing transitionalspring fashion here at CF, so for this RLL post, we decided to feature a designer who has mastered the art of between-seasons style: Rachel Roy. For her spring 2013 collection, Roy mixed warm knits with flowy and spring-appropriate separates, constructing fashion-forward looks that easily bridge the gap between winter and spring.
Want to snag a designer-inspired transitional look on a college student's budget? Simply scroll on down to check out three stylish outfits inspired by looks from Rachel Roy Spring 2013:
1. Bold Basics
Photo: ELLE
Springtime is all about bright hues, and this look represents a perfect way to rock a colorful ensemble on a casual day. Pairing a slouchy blue sweater with purple shorts not only creates a cute and comfy outfit, but this bold color combination also makes a super-stylish statement.
Get the Look: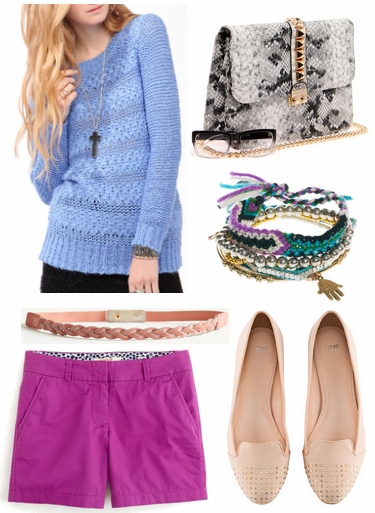 Product Info: Sweater- Forever 21, Bag- boohoo.com, Belt- Ruche, Bracelets- ASOS, Shorts- J. Crew Factory, Shoes- H&M
Pair tailored purple shorts with a bright blue blazer to create a casual, color-blocked outfit. Add some stylish embellished loafers, as well as a matching woven belt. Accessorize with a set of stacked bracelets which tie in all of the colors found throughout the look. For the finishing touch, add a cool snake print bag.
2. Playfully Polished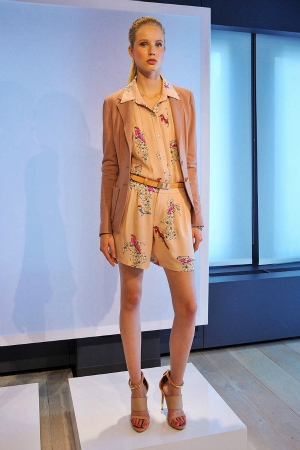 Photo: ELLE
Rompers are on-trend for spring and we love the way Rachel Roy dressed one up with a crisp blazer and sky-high heels. The overall look is polished and pretty, but with a distinctly fun, fashion-forward vibe.
Get the Look: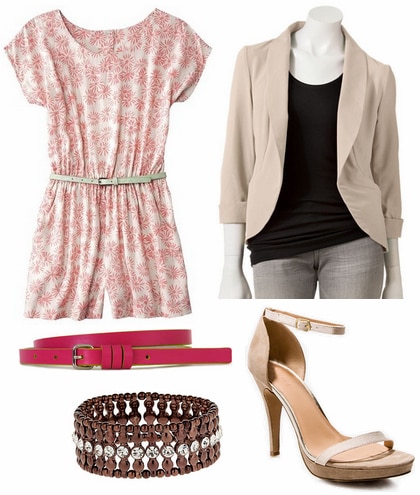 Product Info: Romper- Target, Blazer- Kohl's, Belt- Lodis, Bracelet- Dorothy Perkins, Shoes- Forever 21
Recreate this look by pairing a floral print romper with a beige-colored blazer. Swap out the white belt for a bolder pink one, then continue the dressy vibe with some ankle-strap sandals. Lastly, add a hint of sparkle with a pretty rhinestone bracelet.
3. All Buttoned Up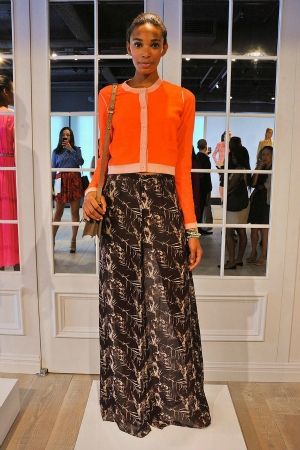 Photo: ELLE
Rachel Roy proved that cardigans aren't just one-trick ponies by buttoning one all the way up and creating a makeshift blouse. She then paired the cardi-turned-top with a printed maxi skirt, which is fab option for a brisk spring day.
Get the Look: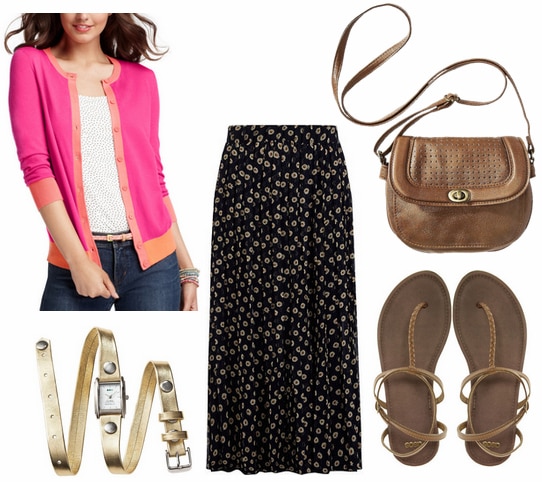 Product Info: Sweater- LOFT, Skirt- Dorothy Perkins, Bag- Target, Watch- Target, Shoes- ASOS
For a similar outfit, take a bright, color-blocked cardigan and button it all the way up to create a top. (Remember, you can always layer a cami underneath if you want!) Pair the cardi with a dark, printed maxi skirt and a pair of flat sandals. Accessorize with a metallic wrap-around watch, then grab a brown cross-body bag to complete this look.
Your thoughts?
What do you think of this collection? Are you a fan of Rachel Roy? Which look is your favorite? Would you wear any of these outfits? Which designers would you like to see featured here next? Remember to leave a comment below and let me know what you think!