Proenza Schouler was one of the first designers I fell in love with when I dove headfirst into the fashion world, so it's no surprise that everything Jack McCollough and Lazaro Hernandez create has left me in a closet-envy frenzy. Their Spring 2015 collection was, obviously, no different.
This season's runway show was influenced by menswear, which was evident in strong jackets and even in the clothing that leaned a little more towards sportswear. However, by combining trendy details, such as fringe and the ever-classic neutral color palette, McCollough and Hernandez channeled a cool vibe that every fashion aficionado covets.
Are you as in love with this spring collection as we are, but would rather start saving up for that summer road trip? Keep reading for three budget-friendly outfits inspired by looks straight off Proenza Schouler's spring runway:
1. Little White Dress
As classic as an LBD is, sometimes you might need a break from black (as much as it pains me to say it). A little white dress looks just as timeless as an LBD, but is much more appropriate for spring. Proenza Schouler's take on this classic frock is casual yet fashion-forward.
Get the Look: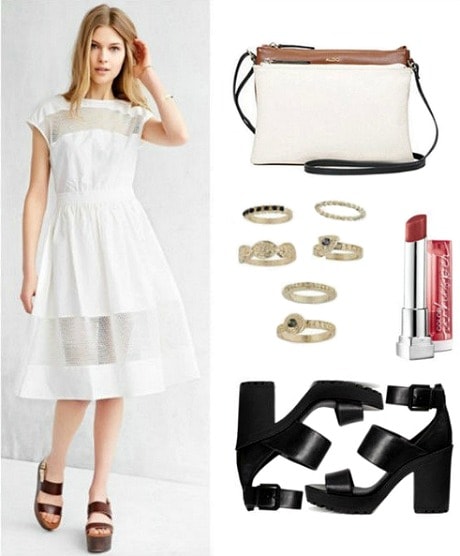 Product Info: Dress, Shoes, Bag, Lipstick (in "Made-It Mauve"), Rings
Get inspired by the runway look by slipping on a mid-length LWD with cool detailing, like these mesh cut-outs. Pair it with chunky sandals and a white, brown, and black crossbody bag. Complete your ensemble with trendy gold rings and a mauve-hued lipstick.
2. Fringe + Cutouts
Fringe is obviously the #1 trend of the moment. As this outfit demonstrates, when paired with a casual cut-out top, the boho vibe of a fringed skirt shifts to a more edgy and street-style worthy look.
Get the Look: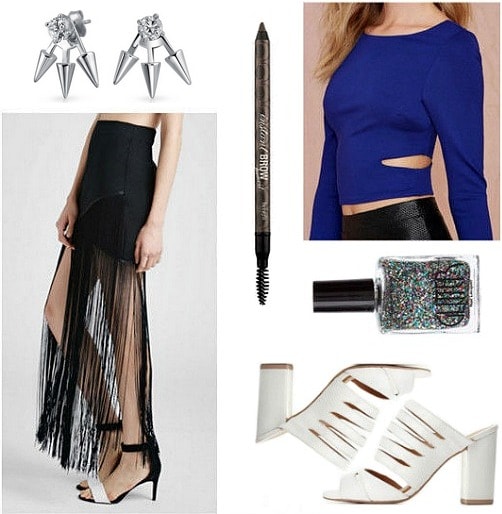 Product Info: Top, Skirt, Shoes, Earrings, Eyebrow Pencil, Nail Polish
Pair a maxi-length fringed skirt with a long-sleeved blue top that has cut-out detailing. Add white mules and accessorize with edgier earrings for a bad-girl vibe. Use an eyebrow pencil to achieve the model's envy-worthy brows, then finish off with a glittery nail polish to add a hint of playfulness to this edgy outfit.
3. Spring Metallics
Though McCollough and Hernandez had a variety of silhouettes (including pants) throughout their collection, I was more inspired by their springtime-ready leg-baring looks. I love the idea of wearing metallics year-round, and this silver dress is the perfect inspiration for a night out on the town.
Get the Look: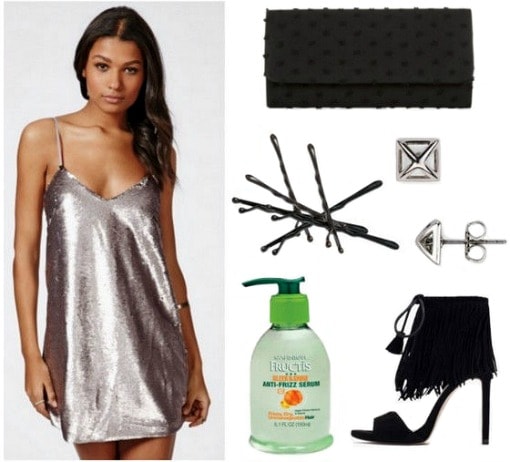 Product Info: Dress, Shoes, Clutch, Earrings, Hair Product, Bobby Pins
Begin with a silver slip dress and a pair of fab fringed heels. Get a Proenza Schouler-inspired 'do by slicking your hair back and pinning it. Accessorize with stud earrings and a black clutch, which add classic touches to an otherwise contemporary outfit.
Your Thoughts?
What did you think of Proenza Schouler's new spring collection? Are you as in love with it as we are? Which of these looks is your favorite? Would you wear any of them?
Remember to let me know your thoughts in the comments below, along with any designers you'd like to see featured in upcoming weeks!