The Nina Ricci name has become synonymous with a refined, romantic, and feminine aesthetic, and the brand's Fall 2015 RTW offerings are no exception. The collection mixes classic romance with touches of glamour and edge through fur, lace, and knit layers worn alongside sequins and monochromatic palettes.
Do you have your eyes on pieces from Nina Ricci's fall collection? Want to get them on a tight budget? Keep reading for three college budget-friendly outfits inspired by looks straight off the runway:
1. Fab in Faux Fur
My favorite accent to any outfit this season is (faux) fur, whether I incorporate it with my jacket, vest, or boots. That's what drew me to this runway look. I love the dark color palette of this outfit set alongside the fur jacket – it's perfectly chic.
Get the Look:
Products: Jacket, Sweater, Pants, Heels
Achieve this look with a black turtleneck sweater and a fashionable dark brown faux fur jacket. Add a pair of dark navy and black striped tuxedo trousers for a polished vibe. Then finish the look in style with black pointed heels. This would be a great look for a casual work event or dinner out with your parents.
2. The White Pole
White can be an intimidating color to wear, especially in winter, and that makes this runway look all the more powerful. I love this ensemble – far from boring, the monochrome look pops thanks to contrasting textures and different shades of white.
Get the Look: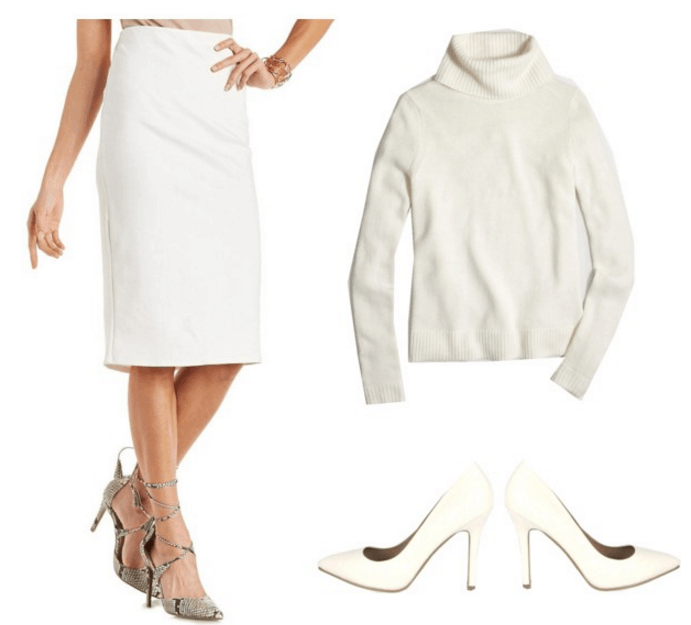 Products: Sweater, Skirt, Heels
Channel this wintery white look by starting with an ivory turtleneck sweater – this one is a little less over-the-top than the runway version, making it more wearable for all occasions. Next, slip into a sophisticated, high-waisted midi skirt. Make the ultimate statement with your soles and step into classic pointed heels. These would be perfect for wearing into the spring and summer months.
3. Laced in Blue
I am obsessed with anything lace, so of course I adore this sheer, lace-adorned runway look. The fabric of the dress reminds me of summer past, but its navy color palette and knee length make it perfect for the upcoming winter season.
Get the Look: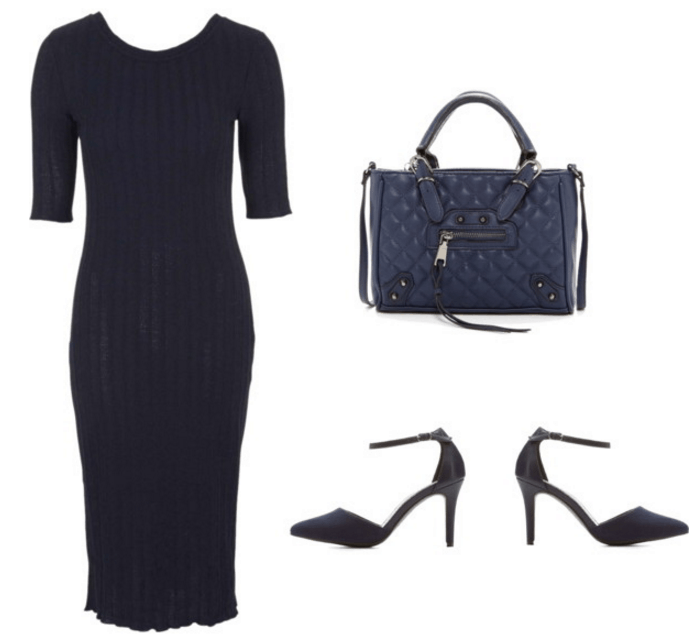 Start with a navy, scoop neck midi dress – this one could be worn just about anywhere this season, from classes to networking events to work to drinks with your girlfriends. You get the picture! Matching pointed toe heels add a sophisticated aesthetic to the casual, ribbed dress. Grab a navy quilted mini satchel and you are ready to go with striking style.
Your Thoughts?
What do you think of Nina Ricci's newest collection? Are you coveting any of these looks as much as we are? Which one would you wear? Remember to share your thoughts in the comment section below!