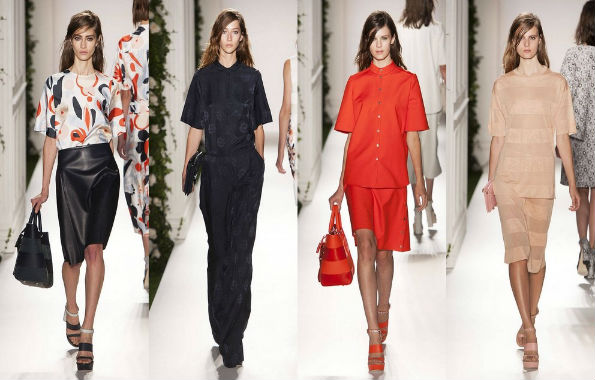 Mulberry Spring 2014 RTW | ELLE
Mixing pastels and floral prints with dashes of leather and orange, Mulberry's Spring 2014 collection displays the perfect blend of feminine and girly with an edgy boldness. By combining these different elements, Emma Hill's final collection for the brand leaves us with a line that, in its details, is not only ready for warmer weather, but is still aware of that chill on early spring mornings.
Love the collection, but love a good deal just as much? Scroll down for three lower-priced looks inspired by Mulberry Spring 2014 RTW:
1. Pop of Leather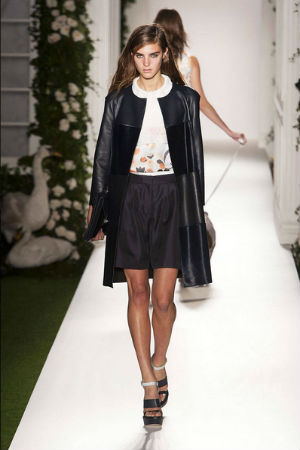 Photo: ELLE
The first outfit plays with three super-classic trends: prints, leather, and a structured coat. The combination of shorts and a coat is evident throughout the collection, and this look shows an edgier version of the pairing.
Get the Look: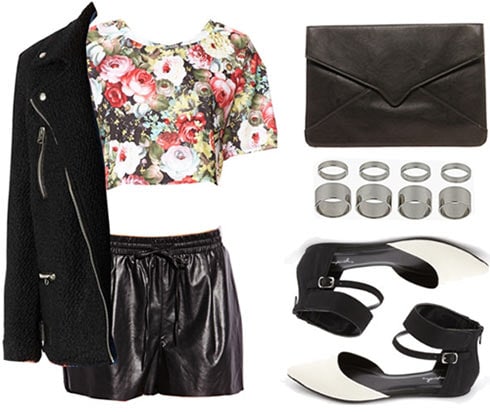 Product Info: Coat- Nordstrom, Top- Forever 21, Shorts- Forever 21, Shoes- Charlotte Russe, Bag- Boohoo, Rings- Nordstrom
Recreate this outfit with a twist by incorporating leather in the shorts instead of the coat. Pair with a ready-for-spring, floral crop top and an edgy zippered wool coat that's perfect for those cold walks to an 8AM class. Finish the look with fashionable yet campus-ready color-blocked flats and some silver rings for a bit of bling.
2. Matching Prints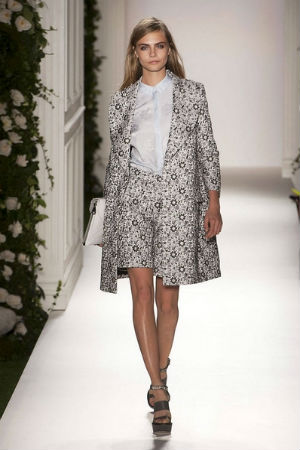 Photo: ELLE
Coordinates can sometimes be seen as "too mature," but by utilizing a chic floral print, and choosing shorts instead of a skirt or slacks, Mulberry's interpretation is demure, yet still fun and flirty.
Get the Look: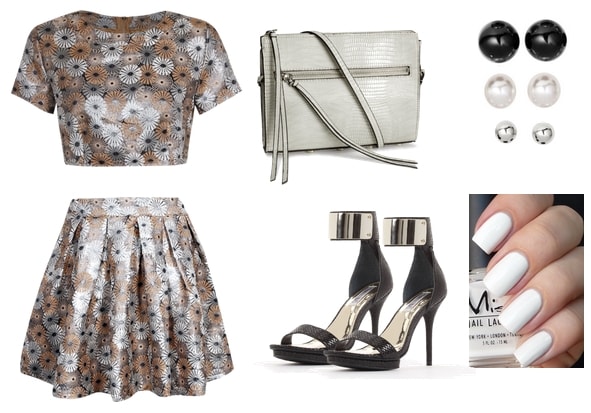 Product Info: Top- Boohoo, Skirt- Boohoo, Shoes- Kohl's, Bag- H&M, Earrings- H&M
Get inspired by this outfit by turning to a matching crop top and skater skirt in a similar color family to Mulberry's gorgeous shorts suit. Add a silver-toned bag and strappy sandals with metal detailing. Finish off the ensemble with a white manicure and some classic stud earrings. We think this would be a fun and fashion-forward look for a girls' night out!
3. Casual Orange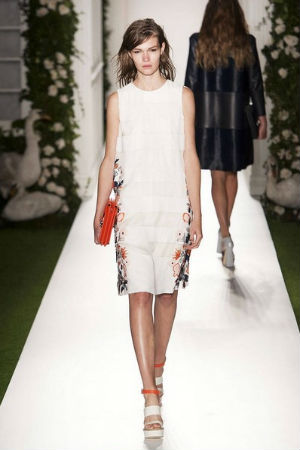 Photo: ELLE
Pops of orange against a crisp, neutral dress add boldness to an otherwise low-key outfit. It's a modern and chic look that seems to scream, "I'm ready for warm weather!"
Get the Look: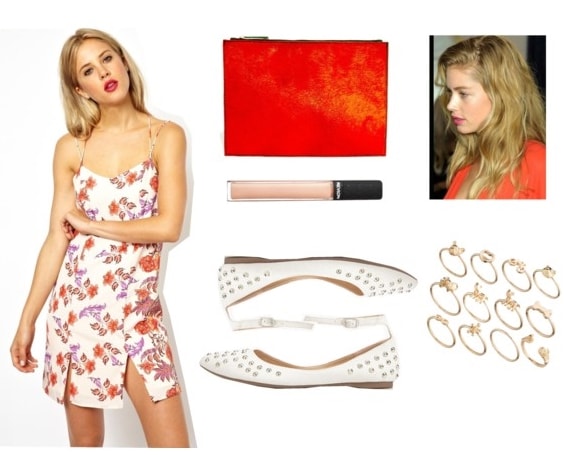 Product Info: Dress- ASOS, Bag- ASOS, Shoes- Forever 21, Rings- ASOS, Lipgloss- Target
This strappy cream-colored dress from ASOS would look just as good heading to class on a warm day as it would heading out on a dinner date. Add a pair of pointed-toe flats and accessorize with a bright orange clutch and some quirky midi rings. Finish off the look with a nude lip and slightly tousled hair, à la the Mulberry model.
Your thoughts?
What did you think of this collection? Do you love Mulberry as much as I do? Which of these looks is your favorite and would you wear any of these outfits? Do you want to see any specific designer featured? Remember to let me know in the comments below!