If you asked me to describe Miu Miu's Spring 2015 RTW collection in less than five words, it would have to be "feminine with an edge."
What drew me to this collection were the numerous crop tops, but after scrolling through it some more, the feminine touches — from florals to full skirts to dusky pastels — left me with serious fashion-envy. With pants, skirts, crop tops, and structured jackets, as well as a color palette that ranges from dusty pink to bright blue, there is definitely something here for everyone.
Coveting Miu Miu's new spring collection but aren't willing to pay a semester's worth of tuition for a few pieces? Keep reading for three wallet-friendly looks inspired by outfits straight from the Miu Miu runway:
1. Pink and Peach
First up is my favorite look from the entire collection. This outfit is fashion-forward due to the gorgeous and unexpected color combination of the peach-hued skirt and the pale pink jacket. The crisp white of the shoes and purse, as well as the black top add a bit of sophistication to a mostly playful getup.
Get the Look: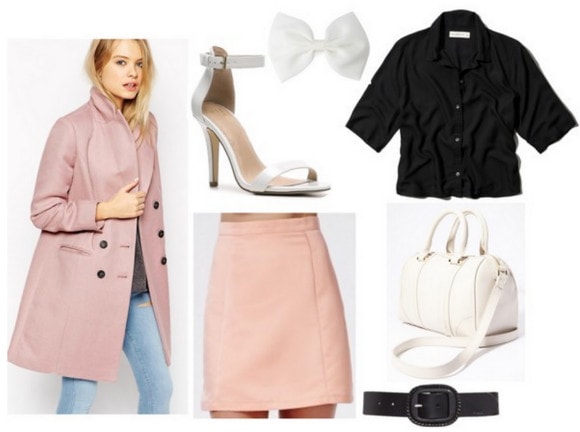 Product Info: Top, Skirt, Jacket, Belt, Bag, Shoes, Hair Bow
Recreate this outfit by pairing a cropped, black button-down with a dusty peach pencil skirt. Slip on a double-breasted, pale pink jacket and a patent belt. Choose white heeled sandals and a matching bag. After slicking back your hair like the model, pin it back with a bow barrette as a nod to the bows on the original heels.
2. Pops of Color
Featuring plaid, one of the biggest trends of the moment, and dark colors, this ensemble definitely caught my eye. The ruffles on the plaid top added a bit of femininity to an otherwise grungy trend while the pops of cobalt blue and red showed us that an outfit can be elevated with accessories.
Get the Look: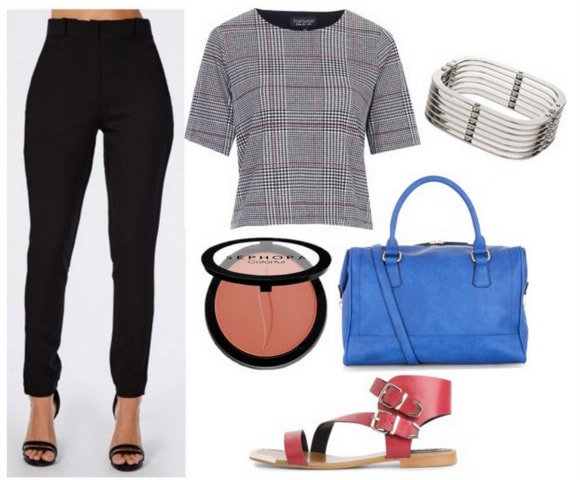 Product Info: Top, Pants, Bag, Shoes, Bracelet, Blush (in "Shame on You")
For this outfit, start by pairing black cigarette trousers with an on-trend plaid top. Pick a bright blue purse to hold all your essentials before slipping on red, strappy sandals. Accessorize with a fun, modern bracelet, then sweep on a bit of blush in a similar color to the runway beauty look.
3. Full of Edge
This look, which is perfect for a dinner out, features a full skirt that is perfectly balanced by a fitted crop top. The oxblood-colored leather jacket is modern and super-edgy, but the floral belt adds a girly touch. The outfit is completed by drool-worthy boots; after all, you can never have too many black boots!
Get the Look:
Product Info: Top, Skirt, Jacket, Shoes, Belt, Hair Product, Eyeshadow (in "Taupe Craze")
Channel Miu Miu by choosing an embellished black crop top, then pairing it with a knee-length full skirt. Add a faux leather jacket in an oxblood hue as well as tall, suede boots. Accessorize with a floral belt. To complete your ensemble, create sleek hair with a smoothing serum, then add a bit of a metallic taupe eyeshadow.
Your Thoughts?
What did you think of this collection? Has Miuccia Prada created a gorgeous spring campaign? Which one of these looks is your favorite? Would you wear any of them? Let me know your thoughts in the comments below!