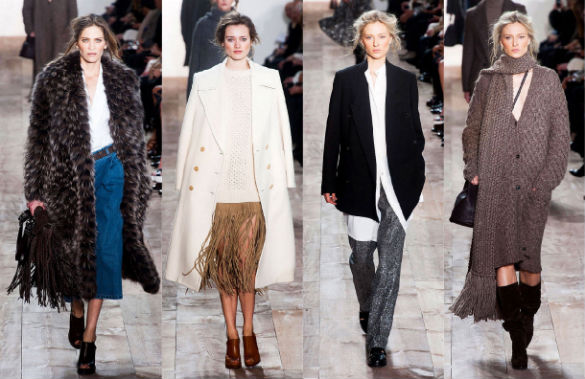 Michael Kors Fall 2014 RTW | ELLE
If we had two words, and only two words, to describe Michael Kors' Fall 2014 RTW collection, it would be "cozy chic." These are outfits you can easily, quickly, and comfortably slip on for that 8AM English class, but you'd still look incredibly fashion-forward.
At first glance, there are so many features that jump out (suede! fringe! shimmer! prints! fur! chunky knits!), but no one can deny that they all go together so well. Apart from the different textures and prints, we are loving the flowiness and comfort the collection exhibits. By combining non-fussy silhouettes with luxe, fall-ready fabrics and focusing on detailing, MK produced lust-worthy looks we would love to get our hands on.
Are you also in love with Michael Kors' fall pieces, but aren't loving the potential hit to your bank account? Read on for three budget-friendly outfits inspired by his newest collection:
1. Dressed Up Knitwear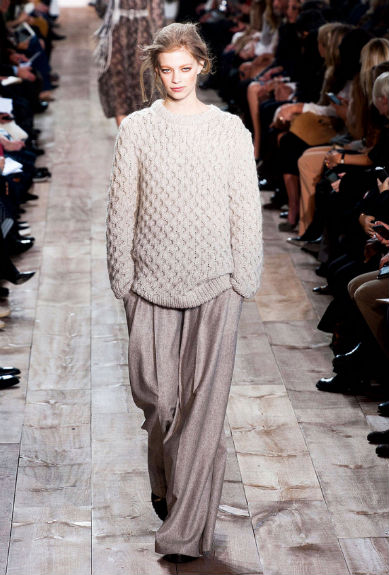 Photo: ELLE
Chunky knits are a girl's best cold weather friend. There are so many colors and fabrics and knit variations, oh my! However, it's very rare to see a knit sweater dressed up even the slightest. This look is perfect because not only is the knitwear elevated by the pants' chic fabric, but the silhouette is relaxed enough that it doesn't feel as if you're dressing up (though you'll certainly look that way!).
Get the Look: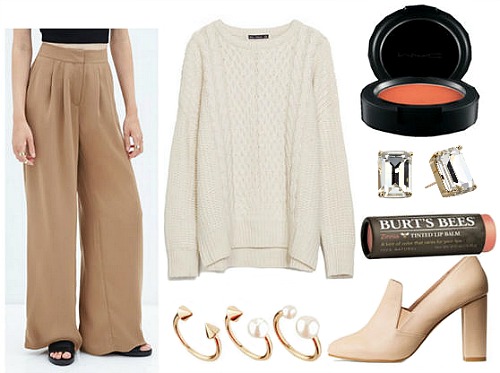 Product Info: Sweater- Zara, Pants- Forever 21, Shoes- H&M, Earrings- Nordstrom, Rings- ASOS, Blush (in "Peaches")- MAC, Lip Balm (in "Zinnia")- Target
MK's fall collection was all about neutrals and muted colors, so pair a cream-colored, chunky knit sweater with wide-leg trousers. Choose a shoe in a similar color palette and accessorize with dainty gold jewelry. Finish with a coral-tinted lips and cheeks to mimic the model's makeup look.
2. All in the Details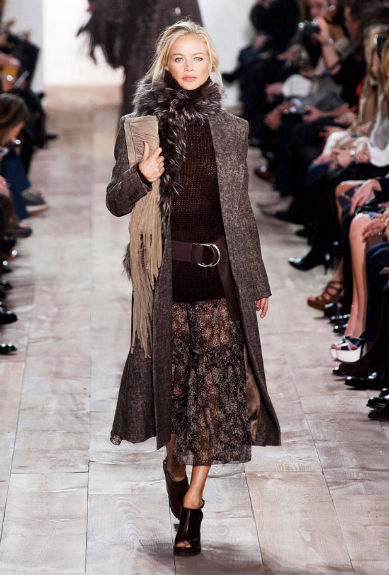 Photo: ELLE
Though each of the main elements of this outfit (the sweater, skirt, and that gorgeous marled coat) make a statement, the accessories bump it many levels up. The suede fringed clutch is a great contrast to the fur scarf, and both add textural and stylistic interest. Even the belt around the model's waist is a fabulous detail!
Get the Look: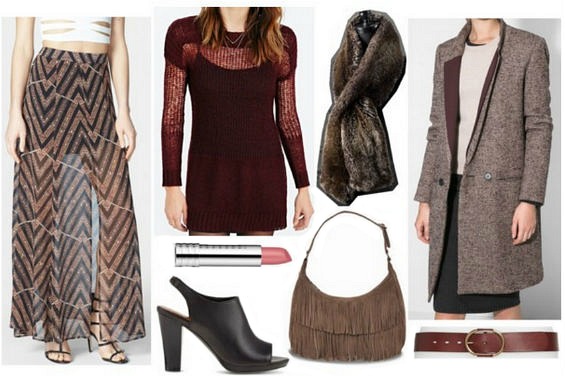 Product Info: Top- Urban Outfitters, Skirt- Nordstrom Rack, Coat- Mango, Belt- Nordstrom, Scarf- Restoration Hardware, Bag- Minnetonka, Shoes- JCPenney, Lipstick (in "Matte Beauty")- Clinique
This getup's color palette focuses on gorgeous browns and deep burgundies, which are both perfect hues for fall. Slip on a printed maxi skirt in brown tones and a burgundy sweater. Pick a belt in a similar hue as the sweater. Add a long coat and a faux fur scarf. Complete your look with peep-toe booties, a suede fringed bag, and a pink lip.
3. Fluff and Snake Print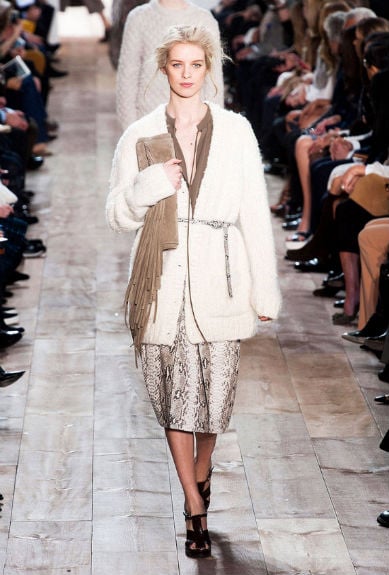 Photo: ELLE
While MK's entire Fall 2014 collection exuded a comfy chic vibe, this last getup is, in my humble opinion, the prime example. We have comfort from the fluffy cardigan and casual silhouette, and sophistication from the snake print skirt, chain belt, and suede clutch. We could see this outfit working for a first date or even a chic outing with friends.
Get the Look: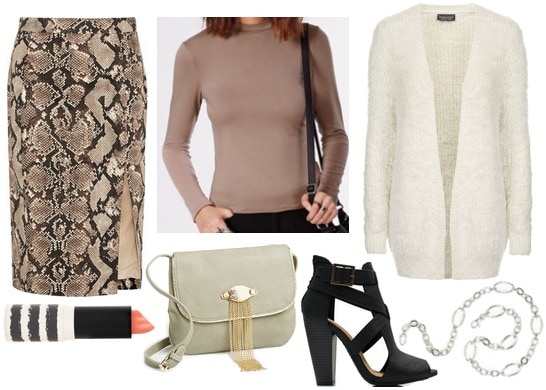 Product Info: Top- Missguided, Skirt- Net-a-Porter, Cardigan- Topshop, Bag- Nordstrom, Shoes- Go Jane, Belt- JCPenney, Lipstick (in "Whimsical")- Topshop
To recreate this outfit, choose a snake print midi skirt and pair it with a taupe top. Slip on a cream-colored fluffy cardigan, which is a trendy and warm piece that's perfect for cool temperatures. Define the waistline by wearing a silver chain belt over the cardigan. Choose caged black heels for a bit of edge, then grab a chic bag with fringe detailing. Finally, swipe on rosy lipstick – a staple on MK's fall runway.
Your Thoughts?
What did you think of this collection? Are you inspired by Michael Kors' fall looks? Which one of these outfits is your favorite? Would you wear any of them? Do you have designer recommendations for upcoming weeks? Let me know in the comments below!