This post may contain affiliate links, which means we may receive a commission if you purchase through our links. Please
read our full disclosure here
.
I'm not sure if I'm just getting more boring as I get older (I turn 20 in a week, which I know isn't that old but it's OLD TO ME, ok?), or if fashion is just getting zanier.
In my last Runway Looks for Less, I looked at Moschino's 2017 Resort Collection. Which was, in a word, bold.
Marc Jacobs' 2017 Resort Collection, however, might just be bolder. It's full of zebra print, leopard print, checks, polka dots – basically a whole lot of pattern. There was also a lot of patchwork denim, with cute embroidered badges on some of the jackets, and MTV slogan sweatshirts brought some nostalgia to the collection.
All in all, it's a fun collection, and despite its zaniness, I had a lot of fun breaking it down to its less high-end, more cost-friendly foundations!
1. Marc Jacobs does funeral wear
Maybe I was drawn to this look because it's all black, or perhaps because it reminded me of Violet from Lemony Snicket's A Series of Unfortunate Events.
Anyway, it may look as if there's a lot going on in this outfit, but at its core, it's a black midi skirt and an embellished sweater set. (I didn't know these were still a thing if I'm honest, but I quite like the thought of bringing them back – two knitted layers are definitely needed here in Scotland.)
I decided to give the matching polka dot tights and gloves a pass in this look – purely because I'm not sure if the real world is ready for that yet. But, if you want to be my hero and make it happen, be my guest! Send me pictures.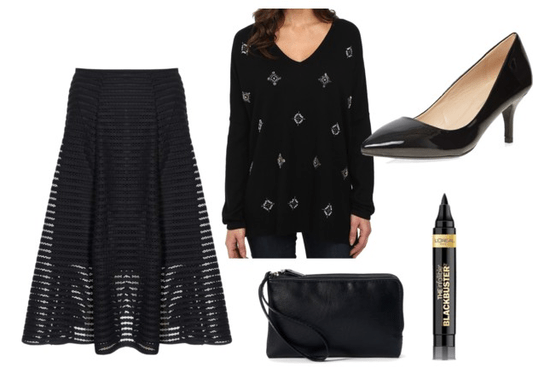 Products: Skirt, Sweater, Bag, Shoes, Eyeliner
2. When you have work at 9 but have a gym class at 5
I'm getting some real Madonna vibes from this look. Well, if Madonna worked in like, a bank or something. I love suits on women – it's such a cool and different look. I also really love training shoes, and the Nike Juvenates I chose for this look have gone straight to my wishlist.
Again, this outfit seems like a lot, but it's really just black trousers, a black blazer, a pink patterned shirt and some sneakers. Marc also added a little brooch to the jacket, but the rest of the collection featured patches (they're a big trend right now!), so I added these cute ones, because they're on trend and I also really love donuts.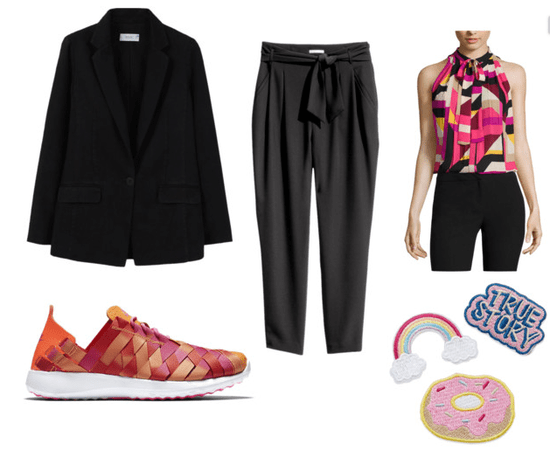 Products: Blazer, Shoes, Trousers, Patches, Shirt
3. Cruella de Vil finds a new pattern
Stripes are my favorite pattern. I have more striped tops than I've had hot dinners, so naturally this outfit stood out to me.
I also really love the polka dot tights Marc had on his models throughout this show; they're more exciting than just plain black tights, but still subtle enough to go with most things.
Another thing I really love is this striped duster coat. It's two of my favorite things combined: stripes and a good coat. Pair it with a contrasting striped dress, polka dot tights, boots, and a ton of black eyeliner and you've got the Marc Jacobs look down!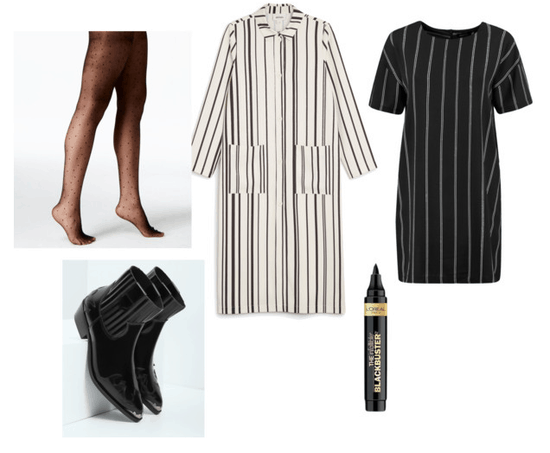 Products: Tights, Boots, Coat, Eyeliner, Dress
What do you think?
Do you like these looks? Would you wear them? Which one is your favorite? Let me know in the comments!