This post may contain affiliate links, which means we may receive a commission if you purchase through our links. Please
read our full disclosure here
.
Louis Vuitton's Spring 2016 collection combines futuristic and retro trends for looks that are built for the modern world. This collection is loaded with leather, multicolor combinations, and silky silhouettes – there's so much inspiration here!
Does Louis Vuitton's Spring 2016 collection inspire you? If so, get excited. Below I'll show you how to get three runway-ready outfits on a college budget.
1. Aristocrat
This first look brings the drama. Its fierce ruffle-leather combination and original multicolor pants create an undeniably perfect pair.
Get the Look: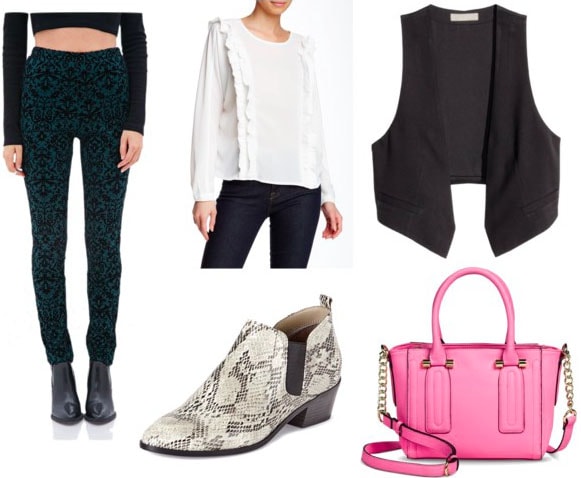 Products: Pants, Shirt, Vest, Shoes, Handbag
To get this look, start with dark green and black damask pants. Add a white ruffled blouse and a black vest to top it off. Snakeskin ankle boots and a daring bright pink handbag help capture the look.
2. Contemporary
This look is relaxed and slouchy, yet simple and sleek. It mixes a laid-back jumpsuit with ultra-dressy studded heels and a ladylike handbag. This look is fantastic inspiration for events where you want to dress up but also remain relaxed and cool.
Get the Look: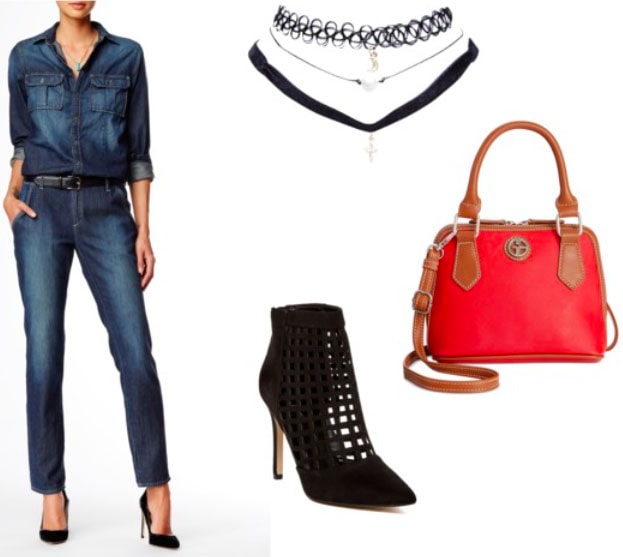 Products: Jumpsuit, Necklace, Shoes, Handbag
For this look, a jean jumpsuit serves as your centerpiece. Complement it with a trio of trendy choker necklaces. Combine pointed toe cage booties with a crimson and tan top-handle bag to finish the look.
3. Trendy
This ensemble is fit for cool, cutting-edge trendsetters. Its unique qualities, from the multi-patterned pants to the neon handbag, leave a lasting impression.
Get the Look: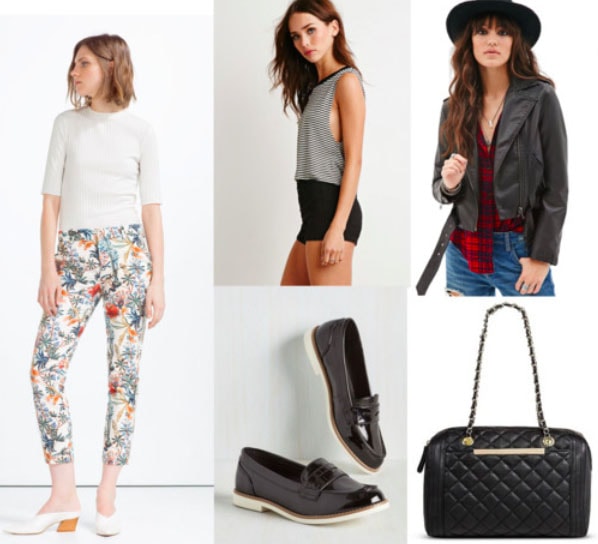 Products: Pants, Shirt, Jacket, Shoes, Handbag
To get this final look, combine multicolor pants with a basic striped tee. Add on a classic black leather jacket. Accessorize with a quilted satchel and complete the look with black, white, and tan loafers.
Your thoughts?
What do you think of Louis Vuitton's Spring 2016 collection? Which runway look would you wear? Remember to share your thoughts in the comment section below!