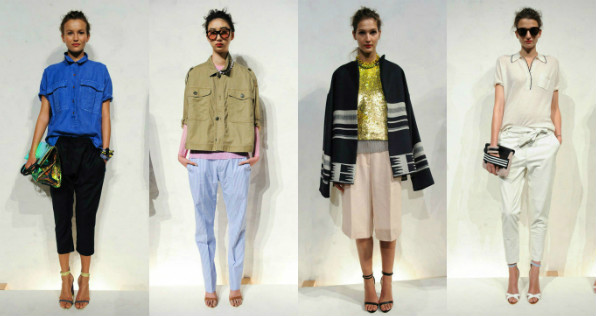 J. Crew Spring 2015 RTW | ELLE
When I was researching for this week's Runway Looks for Less post, I fell surprisingly in love with J. Crew's Spring 2015 RTW collection. J. Crew has never been a major name in the high-fashion world, especially compared to the likes of Alexander Wang or Dior, but this collection is definitely a good sign towards the future.
Great for casual wear, internship wear, and even date wear, this new collection has everything. With subdued hues and pops of blue and yellow, all of the looks are impeccably styled and feature flattering silhouettes. While J. Crew can be considered a bit preppy for some, the spring collection has just the right amount of edge to move it away from that stereotype.
Are you drooling over these warm-weather ready looks, but aren't in love with the price tag? Keep reading for three wallet-friendly outfits inspired by J. Crew's newest spring collection:
1. Comfortably Cool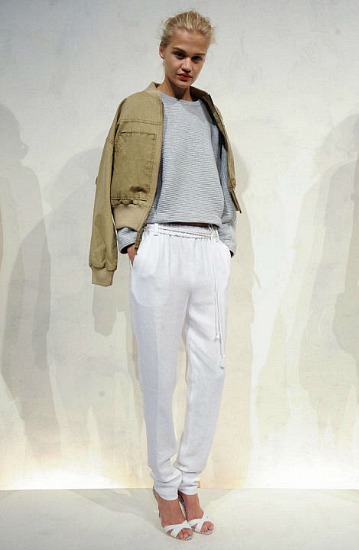 Photo: ELLE
The moment I laid eyes on this outfit, I knew I had to share it with you guys. There's something effortlessly chic about the color palette, and the fact that this look would be casual enough for my 8AM Monday class makes me want it in my closet ASAP.
Get the Look: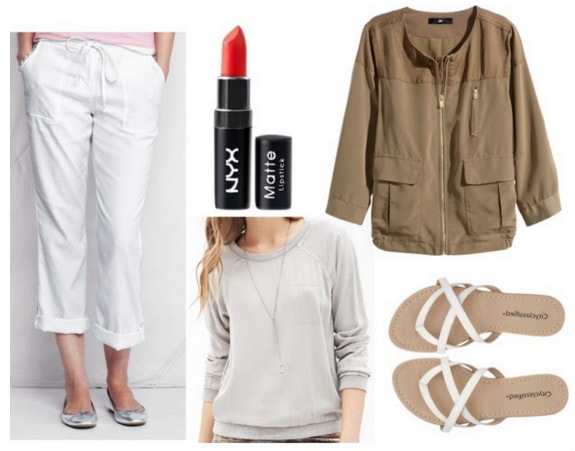 Product Info: Top- Forever 21, Jacket- H&M, Pants- Lands' End, Shoes- Charlotte Russe, Lipstick (in "Indie Flick")- ULTA
Start with a pair of cool, white linen pants; feel free to roll up the legs for an even more casual look. Slip on a lightweight sweatshirt in a light gray hue and add a dark beige jacket over your shoulders for a bit of warmth. Choose strappy sandals and a bright lipstick for a pop of color.
2. Street-Style Blues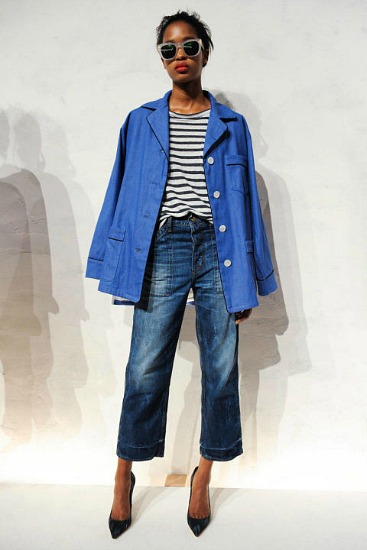 Photo: ELLE
This second look screams street-style; in fact, I wouldn't be surprised if fashionistas at NYFW have been wearing variations of this outfit over the past week. My absolute favorite part of this outfit is the overall slouchiness of the pieces – it definitely ups the cool factor.
Get the Look: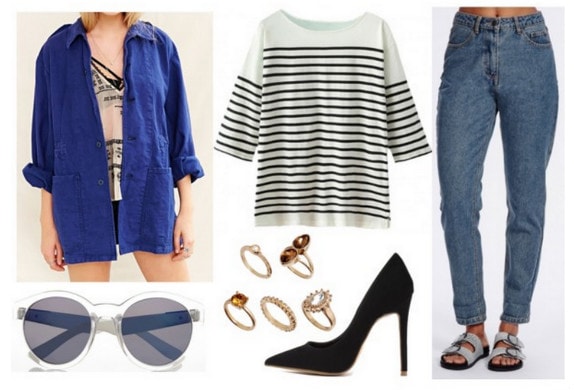 Product Info: Top- Black Five, Jacket- Urban Outfitters, Pants- Missguided, Shoes- GoJane, Rings- ASOS, Sunglasses- River Island
To recreate this look, choose a pair of relaxed-fit jeans, such as these mom jeans from Missguided. Add a slouchy striped top before slipping on an oversized, bright blue jacket. Accessorize with white-framed sunglasses and a few dainty rings. Finish the look with classic pointed-toe pumps that add just a touch of sophistication.
3. S-Teal Worthy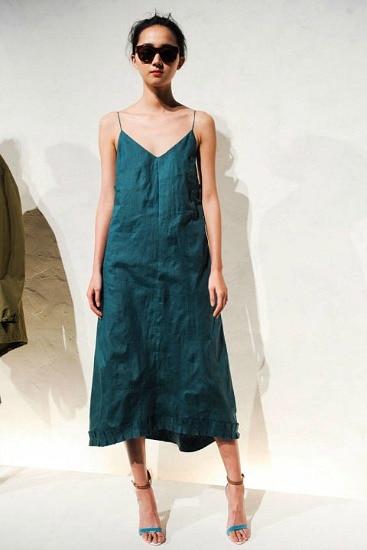 Photo: ELLE
Keeping in the pattern of relaxed silhouettes, this final look is perfect for a casual brunch date on a sunny day. Teal is a rarely seen color on fashion lovers, even though it has the ability to flatter just about anyone's skin tone, but I predict that this gorgeous, dark blue-green hue will be everywhere soon!
Get the Look: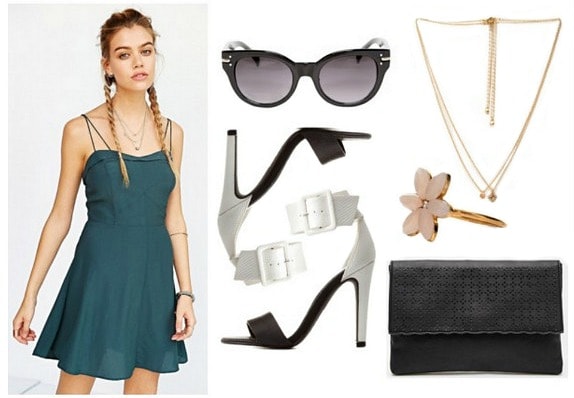 Product Info: Dress- Urban Outfitters, Shoes- Charlotte Russe, Clutch- ASOS, Necklace- Forever 21, Ring- Accessorize, Sunglasses- Pixie Market
Begin with a loose-fitting teal dress with spaghetti straps before sliding into color-blocked, high-heeled sandals. Amp up the original outfit with dainty gold jewelry and a black cut-out clutch. For the finishing touch, channel the original look with dark cat-eye sunglasses.
Your Thoughts?
What did you think of this collection? Are you as in love with it as we are? Which of these looks is your favorite? Would you wear any of them? Remember to let me know your thoughts in the comments below, along with any designers you'd like to see in future posts!