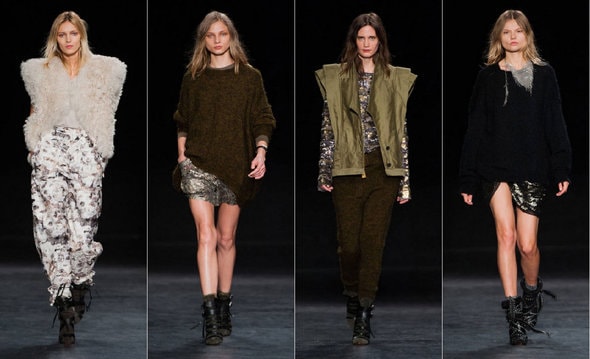 Isabel Marant Fall 2014 RTW | ELLE
As summer winds down and the thermometer starts dropping a few degrees, we are finally able to break out our favorite cool weather clothes. One of my favorite trends – one that I consider essential for the often temperamental fall weather – is layering.
When I realized that Isabel Marant's Fall 2014 RTW collection featured it in spades, I knew it would be the perfect collection to kick off the fall Runway Looks for Less posts.
While the color scheme didn't deviate away from neutrals and army greens, it featured a variety of silhouettes. There were looks that could be described as a bit more girly, along with outfits that had grungy undertones. Overall, it was a solidly enviable collection that I would not mind having in my closet this autumn!
Are you coveting Marant's latest fall collection, but aren't ready to spend those hard-earned summer wages? Read on for three wallet-friendly looks inspired by Isabel Marant's Fall 2014 collection:
1. Neutral (Faux) Fur
Photo: ELLE
Personally, I'm not a big fan of fur as fashion, but what drew me to this outfit was its trendy street style vibe. By incorporating different textures and prints, Isabel Marant executed a perfectly layered look. Plus, we love how the lighter neutrals in this getup will stand out against the sea of dark colors that arise in cool weather.
Get the Look: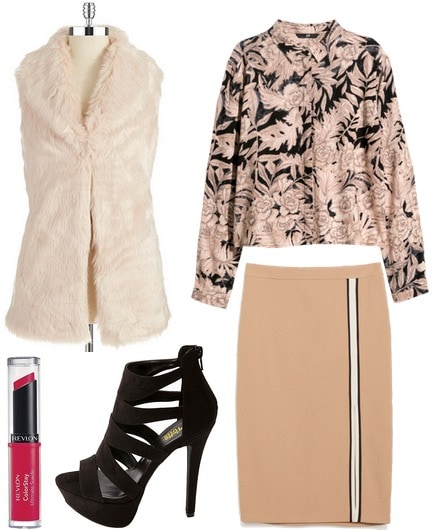 Product Info: Top- H&M, Skirt- Zara, Vest- Lord and Taylor, Shoes- Charlotte Russe, Lipstick (in "Finale")- Target
To recreate this runway outfit, find a neutral-colored skirt that has some sort of black graphic detail. While this skirt isn't as bold as the one in the original ensemble, we think this chic printed blouse makes up for it. Layer on a faux fur vest which is equally, if not more, fab than the real deal. Finish the look with caged heels and a bright pink lip for a dash of color.
2. Sequins and Sweaters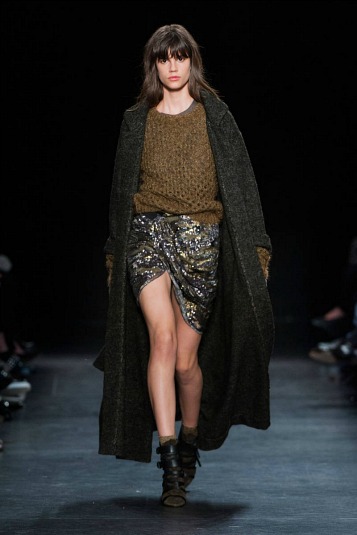 Photo: ELLE
When someone says "army green," the first thing that pops into mind are army fatigues, not knitwear and sequins. However, this particular outfit exudes chicness. We love the juxtaposition of pairing daytime essentials, like knit sweaters, with an item that's usually seen at night, such as a sequin skirt.
Get the Look: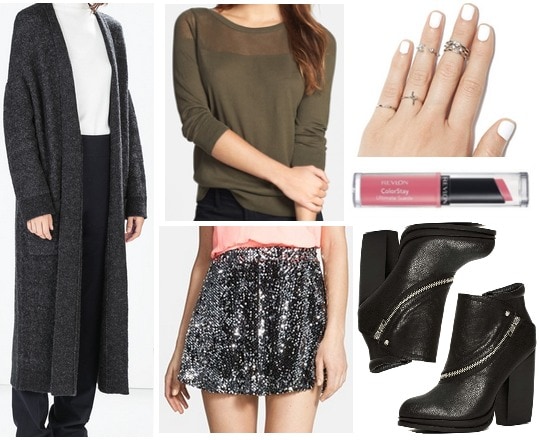 Product Info: Sweater- Nordstrom, Skirt- Nordstrom, Maxi Cardigan- Zara, Shoes- NastyGal, Rings-NastyGal, Lipstick (in "It Girl")- Target
Get inspired by the original outfit and pair a sequined skirt with an olive green sweater. Slip on a trendy knitted maxi cardigan in a gray hue reminiscent of the designer's gray-green color, plus edgy boots that'll help you brave wet weather. Accessorize with midi rings for some more bling before swiping on matte pink lipstick to complete the getup.
3. Laid-Back in Plaid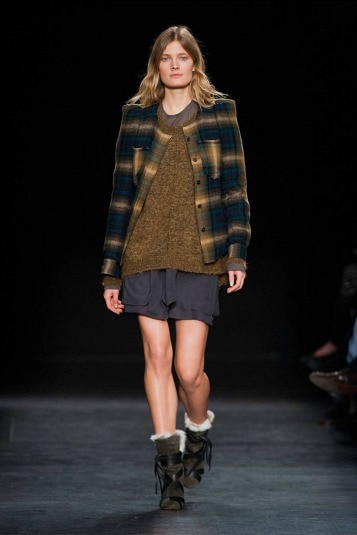 Photo: ELLE
Plaid evokes a laid-back '90s grunge vibe, so we love to see it in a more structured setting, like this strong-shouldered jacket. The structureless sweater and bottoms add a nice balance to the jacket, while the fur-trimmed shoes are sure to keep your toes warm despite the bare legs.
Get the Look: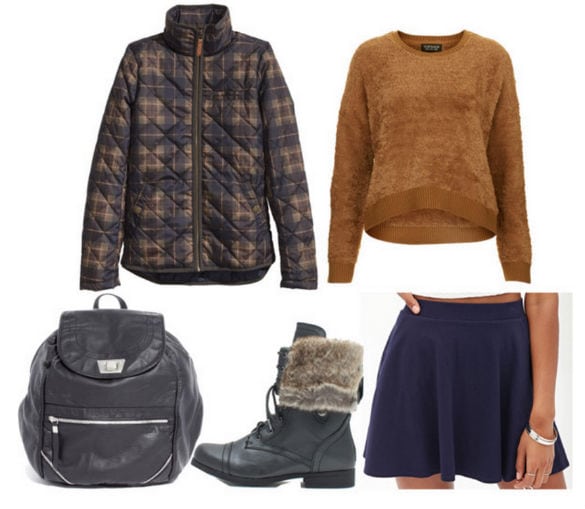 Product Info: Top- Topshop, Skirt- Forever 21, Jacket- H&M, Shoes- Go Jane, Backpack- ASOS
For this outfit recreation, start with a navy skirt and a loose-fitting camel-hued sweater. Layer on a plaid jacket in a similar color scheme as your skirt and top. Continue to channel the designer ensemble by adding some boots with a faux fur trim. To make this outfit even more perfect for a day of classes, grab a slouchy backpack.
Your Thoughts?
What did you think of this collection? Are you inspired by Isabel Marant's fall looks? Which one of these outfits is your favorite? Would you wear any of them? Do you want to see any designers featured in upcoming weeks? Remember to leave your thoughts in the comments below!