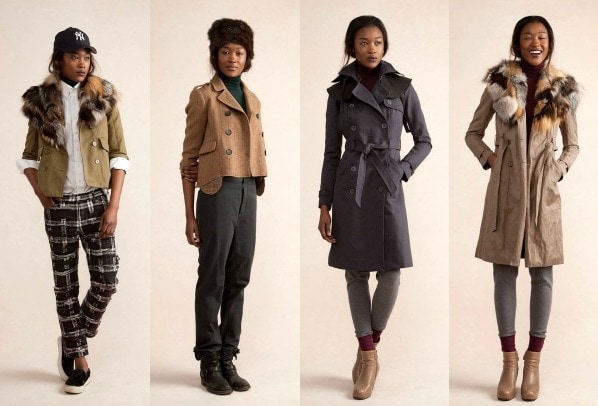 Gryphon Fall 2013 RTW | ELLE
The most important element of any wintertime look is the outerwear, so for this Runway Looks for Less post, we wanted to focus on just that.
Gryphon is an NYC-based design house that creates women's outerwear, and their fall 2013 collection is simply brimming with winter outfit inspiration. From classic trench coats to trendy fur-trimmed jackets, Gryphon has it all.
Below, we've created three lower-priced versions of looks from Gryphon Fall 2013. Simply scroll down to check them out:
1. Utilitarian Chic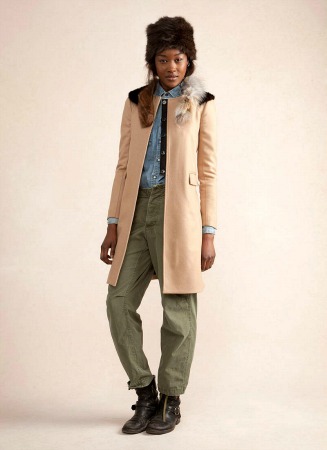 Photo: ELLE
Whether it's a coat, hat, or scarf, (faux) fur elements are ultra-trendy this season. These luxe pieces are typically associated with equally as glamorous outfits, which is why we like the above look so much. Pairing the fur-trimmed coat and hat with cargo pants and a denim shirt creates a unique contrast that's sure to turn heads.
Get the Look: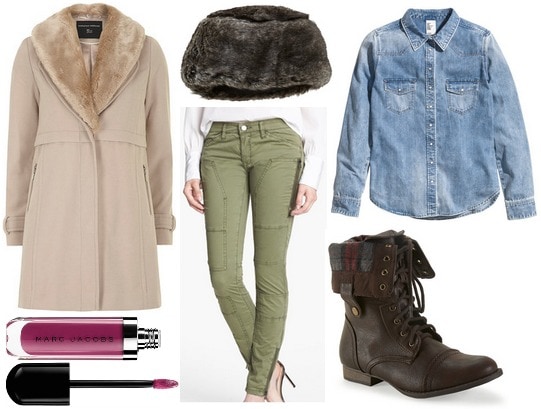 Product Info: Coat- Dorothy Perkins, Hat- Jack Wills, Shirt- H&M, Lip Gloss- Marc Jacobs, Pants- Nordstrom, Shoes- Aeropostale
For a similar ensemble, start by pairing olive cargo pants with a button-front denim shirt. Contrast these utilitarian elements with glam pieces, like a faux-fur collar coat and a faux-fur hat. Combat boots are a trendy and practical pick, while this plum-hued lip gloss adds a much-needed dose of color.
2. Sporty Luxe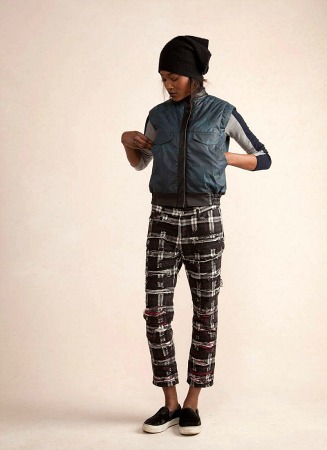 Photo: ELLE
A puffer vest is a great outerwear option for winter, and this look really plays up the sporty vibe of the vest. This ensemble revolves around cozy, no-frills pieces, like the long-sleeved tee and beanie, but what really takes this outfit to the next level are the trendy checked trousers.
Get the Look: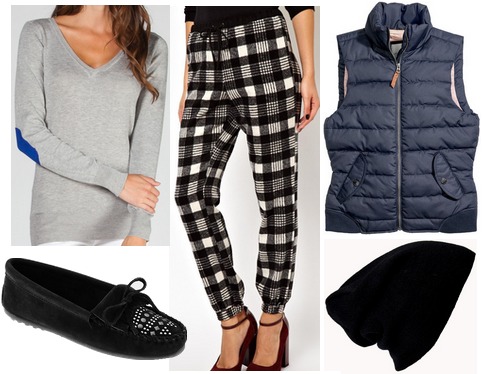 Product Info: Top- Tilly's, Pants- ASOS, Vest- H&M, Shoes- Nordstrom, Hat- Forever 21
Get this look for less by pairing some comfy checked trousers with a long-sleeved tee. Add a cozy blue puffer vest, as well as an on-trend knit beanie. Complete this wintry getup with a pair of embellished moccasins.
3. Very Violet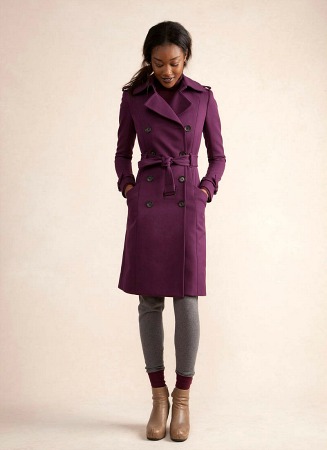 Photo: ELLE
Rocking outerwear in a bold hue is a fantastic way to infuse some color into your winter look, and this purple trench is no exception. However, what we really love about this look is reddish-purple sweater underneath the coat, as well as the matching socks. It's a chic way to wear a monochrome ensemble during the colder months of the year.
Get the Look: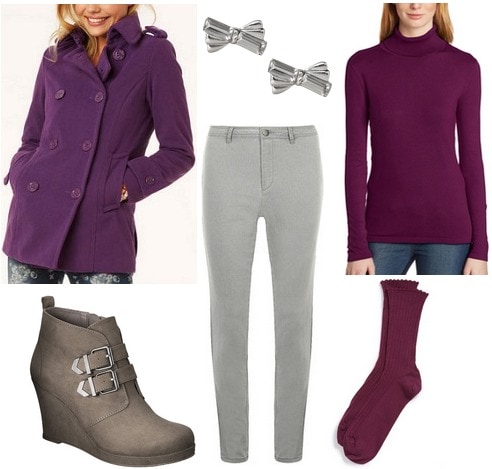 Product Info: Coat- Delia's, Earrings- Express, Sweater- Amazon, Shoes- Target, Pants- Dorothy Perkins, Socks- Nordstrom
Recreate this outfit by layering a purple turtleneck underneath a slightly-darker purple pea coat. Add a matching pair of socks for a fun pop of color, then ground the look with gray jeggings. As far as footwear goes, we went with a pair of stylish wedge ankle booties. Keep the accessories simple – some bow-shaped studs are all you need to finish up this ensemble.
Your thoughts?
What do you think of this collection? Which look is your favorite? Would you wear any of these outfits? Which designers would you like to see featured here next? Remember to leave a comment below and let me know what you think!