Fendi's Spring 2016 collection includes so many of Summer 2016's hottest fashion trends, mixed with the fashion house's signature upscale cool vibe. Fabric choices include fierce snakeskin, daring denim, and sassy leather, all of which can still be worn in warm weather. For further summer inspiration, the collection includes geometric sunglasses with the combination of vibrant colors and patterns.
Want to get a runway-ready look on a budget? Below I'll show you how to recreate three looks inspired by Fendi Spring 2016.
1. Red, White, and Green
This look has so many intricate details that combine to create a stunning ensemble. A white cutout dress, burgundy handbag, and olive green sandals contrast with each other for balance and style.
Get the Look: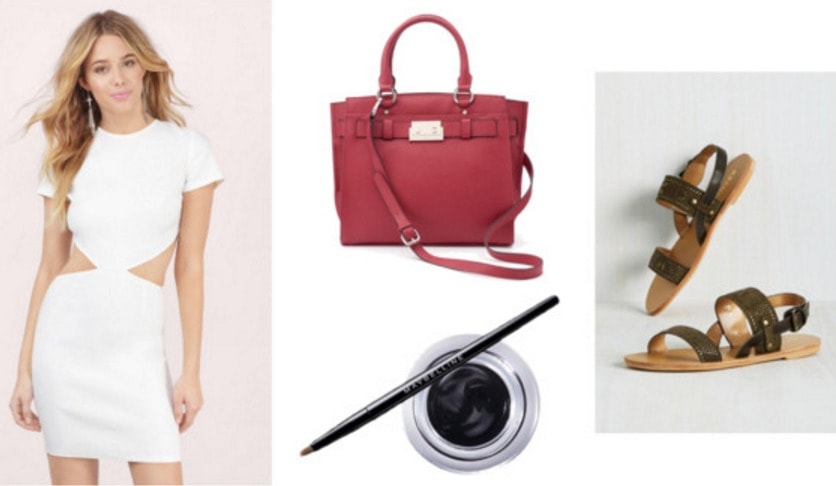 Products: Dress, Handbag, Eyeliner, Shoes
To recreate this look, start with a nice white cutout dress, a piece you'll wear constantly this summer. Add on a candy apple red handbag with olive green sandals. Apply Maybelline's fantastic gel eyeliner (a CF fave) and you're ready to go!
2. Midnight Black
This look steps the classic all-black look up a notch with ultra-cool additions like a snakeskin handbag, olive green jacket, killer sunglasses, and cutout shoes.
Get the Look: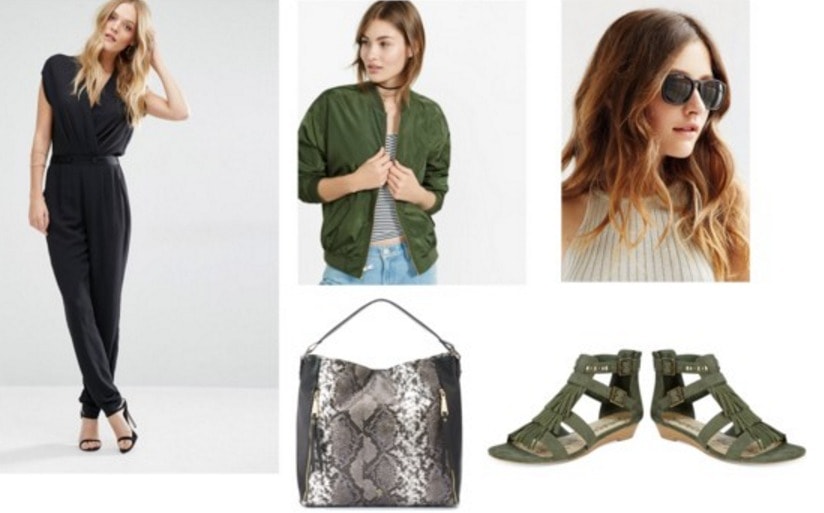 Products: Jumpsuit, Jacket, Sunglasses, Handbag, Shoes
For this look, a dressy black jumpsuit provides the perfect base. Add an olive green bomber jacket for chilly nights. Fringe gladiator sandals earn you major cool points and can be paired with so many other outfits. Finish with a snakeskin print handbag and square sunglasses.
3. Baby Blue
This final look is simple, but its details make it stand out from the crowd. I love its billowy silhouette and mix of light blue and dark brown – such a lovely color combo!
Get the Look: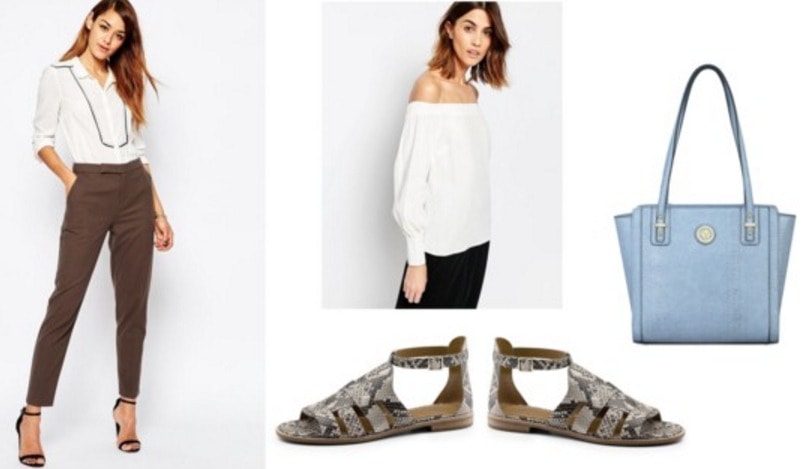 Products: Pants, Shirt, Shoes, Handbag
To recreate this look, a white off-shoulder blouse and dark brown ankle pants are key. Snakeskin leather sandals and a light blue handbag finish the look.
Your Thoughts?
What do you think of Fendi's Spring 2016 collection? Which outfit would you wear? Remember to share your thoughts in the comment section below!