This post may contain affiliate links, which means we may receive a commission if you purchase through our links. Please
read our full disclosure here
.
Dolce and Gabbana's Spring 2016 collection has a fun, springtime jetsetter vibe that will have you ready to be out in the sun. The lighthearted, flirty pieces feature floral designs, vibrant colors, and elegant headpieces – there's a lot to lust over!
Want to get a runway-ready look for a fraction of the price? Below I'll show you how to get three looks from Dolce and Gabbana Spring 2016.
1. Fun in the Sun
This look is so chic yet also fun and whimsical. The polka dot patterned top, combined with a fun and funky printed skirt and floral shoes, is a perfect mix for the season.
Get the Look: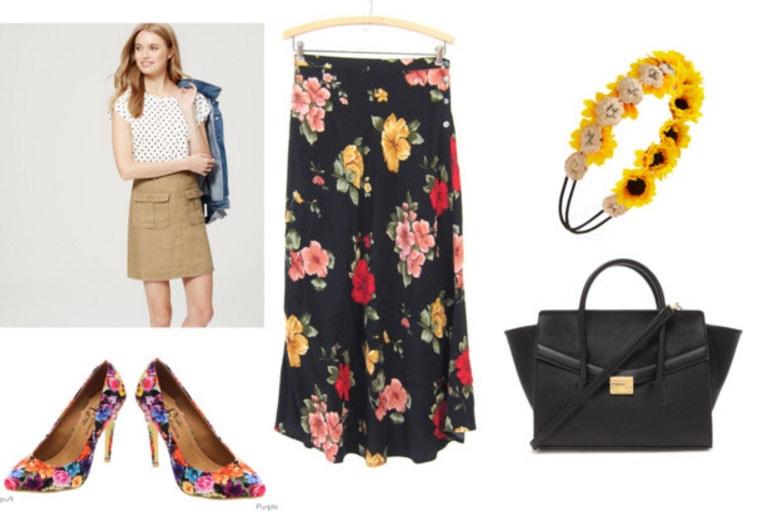 Products: Shirt, Skirt, Shoes, Handbag, Headband
To recreate this look, start with a polka dot blouse. Tuck it into a flowing, floral skirt – this one has a color scheme that mimics the Dolce and Gabbana skirt. Add a black handbag for polish and a fun floral headband for some pop. Top off the look with floral pumps.
2. Polka Poise
This ensemble is perfect for those who dream of traveling to Italy in springtime. (Can't you just imagine frolicking around Milan in it?) The look's bold flowers and cool mixed patterns are daring and eye-catching, yet the ensemble somehow doesn't feel over-the-top.
Get the Look: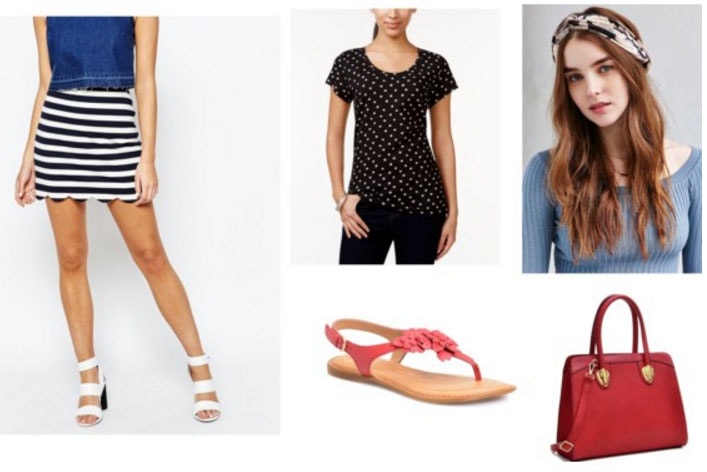 Products: Skirt, Shirt, Shoes, Handbag, Headband
To get this look, pair together a polka dot shirt and a scalloped hem striped skirt. Though this one doesn't feature bold red flowers, it still channels the vibe of the original. A floral printed turband adds fashion flair. Complete the look with a red handbag and floral sandals.
3. Magenta Maven
I absolutely love magenta for the upcoming season – it's the perfect shade for ushering in the sunny months ahead. This magenta dress practically screams summer with its seaside print and multicolored trim.
Get the Look: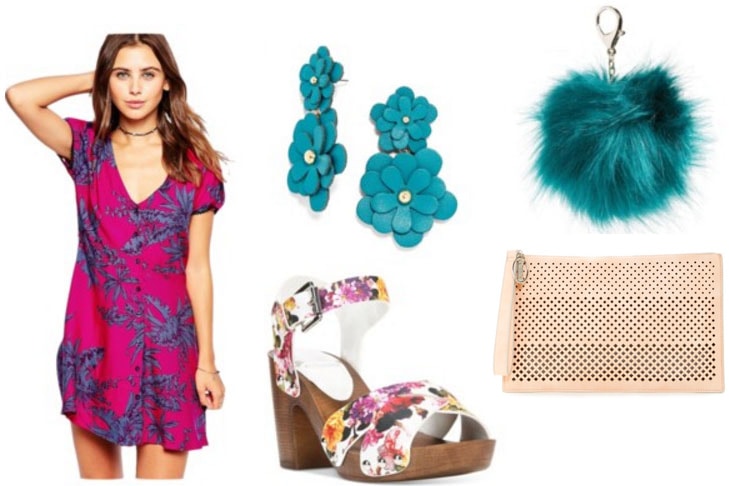 Products: Dress, Earrings, Shoes, Fur Keychain, Clutch
For the final look, start with a sassy magenta dress. This one has a cool palm tree print and comes in the same color as the Dolce and Gabbana dress. Accessorize with turquoise floral earrings, a matching fur clip, and a tan clutch. (Add the keychain to the clutch for the runway look!) Finish the ensemble with floral wooden platforms.
Your Thoughts?
What do you think of Dolce and Gabbana's Spring 2016 collection? Which outfit would you wear? Remember to share your thoughts in the comment section below!