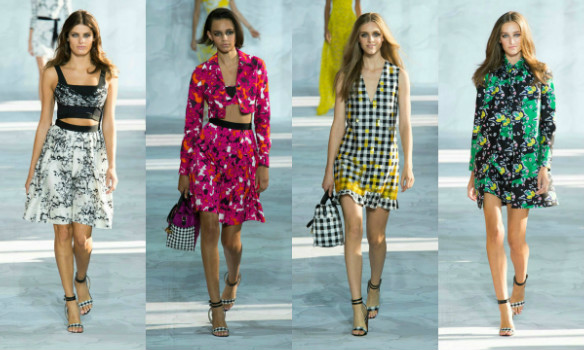 Diane von Furstenberg Spring 2015 | ELLE
I don't know about you guys, but I am 100% ready for spring dresses and bare legs! Though we've still got weeks to go, Diane Von Furstenberg's Spring 2015 RTW collection gave me a glimpse into what I want my spring wardrobe to look like: short hemlines, relaxed but chic silhouettes, and neutral palettes with dashes of color.
Along with a lot of leg, DVF's newest spring looks noticeably had a lot of gingham, an unexpected pattern choice that worked. Patterns have always had a soft spot in my heart, so this unique fabric totally set my heart a-flutter. While gingham is a more country-like pattern choice, the way it was used made it perfect for city girls, country girls, and basically every girl looking for a fab and unexpected spring print.
Are you lusting over DVF's gorgeous new collection, but aren't digging that price tag? Read on for three budget-friendly looks inspired by outfits straight off DVF's spring runway:
1. Pretty in Blue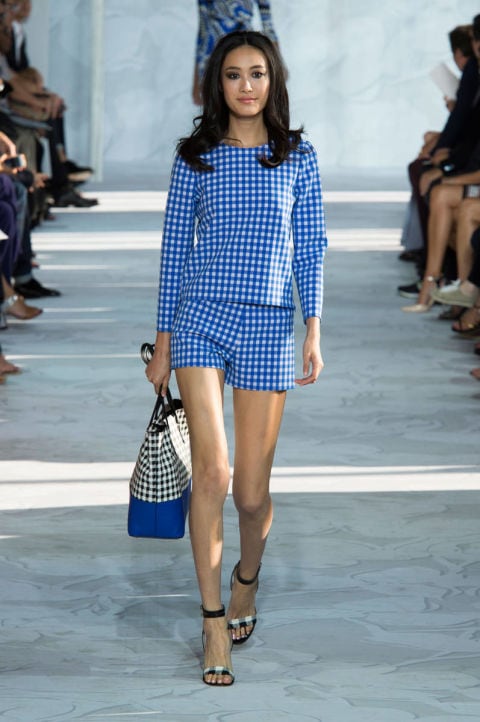 Photo: ELLE
As seen here, and in many other spring collections, it seems that matching sets aren't going away any time soon (good, because yours truly is obsessed with them). This look combines a bit of country charm with a sophisticated silhouette. Plus who wouldn't want to stroll around campus in an outfit like this?
Get the Look: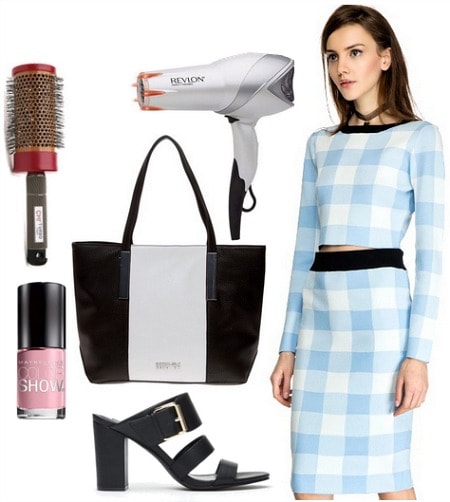 Product Info: Top- Pixie Market, Skirt- Pixie Market, Shoes- Forever 21, Bag- Overstock, Nail Polish (in "Pink & Proper")- Walmart, Blow Dryer- Walmart, Hair Brush- Drugstore.com
To recreate the above outfit, choose coordinates in a blue gingham pattern. This choice is a bit lighter in hue and has a skirt instead of shorts, but I love the slight edge the black adds to it. Choose a pair of mid-heel sandals for a bit of comfort and a color-blocked tote. Finish the look with pale pink nail polish and soft, flippy hair.
2. Green with Envy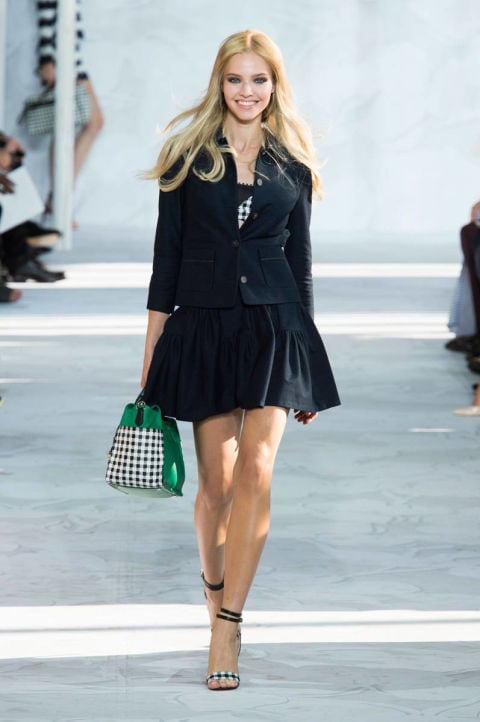 Photo: ELLE
For me, the winning aspect of this look is that pop of green from the bag. The rest of the outfit is straightforward — the neutral palette, the classic combo of a structured top balanced by a flowy bottom — but the dash of green is the perfect example of how a bit of color and the right accessories can bring your chic ensemble to another level.
Get the Look: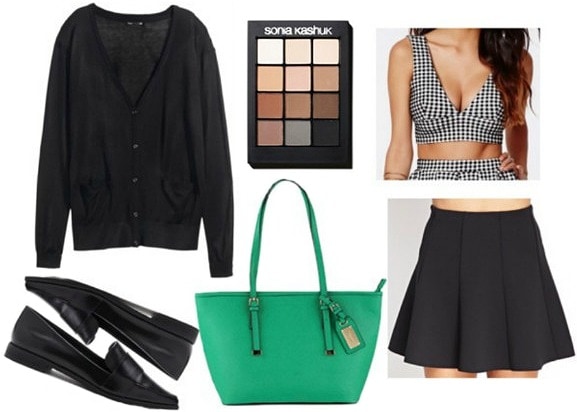 Product Info: Top- Missguided, Cardigan- H&M, Skirt- Forever 21, Shoes- Forever 21, Bag- ALDO, Eyeshadow (in "Eye on Neutral 02")- Target
Pair a skater skirt with a black-and-white gingham crop top, then slip on a fitted blazer or cardigan (we went with a cardigan for more of a lightweight look). To keep a bit of a preppy vibe, choose classic black loafers; continue to channel DVF with a smoky eye in browns and golds. Carry a bright green bag to make the outfit perfect for running errands around town.
3. Lace + Gingham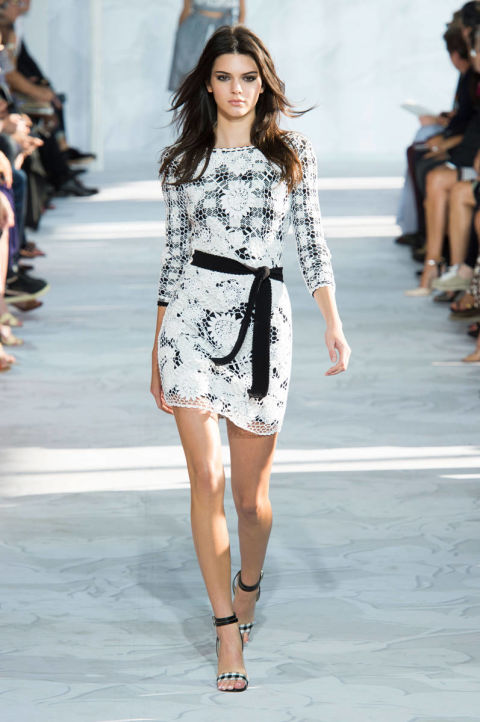 Photo: ELLE
This is one of my favorite looks from DVF"s spring collection. I am truly in love with the pop of gingham we get under a classic little white lace dress. The simple silhouette of the dress is balanced by the unusual fabric choice, plus the classic styling makes this outfit perfect for a date on a warm spring day.
Get the Look: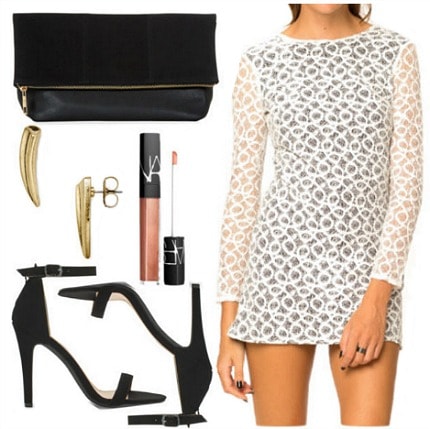 Product Info: Dress- Motel Rocks, Shoes- GoJane, Clutch- Accessorize, Earrings- Bloomingdale's, Lip Gloss (in "Greek Holiday")- Sephora
For a similar look, choose a white lace dress with some sort of patterned or black underlay. Slip on a pair of classic ankle strap sandals and grab a trendy fold-over clutch. Accessorize with simple gold earrings that have a bit of an edge. Get Kendall Jenner's makeup look with golden-brown eyeshadow and a swipe of pink gloss.
Your Thoughts?
What did you think of this collection? Are you as in love with it as we are? Which of these looks is your favorite? Would you wear any of them? Remember to let me know your thoughts in the comments below, along with any designers you'd like to see featured in upcoming weeks!