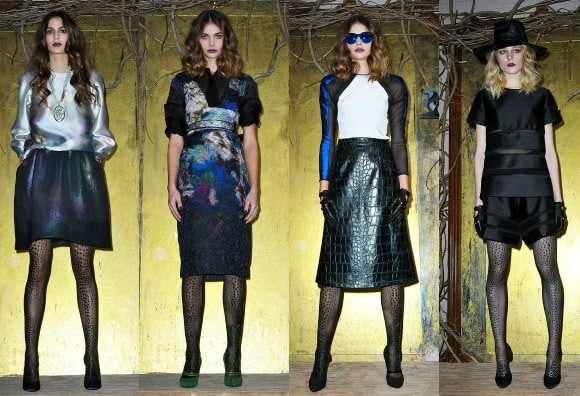 Cynthia Rowley Fall 2013 RTW | ELLE
Between the dark makeup and ominous backdrop, Cynthia Rowley's Fall 2013 collection has a spooky yet stylish vibe that's perfect for Halloween. However, these fabulous clothes can be worn year-round!
If you want to get a runway-ready look for a fraction of the price, you've come to the right place. Below, we've created lower-priced versions of three looks from Cynthia Rowley Fall 2013 – simply scroll down to check them out:
1. Blank Slate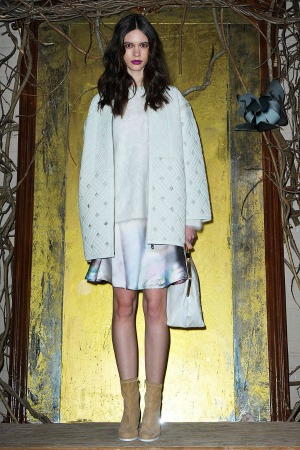 Photo: ELLE | Click image to enlarge.
This look proves that wearing white after Labor Day is a chic and stylish choice. To keep this all-white ensemble from looking too one-note, Rowley mixed it up with different fabrics – the skirt has a cool holographic-like finish, while an angora sweater and a quilted coat add texture to the outfit.
Get the Look: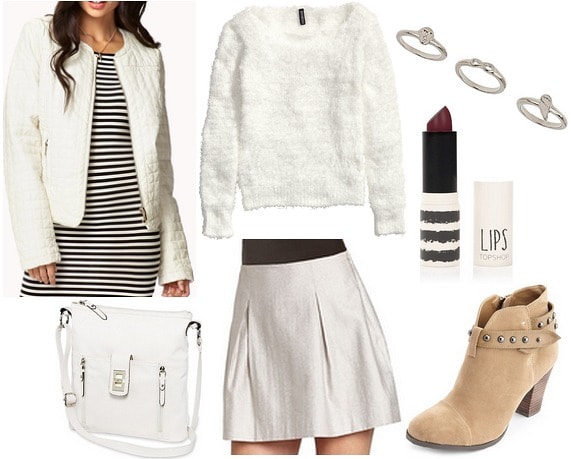 Product Info: Jacket- Forever 21, Sweater- H&M, Rings- Topshop, Bag- JCPenney, Skirt- Lord & Taylor, Lipstick- Topshop, Shoes- Charlotte Russe
Recreate this look by pairing a shimmery A-line skirt with a chenille sweater. Layer on a quilted jacket and add a pair of beige ankle booties. Accessorize with a sleek white cross-body bag and silver midi rings. For the finishing touch, add a pop of color with a dark plum lipstick.
2. Perfectly Polished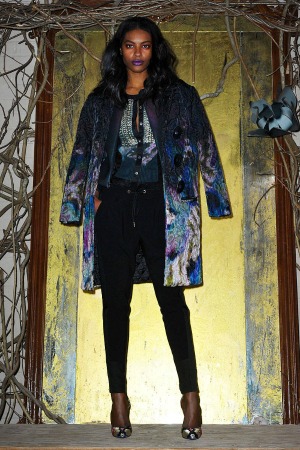 Photo: ELLE | Click image to enlarge.
Classic wardrobe staples are given a fashion-forward update in this Cynthia Rowley look. A button-up blouse looks super chic thanks to some sparkly embellishments, while these drawstring pants are totally on-trend this season. Lastly, a statement-making jacquard coat is a stylish outerwear choice for fall.
Get the Look: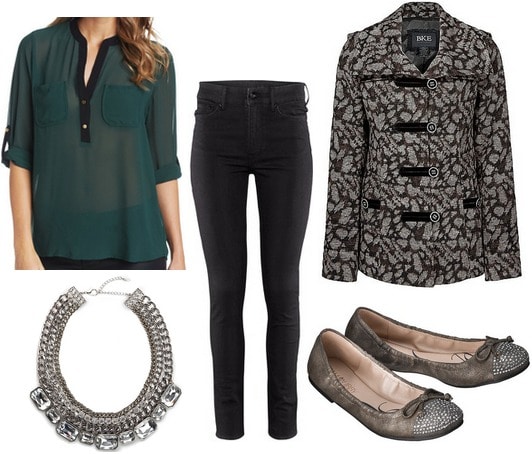 Product Info: Top- Amazon, Jeans- H&M, Coat- Buckle, Necklace- BaubleBar, Shoes- Target
For a similar outfit, start with a deep green button-front blouse. Add a jeweled statement necklace to recreate the embellished look of the original designer top. High-waisted black jeans streamline the look, while metallic flats are a cute yet comfy choice. Complete the ensemble by throwing on a bold printed coat.
3. Laid-Back Luxe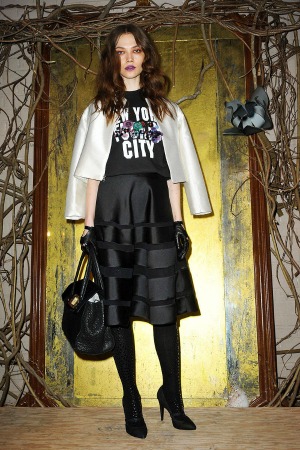 Photo: ELLE | Click image to enlarge.
This final outfit – which pairs a ladylike skirt with a graphic tee – is equal parts girly and grungy. Embellished tights and leather gloves add some edge, while the stilettos and a cropped jacket are ultra-feminine.
Get the Look: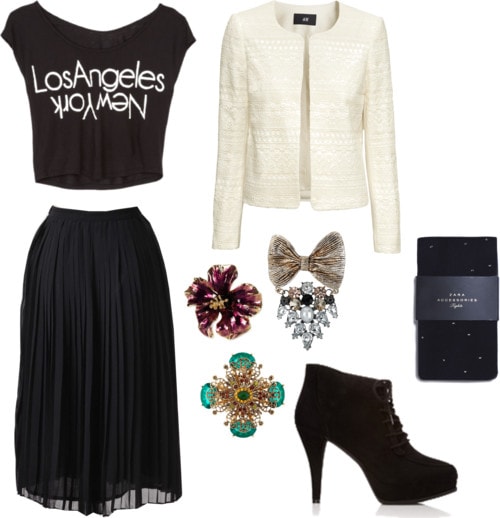 Look for Less: Cynthia Rowley Fall 2013 by collegefashion featuring Topshop
Product Info: Top- Delia's, Jacket- H&M, Skirt- Ruche, Purple Brooch- Macy's, Bow Brooch- Topshop, Green Brooch- Debenhams, Shoes- Forever 21, Tights- Zara
Get this runway ensemble for less by pairing a graphic t-shirt with a pleated midi skirt – make sure to accessorize with several brooches to recreate the look of the designer tee. Heeled ankle booties perfectly capture that girly-meets-grungy vibe, while studded tights edge up the outfit even more. Last but not least, the white jacket adds some much-needed contrast to this otherwise monochrome look.
Your thoughts?
What do you think of this collection? Are you a fan of Cynthia Rowley? Which look is your favorite? Would you wear any of these outfits? Which designers would you like to see featured here next? Remember to leave a comment below and let me know what you think!