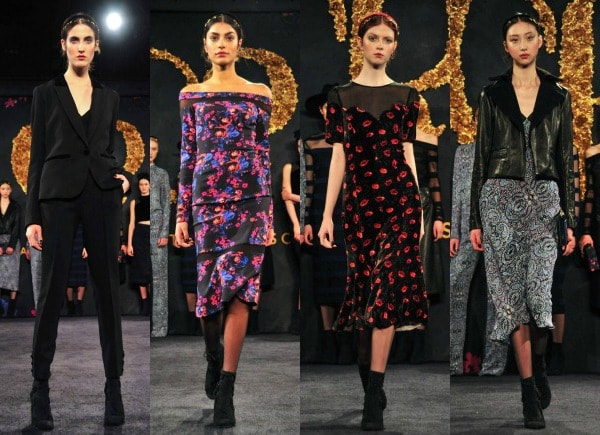 Charlotte Ronson Fall 2014 RTW | ELLE
I'll admit it, one of my favorite things about fall is that almost everyone wears dark colors. My love for these hues might be a trait left over from my middle school emo days (did you guys go through that phase, too?), so when I saw Charlotte Ronson's Fall 2014 RTW collection I was ecstatic.
That dark color palette, plus the use of leather and velvet looks so edgy, but there are also feminine aspects, such as floral prints, delicate lace, and sheer textiles. Mixing dark, tough-looking clothes with dainty and girly elements creates such fashion-forward looks, and this collection shows us how to do it right.
Lusting after this collection but balking at the price tag? Keep reading for three wallet-friendly outfits inspired by Charlotte Ronson's latest fall looks:
1. Black and Braided

Photo: ELLE
By combining a blouse with frill detailing with a black skirt in a heavier fabric, this first outfit from Charlotte Ronson is the perfect example of dark femininity. Though it's styled with black shoes and nail polish, the rosy lip and delicate braid further embody that soft-but-edgy vibe.
Get the Look: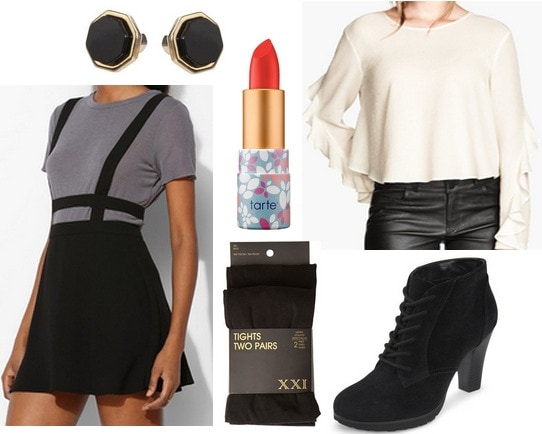 Product Info: Top- H&M, Skirt- Urban Outfitters, Tights- Forever 21, Shoes- Target, Earrings- Marc Jacobs, Lipstick (in "Watermelon")- Sephora
To recreate this runway ensemble, pair a cream-hued top that has frill detailing with a black suspender skirt. Continue to channel Ronson by styling your look with semi-transparent tights, lace-up booties, and gold-and-black stud earrings. Swipe on a rosy lipstick, then finish with a cool double French-braid hairdo, like the model.
2. Luxe Velvet

Photo: ELLE
I love velvet in small doses (read: a crop top or scrunchie), but had honestly never wanted a pair of velvet pants until, through some form of divine intervention, I laid my eyes on this getup. The ensemble as a whole screams "fall," and looks so luxurious and trendy.
Get the Look: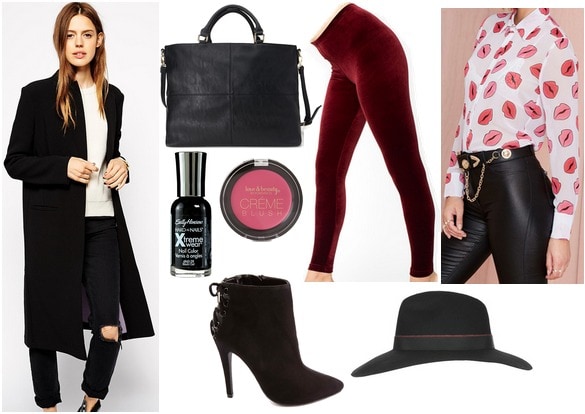 Product Info: Top- Nasty Gal, Leggings- American Apparel, Coat- ASOS, Shoes- Charlotte Russe, Hat- Topshop, Bag- Forever 21, Blush- Forever 21, Nail Polish (in "Black Out")- ULTA
While the model is actually wearing a poppy print blouse, at first glance, I thought it looked a bit more lip-shaped. For this reason, I decided to base this recreation around a slightly sheer, lip-printed blouse. The white hue also lightens things up a bit, which is great if you're not into rocking head-to-toe dark looks.
Pair the blouse with rich, deep red velvet leggings and a fab, midi-length black coat. Slip on heeled booties and a wide-brimmed hat for added oomph, then choose a sleek tote. Finally, swipe on a coat of black nail polish and some pink blush to complete the ensemble.
3. Sheer Excitement

Photo: ELLE
The third and final Charlotte Ronson look would be flawless for a night out on the town with the girls. It's tough but edgy and classic but modern. We love how the different textures add a sense of depth to the ensemble and how that bright floral clutch pops against the monochromatic clothes.
Get the Look: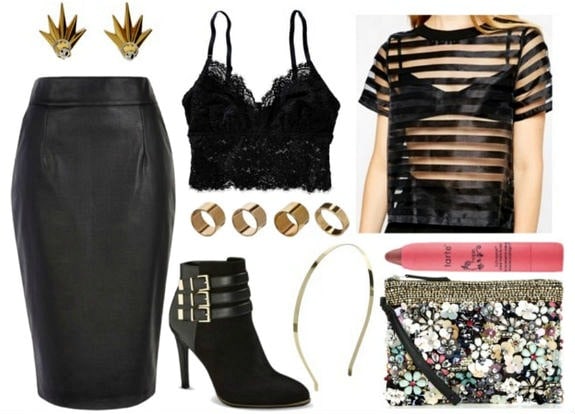 Product Info: Top- ASOS, Bralette- American Eagle Outfitters, Skirt- River Island, Shoes- Target, Bag- Accessorize, Earrings- Nasty Gal, Ring Set- ASOS, Headband- ASOS, Lip Stain (in "Hope")- Sephora
For this outfit, choose a sheer black blouse and wear a lace bralette underneath. Tuck the shirt into a midi-length leather skirt, then slip on suede booties with gold buckle detailing. Accessorize with delicate gold jewelry and a matching headband that would make Blair Waldorf proud. Complete the look with a pretty pink lip and a punchy floral bag.
Your Thoughts?
What did you think of this collection? Has Charlotte Ronson become your fall clothing spirit animal? Which one of these outfits is your favorite? Would you wear any of them? Remember to let me know your thoughts in the comments below, along with any designer you'd like to see in upcoming weeks!