Chanel Spring 2014 RTW | ELLE
Ask anyone to name a classic fashion house and more often than not, they will probably reply "Chanel." There's a reason why this brand has become an icon in the fashion world, and with Karl Lagerfeld as the current creative director, Chanel's Spring 2014 RTW collection displays a perfect combination of modernity and elegance.
It is quite easy to see that this collection, with upwards of 80 looks, took inspiration from art. The collection utilized unique fabrics, vivid colors, and a print reminiscent of an artist's palette. Plus, the models' all sported colorful eye makeup. Chanel Spring 2014 is light, bright, and ideal for spring.
Are you coveting Chanel's spring collection, but aren't as infatuated with the prices? Scroll down for three lower-priced outfitsinspired by looks straight off the runway!
1. Tangerine Spring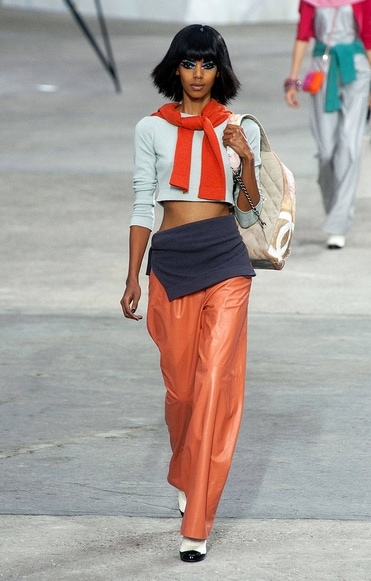 Photo: ELLE
This outfit displays Chanel's ability to expertly use unique fabrics. The wide-legged silhouette of these lambskin pants juxtaposes the more tailored knit cropped top. The combination of orange and blue is unexpected yet on-trend, while the classic quilted Chanel bag is replaced with a quilted backpack – perfect for a full day of classes!
Get the Look: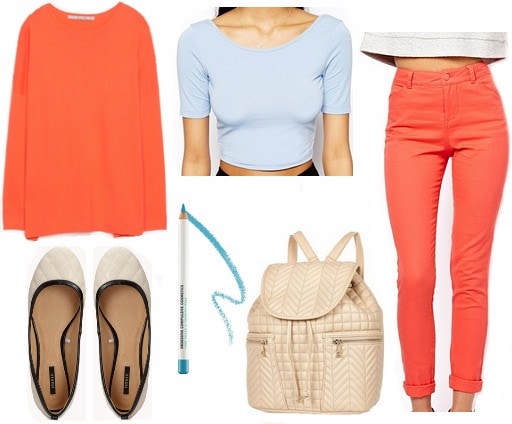 Product Info: Top- ASOS, Pants- ASOS, Sweater- Zara, Shoes- Forever 21, Backpack- River Island, Eyeliner- Sephora
Start off with an orange-hued pair of pants (we love these high-waisted ones from ASOS!) and a powder blue top. Drape a sweater in the same color family as the pants over your shoulders for an effortlessly preppy-cool look. Amp up your eye makeup with this trendy blue eyeliner. Complete the ensemble with a quilted backpack and these two-toned quilted flats – both are reminiscent of the legendary Chanel bag.
2. Icy White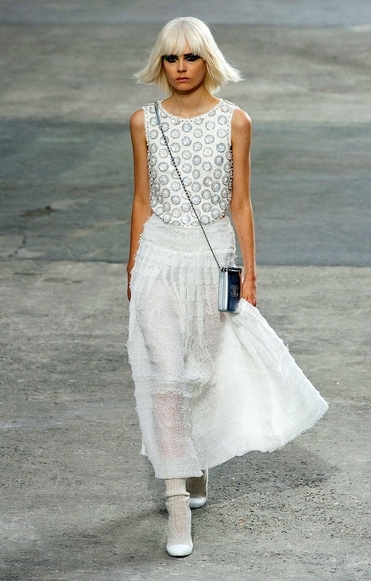 Photo: ELLE
Bright white looks have been popping up on all the major runways, so it's not surprising that Chanel has its own take on what seems to be the color of the season. We love the flowiness of the skirt combined with a heavily-embellished top. The combination of white and blue, plus the ornate embellishments and metallic bag makes for a icy cool outfit that works for a warm spring day.
Get the Look: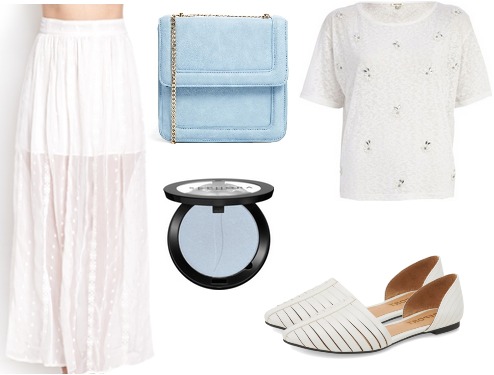 Product Info: Top- River Island, Skirt- Forever 21, Shoes- DSW, Bag- ASOS, Eyeshadow in "Sweet Dreams"- Sephora
Channel this second look with a white embroidered maxi skirt and a white embellished textured blouse. Slip on a pair of pointy-toed flats and grab a blue cross-body bag. This one has very Chanel-like features, like the front flap closure and chain handle. Continue the bright eye trend in a subtle way with a subdued yet still vivid eyeshadow.
3. Work of Art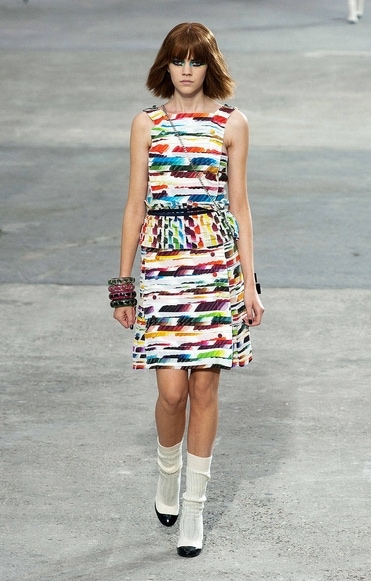 Photo: ELLE
This colorful and playful print reminds us of a painter's palette! The layered light crepe fabric is spring-ready, and we think this outfit perfectly represents the artistic inspiration for this collection. It would be such a fun ensemble to recreate for a girl's night out.
Get the Look: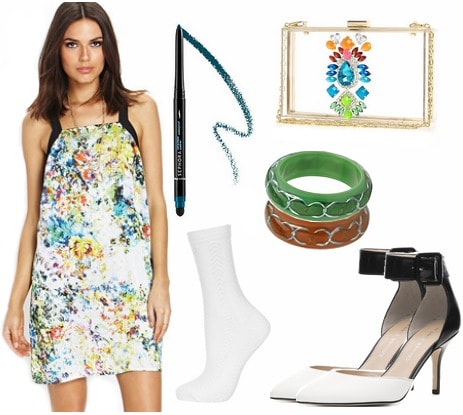 Product Info: Dress- Forever 21, Shoes- DSW, Socks- Topshop, Bag- River Island, Bangles- Mango, Eyeliner in "Teal"- Sephora
Get inspired with this colorful dress – the print reminds us of a watercolor painting, and it's way less expensive than Chanel! Choose color-blocked heels and wear them with white socks for a fashion-forward vibe. Accessorize with a lucite handbag and colorful bangles – these Mango ones have the same inner chain detail as the bangles in the original outfit. For the finishing touch, opt for a teal eyeliner to create a colorful smoky eye.
Your Thoughts?
What did you think of this collection? Did you feel inspired after looking at Chanel's spring looks? Which of these outfits is your favorite? Would you wear any of them? Remember to let me know your thoughts in the comments below, along with any designer suggestions for upcoming weeks!