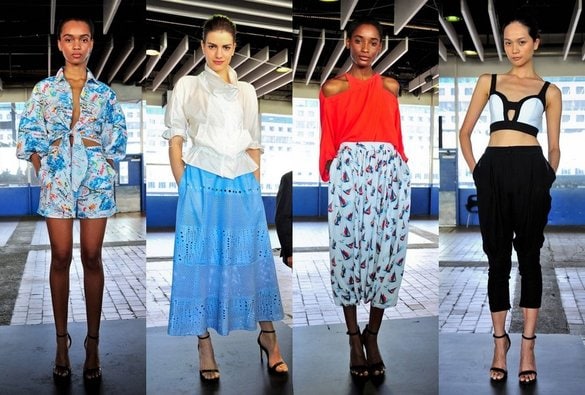 Catherine Malandrino Spring 2014 RTW | ELLE
Catherine Malandrino's Spring 2014 collection was inspired by the sea, and each nautical-inspired look had a chic, fashion-forward vibe that's perfect for summer. Combining a unique ship print and primary colors with classic yet trendy aspects, like A-line skirts, sporty separates, and billowing fabrics, Malandrino's spring collection is exactly what you would want to wear on a warm, relaxing beach trip!
Are you loving these maritime-influenced looks, but aren't so fond of their price tags? Scroll down for three budget-conscious outfits inspired by Catherine Malandrino's most recent collection.
1. Sheer Perfection
Photo: ELLE
While a good chunk of this collection focuses flowy fabrics reminiscent of the ocean's waves, this outfit changes it up a bit with an edgy laser-cut leather skater skirt and a sheer button-up. We love how the visible bralette adds a bit of cheekiness to an otherwise classic combination.
Get the Look: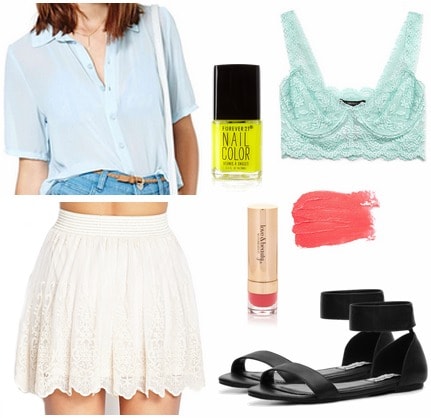 Product Info: Top- Nasty Gal, Bralette- Forever 21, Skirt- Forever 21, Shoes- DSW, Lipstick (in Pink)- Forever 21, Nails (in Citron)- Forever 21
To recreate this outfit, start with a lace bralette and a sheer blouse, both in pretty pastel shades. This scalloped mesh skirt is similar to the original, but costs a fraction of the price. (If you're willing to splurge, check out this faux leather cut-out skirt – it's nearly identical to the runway version!)
This Nasty Gal top isn't quite as sheer as the original, but we think this detail allows for the getup a bit more wearable for the average gal. Add a pair of black sandals, then finish the look with the model's pink lip and bright yellow pedicure.
2. Ocean Blues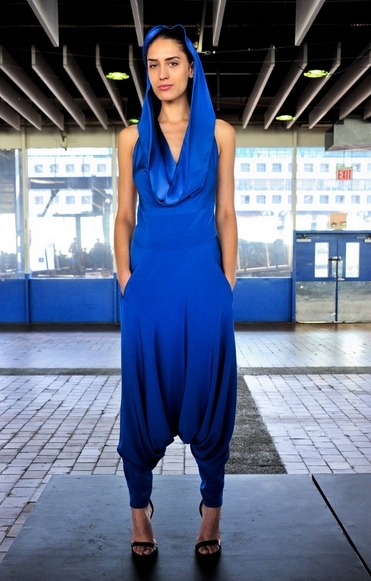 Photo: ELLE
One of the quirkier looks from the collection, this hooded jumpsuit incorporates a beautiful shade of blue that will look amazing on almost – if not every – skin tone! While the top half is fitted, the bottom consists of a trendy harem pants-like style. The minimalistic heels help balance the unconventional silhouette.
Get the Look: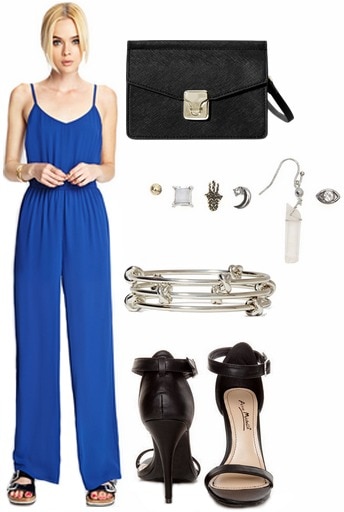 Product Info: Jumpsuit- Forever 21, Shoes- Lulu's, Bag- Zara, Earrings- Pacsun, Bangles- Nasty Gal
We fully understand that not everyone is comfortable wearing a hooded jumpsuit (and if you are, more power to you!), so instead we chose a classic version in cobalt blue. We continued the chic simplicity with similar heels and a lock-front cross-body bag. Amp up the minimalistic outfit with a quirky set of earrings and knotted bangles.
3. Tailored Shorts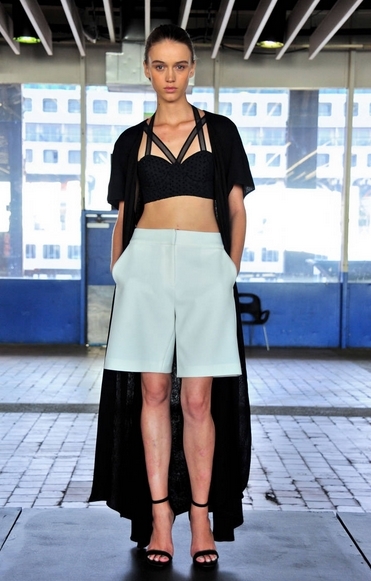 Photo: ELLE
This outfit incorporates three of this season's major trends: long cardigans, crop tops, and tailored shorts. While a crop top can make people feel like they're showing a lot of skin, the cardigan and the knee-length shorts in this look make up for it. The classic black-and-white color combo and heels also add a bit of sophistication to an otherwise casual outfit.
Get the Look: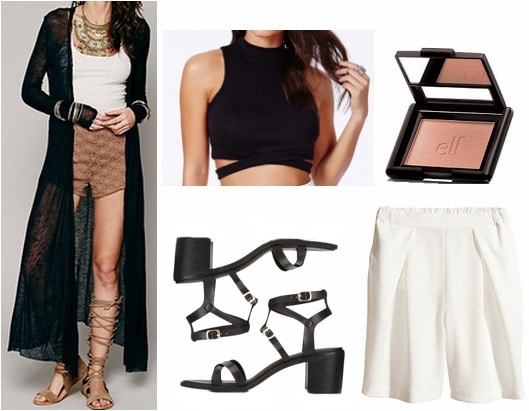 Product Info: Top- MissGuided, Shorts- H&M, Cardigan- Free People, Shoes- Forever 21, Blush (in Peachy Keen)- ELF
Start off your outfit recreation with a pair of cool white shorts in a length at or slightly above your knee. Add a black top with strappy details and a long, flowy cardigan. For a sophisticated yet summery vibe, put on a pair of black block-heeled sandals. To finish off the look, pull your hair into a sleek ponytail and add a hint of color with a peachy blush.
Your Thoughts?
What did you think about this collection? Are you feeling a tad nautical after seeing these amazing looks by Catherine Malandrino? Which of these is your favorite? Would you wear any of them? Do you have any designers you want to see featured in upcoming weeks? Remember to let me know in the comments below!