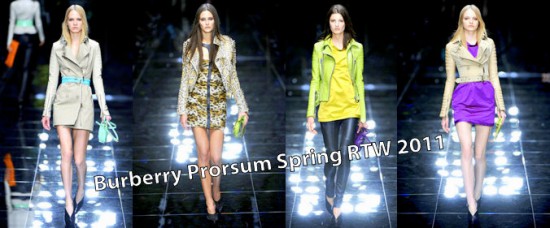 Shopping on a college budget doesn't exactly lend itself to purchasing ensembles straight off the runways – but, no matter your budget, you can recreate your favorite high-fashion looks for a whole lot less! The key to capturing the looks of your favorite designers is just to identify the major trends (prints, shapes, fabrics) and work them into your own wardrobe.
After a long hiatus, our Runway Looks for Less series is back, and we're here to help you recreate the amazing spring collections we saw on the runways. This week, I'll show you how to get the look from the Burberry Prorsum Spring 2011 RTW collection… without spending a fortune!
The Burberry Prorsum Spring 2011 Collection
Offering new twists on classic pieces, the Burberry Prorsum Spring 2011 collection included uniquely styled trenches, embellished motorcycle jackets and bright colors. Many were surprised by the show's biker vibe, and it was interesting to see such cutting-edge looks coming from such an established brand. Style.com noted the dramatic updates that the classic Burberry trench received:
Here, it was shrunken into a zipped-up mini with motocross sleeves, or banded in black leather and belted in pale blue patent, or shrunken still further into a baby biker jacket. It was studded, and domed, and all done up in python.
For those of you who love to mix classic pieces with modern trends, the Burberry Spring 2011 collection is the perfect inspiration. Whether you're a fan of khaki and ruffles, or leather and animal print, the collection had a little bit of everything. Read on to learn how to recreate it, without breaking the bank!
A Twist on the Classic Trench
One of the most iconic Burberry pieces is the classic khaki trench coat. However, this season, the classic coat got a modern update with extras like black piping, bright belts and cropped cuts.
Below, I've spotlighted some modern takes on the classic trench, with details like oversized buttons, unique cuts, and three-quarter sleeves. Of course, if you aren't ready to invest in a modern trench, stock up on bright belts and sashes!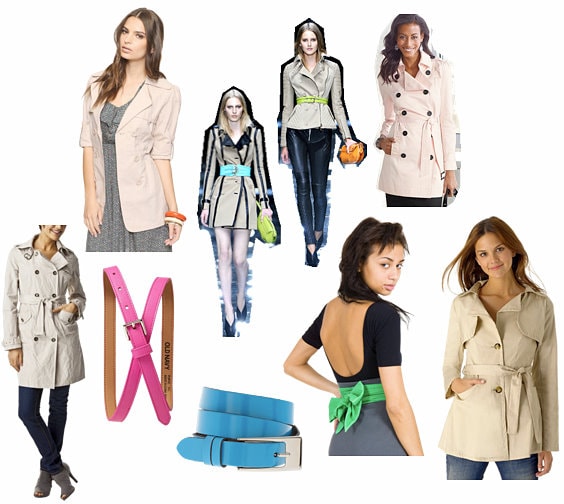 Product Information: (Clockwise from Top Left) Cropped Trench – Forever 21, Twill Trench – Kohls, Basic Trench – Alloy, Green Sash – American Apparel, Blue Patent Belt – ASOS, Pink Belt – Old Navy, Belted Trench – Target
Unexpected Animal Print
Although animal print has been a popular trend lately, the Burberry collection took look one step further by utilizing animal prints in unusual colors and styles. A green snake print jacket? A turquoise cheetah print dress? Yup, Burberry went there… with fabulous results!
While you may feel a bit silly in a mismatched animal printed jacket and mini-dress (unless you're walking down the runway), one statement animal print piece is the easiest way to spice up any outfit. Below, I've found some cute and affordable animal print pieces in unique patterns and colors.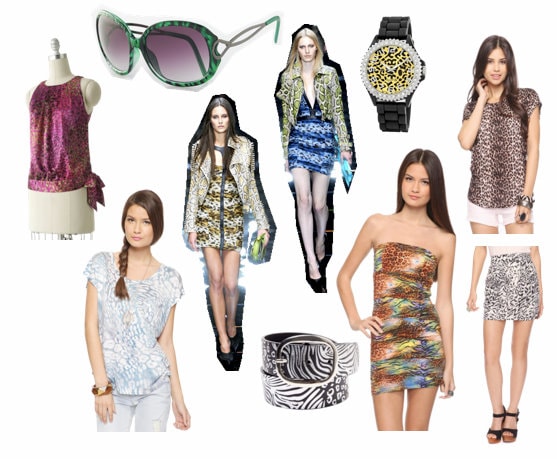 Product Information: (Clockwise from Top Left) Satin Top – Kohls, Sunglasses – Kohls, Watch – Endless, Print Tee – Forever 21, Skirt – Forever 21, Strapless Dress – Forever 21, Belt – Torrid, Pastel Top – Forever 21
Bright Neons
One of my favorite aspects of the Burberry collection was the use of bright colors and eye-catching fabrics, for a fabulous take on the colorblocking trend.
This is a perfect look to rock right now! After all, neon hues are perfect for warmer weather – they're young, fun and sure to put a smile on your face. An extra bonus? By purchasing bright pieces that are simple and minimally patterned, you're creating a wardrobe full of mix-and-match basics.
Product Information: (Clockwise from Top Left) Pink Dress – Forever 21, Print Dress – Forever 21, Tiered Tank – Forever 21, Yellow Dress – Forever 21, Nail Polish – Forever 21, Pink Jacket – Charlotte Russe, Tank – Charlotte Russe, Shorts – Charlotte Russe
Rock 'n Roll Accents
What would a collection of neons, animal prints and modern trenches be without a little bit of rock and roll edge? Leather pants and leggings were the go-to pant choice for most of the looks in the Burberry collection – a perfect medium between classic chic and biker babe.
Not sure you can pull off skin-tight leather leggings? A great motorcycle jacket is an easy (and stylish!) way to infuse a little bit of rock into your style. Throw a jacket on over a pretty ruffled dress, a la Burberry, for a great contrast.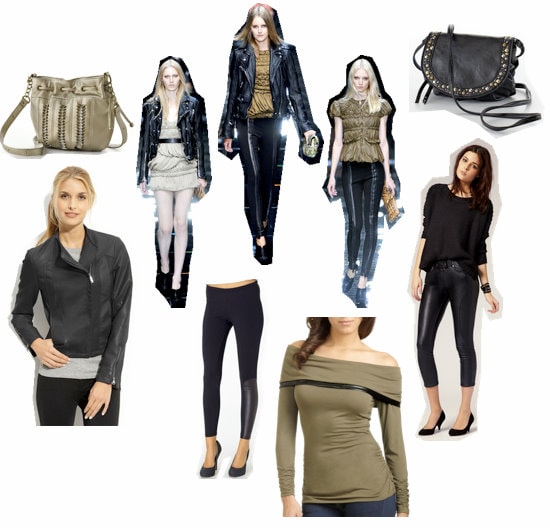 Product Information: (Clockwise from Top Left) Gold Purse – Kohls, Black Cross-Body Purse – Kohls, Cropped Leather Leggings – ASOS, Off-the-shoulder Top – Arden B., Leather Accent Leggings – Alloy, Faux Leather Jacket – Nordstrom
Your Thoughts?
Burberry's Spring 2011 Collection embodied a mix of classic pieces, bright colors, unique patterns, and rock 'n roll edge. Although some of the looks may be a little bit over the top for a day of classes, the collection as a whole is a great inspiration for spring 2011!
What do you think of the Burberry spring collection? Which of the trends seen in the collection do you like best? Do you see anything in the collection that you've been dying to try? I love to hear your feedback – be sure to leave a comment!