Alice + Olivia Spring 2014 RTW | ELLE
Alice + Olivia is known for its whimsical and feminine sophistication, and designer Stacey Bendet's Spring 2014 RTW line is no exception. This collection is all about the juxtaposition of preppy sportswear elements contrasted fabulously with more glamorous aspects. The color palette – neutrals mixed with pops of yellow, aqua, and red – is on-trend, while silhouettes range from boxy crop tops and dresses to ball gown-inspired skirts and tailored pants.
The best part? All of the outfits have a casual yet put-together feel that could easily go from day to night, which is always ideal for college students.
Are you feeling inspired by these Alice + Olivia outfits, but not as excited to shell out the cash for the original pieces? Read on for three budget-friendly looksinspired by outfits from Alice + Olivia's spring collection.
1. Preppy Glam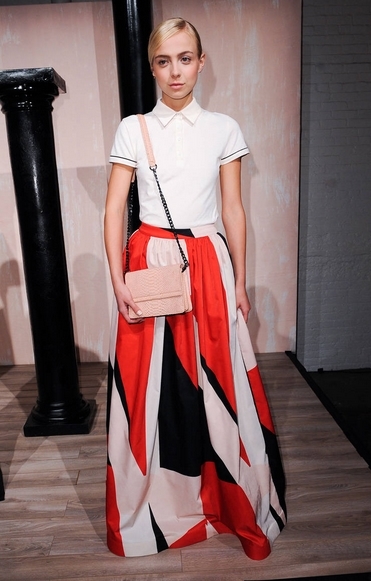 Photo: ELLE
This is one of the outfits that most clearly shows what designer Stacey Bendet was aiming for in this collection – it's the perfect mixture of country-club prep and red carpet glam. With a color-blocked ball gown skirt and a crisp white polo, the look could work for an internship, a day of classes, or even a dinner date.
Get the Look: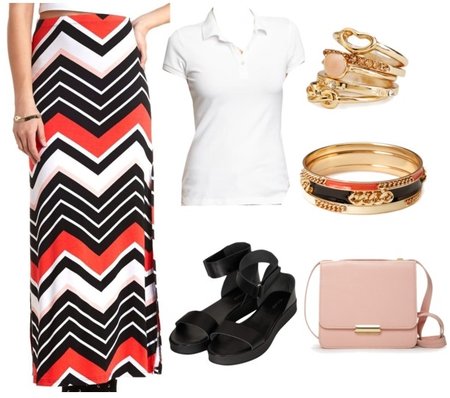 Product Info: Shirt- Old Navy, Skirt- Charlotte Russe, Sandals- Topshop, Bag- Forever 21, Bracelets- Forever 21, Rings- Forever 21
For a similar look, start with a graphic maxi skirt. This one from Charlotte Russe even has those hints of pale pink like the original! Grab a simple white polo shirt and some trendy flatform sandals that are ideal for those warm spring days. Accessorize with a structured pale pink crossbody bag, then add dainty gold jewelry for a bit of bling.
2. Flowers and Stripes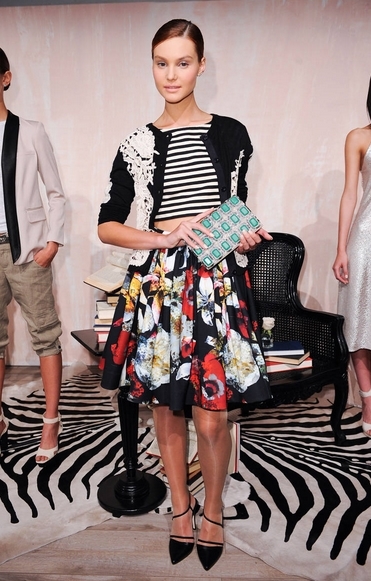 Photo: ELLE
When I was younger, I continually heard that the #1 fashion "rule" was not to mix prints. As I got older, I figured out that this was one of those rules that was meant to be broken! This A+O ensemble is so chic and cohesive. From the fullness of the skirt to the more streamlined look of the top and the cardigan, this is easily one of the best examples of balance in print mixing that I've seen.
Get the Look: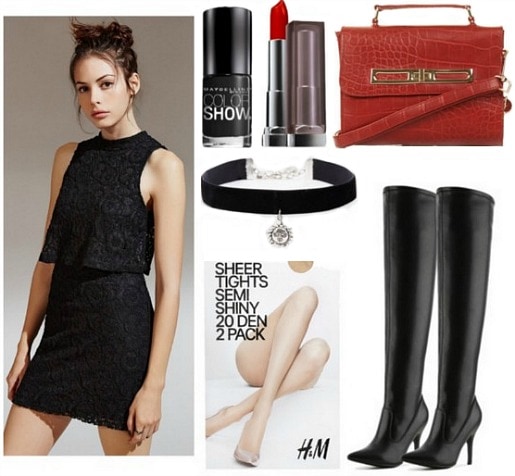 Product Info: Shirt- New Look, Skirt- Boohoo, Cardigan- Mango, Shoes- Forever 21, Clutch- ASOS, Nail Polish- Nordstrom, Hair Product- Drugstore.com
Recreate this outfit with a black-and-white striped crop top and a dark floral skater skirt. While we chose to style these pieces with a white lace cardigan, you could also stay true to the original designer look by opting for a black cardi. Add stylish pointed-toe flats and an aqua clutch. Paint your nails a neutral shade, then recreate the sleek bun seen on the model with the help of some smoothing hair wax.
3. Edgy Sophistication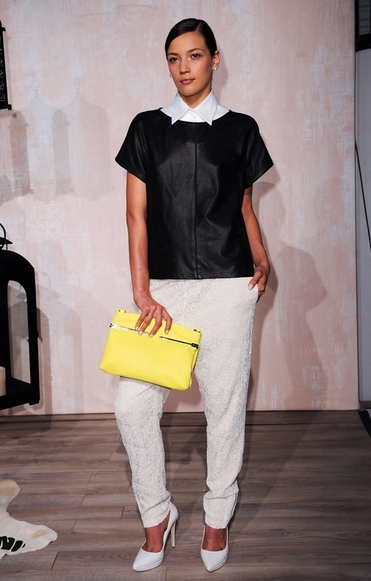 Photo: ELLE
In my opinion, this is one of the best styled outfits in the entire collection, if not all of the spring runways. There is something utterly fantastic (and definitely timeless!) about pairing edgy leather with softer elements, like these relaxed lace pants and the almost-pastel yellow clutch.
Get the Look: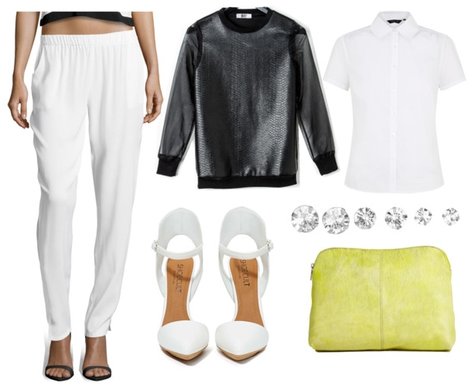 Product Info: Shirt- New Look, Sweatshirt- Missguided, Pants- Boohoo, Shoes- Nastygal, Clutch- ASOS, Earrings- H&M
Here, a little creative flair was used when we chose a leather-look sweatshirt. While not an exact dupe for the original short-sleeved leather top, we think this sweathsirt still adds major tough girl points. By pairing it with a button-down blouse and slouchy white pants, there's still that softness and femininity that's expected for spring. White pumps keep things from looking too casual, while a yellow clutch and sparkly stud earrings add the finishing touches.
Your thoughts?
What did you think of this collection? Are you feeling inspiration from these fab looks by Alice + Olivia? Which of these outfits is your favorite? Would you wear any of them? Do you have designer recommendations for upcoming weeks? Remember to always let me know in the comments below!