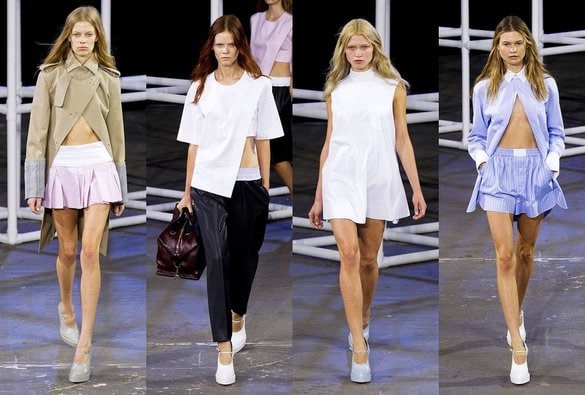 Alexander Wang Spring 2014 RTW | ELLE
We've been coveting Alexander Wang's spring 2014 collection ever since it first appeared on the runway. The contrast between feminine pieces, like strappy dresses and pleated skirts, and masculine pieces, like button-down shirts and boxer-style shorts, makes for some immensely modern and fresh looks.
This of-the-moment vibe is also apparent in the collection's neutral color scheme, which features pink and blue accents. Wang has become a household name in recent years and this crisp spring collection reminds us exactly why.
Love these trendy and fun looks, but would also love to save up some cash for textbooks? Scroll down for three lower-priced outfits inspired by clothes straight from Wang's Spring 2014 RTW collection.
1. Cool Gray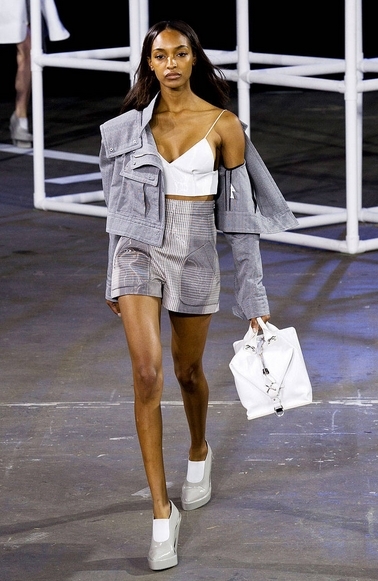 Photo: ELLE
This look exudes the street-style sophistication Wang is known for. He creates his own interpretation of neutrals by incorporating various shades of gray (a lighter but just as edgy alternative to black) and applying them to a great plaid print. Here, we also see a more urban twist to the separates trend that's been appearing on runways.
Get the Look: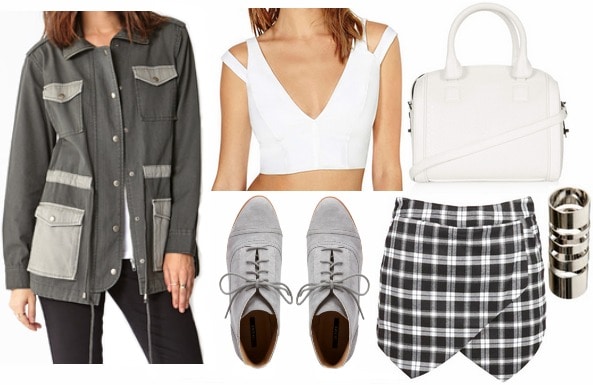 Product Info: Top- NastyGal, Skort- Fashion Union, Jacket- Forever 21, Shoes- Forever 21, Bag- Topshop, Rings- Boohoo
Get inspired by the many shades of gray in Wang's outfit to create your own cost-conscious alternative. Here, the coolness of gray is evident in an anorak, cute lace-up booties, and a trendy asymmetrical plaid skort. Finish the outfit off with a strappy white crop top, like the model wears, and a white structured bag, then accessorize with chunky silver rings to add some bling that's still speaks to the neutral the color palette.
2. Parental Advisory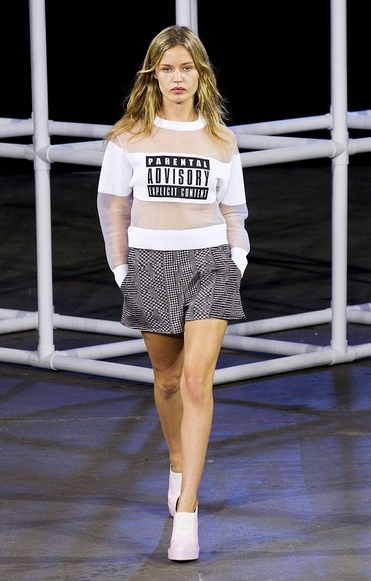 Photo: ELLE
Probably the most recognizable look off Wang's spring collection, this sweatshirt has reached a certain level of cult status among fashion aficionados. By creating a piece of clothing centered on a label that is incredibly common – and then making it incredibly edgy – Wang produces an outfit that displays a great mix of high-fashion and urban street-style.
Get the Look: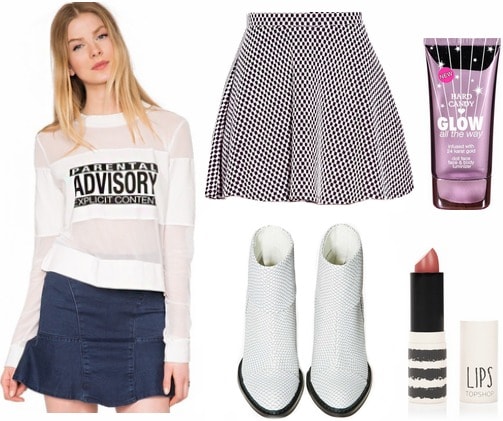 Product Info: Top- Pixie Market, Skirt- Forever 21, Shoes- NastyGal, Highlighter- Walmart, Lipstick- Topshop
For an edgy but still class-appropriate ensemble, start off with a look-alike sweatshirt (right down to the mesh panels!). Add a skirt in a checkered pattern similar to the original print, as well as a great pair of white ankle boots. Lastly, get the model's fresh-faced look with a face highlighter and rose-colored lips.
3. Pretty in a Little Pink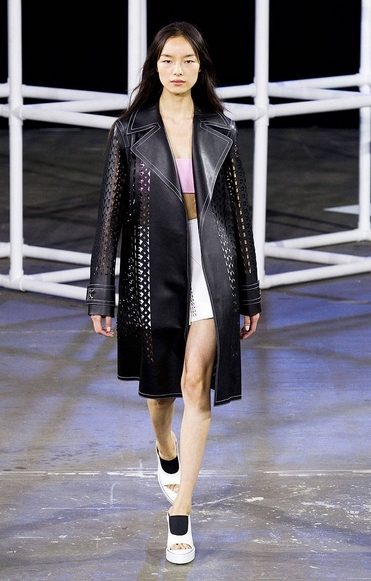 Photo: ELLE
While the majority of Wang's collection centered on crisp neutrals, there were occasional accents of pink and blue, as seen in the outfit above. Paired with edgy cutouts and leather, this pop of pink looks ultra-cool. We think even those who don't care for the hue would be dying to wear this look!
Get the Look: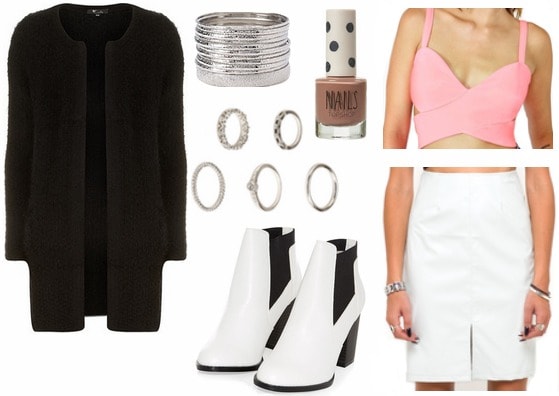 Product Info: Top- NastyGal, Skirt- Motel Rocks, Cardigan- Dorothy Perkins, Shoes- New Look, Rings- Forever 21, Bangles- Forever 21, Nail Polish- Topshop's Mannequin
This final outfit captures the edginess of the runway look but in a slightly more wearable fashion. Yes, I am admitting I do not have the courage to wear a cutout leather coat but if you do, I applaud you!
Pair a pink bustier with this faux leather skirt from Motel Rocks. Slip on color-blocked booties and a fab long fuzzy cardigan. Accessorize with some silver jewelry and on-trend neutral nail polish to complete the look.
Your thoughts?
What did you think of this collection? Are you inspired by any of these outfits created by Alexander Wang? Which of these looks is your favorite? Would you wear any of them? Do you want to see a certain designer featured soon? Remember to let me know your thoughts in the comments below!