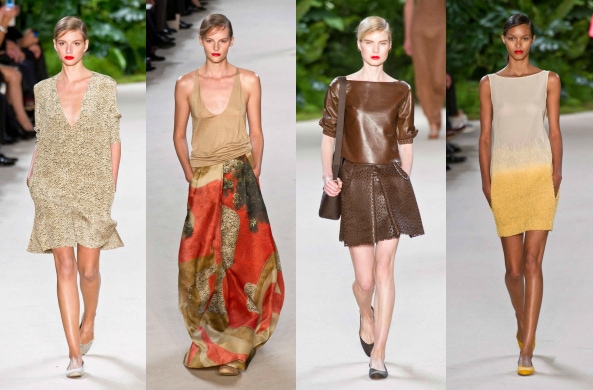 Akris Spring 2013 RTW | ELLE
When it comes to simple and stylish spring fashion, Akris has the "effortlessly chic" vibe down pat. This Swiss-based design house is known for its understated, yet elegant designs, and their spring 2013 collection is no exception. The perfect mix of easygoing separates mixed with trendy elements, this collection is brimming with inspiration for casual and polished everyday looks.
Want to snag a designer-worthy look for just a fraction of the price? Simply scroll on down to check out three super-stylish and budget-friendly outfits inspired by Akris Spring 2013:
1. Springtime Sweater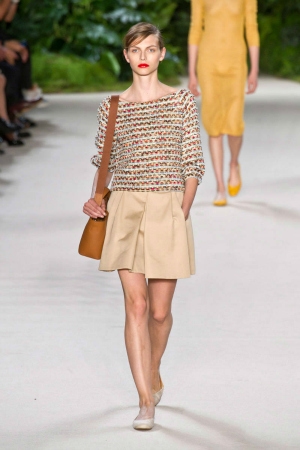 Photo: ELLE
This look from the Akris runway is a fab way to wear your winter sweaters even after the weather starts to warm up. Pairing a knit top with a neutral-toned skater skirt and flats creates a cute and stylish outfit for early spring.
Get the Look: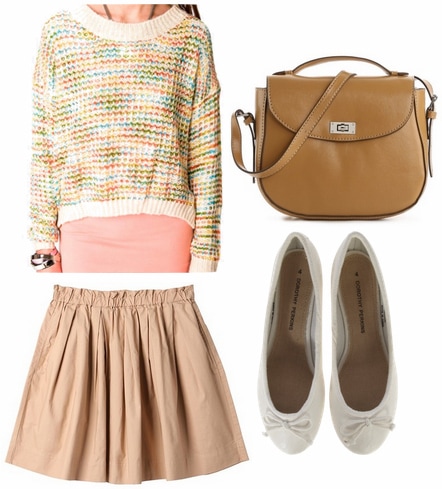 Product Info: Sweater- Forever 21, Bag- DSW, Skirt- Uniqlo, Flats- Dorothy Perkins
Recreate this runway outfit by pairing a marled sweater with a neutral-colored mini skirt. White ballet flats add a laid-back, yet put-together vibe. Accessorize with a classic tan handbag to complete this look.
2. Black Out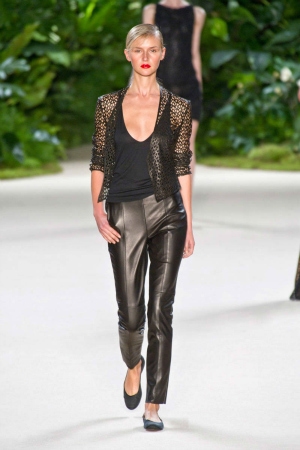 Photo: ELLE
This next look proves that an all-black outfit doesn't have to be boring! To keep things from being too one-note, Akris' creative director, Albert Kriemler, made sure to mix different fabrics and textures into this monochromatic ensemble. The resulting look is sleek and fashion-forward, but still casual enough for daytime.
Get the Look: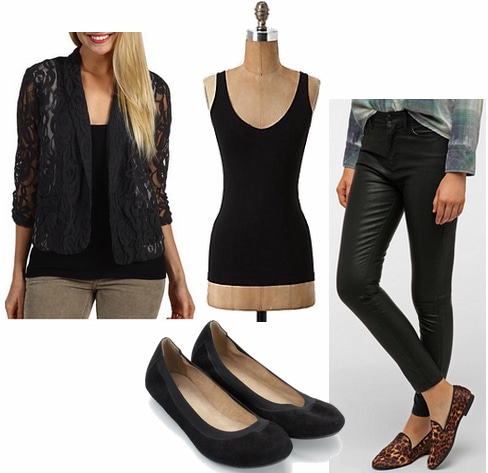 Product Info: Blazer- 6pm.com, Top- Anthropologie, Flats- accessorize.com, Jeans- Urban Outfitters
For this ensemble, start by pairing coated skinny jeans with a fitted v-neck tank top. While a laser-cut leather jacket can cost hundreds of dollars, this lace blazer can give you a similar look for much less. A pair of black flats adds the finishing touch to this look.
3. Everyday Glam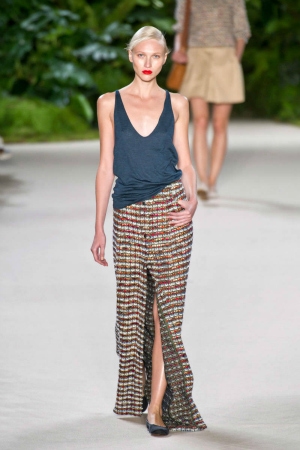 Photo: ELLE
Akris is all about effortless elegance and this final look is the epitome of that aesthetic. We love the low-key mix of a printed maxi skirt with a slouchy tank top and flats. Plus, the red lip adds just the right amount of glamour!
Get the Look: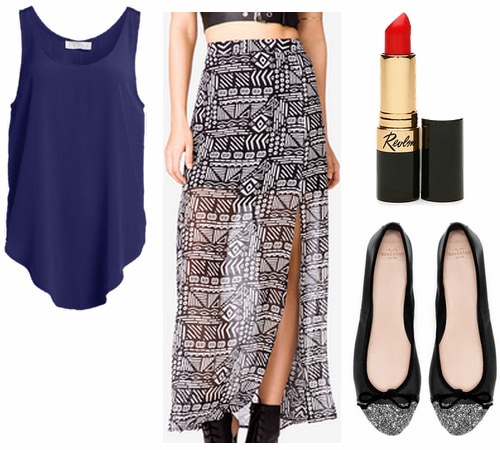 Product Info: Top- Nordstrom, Skirt- Forever 21, Lipstick- Revlon's "Fire & Ice", Shoes- Zara
For our final outfit, we opted for a printed maxi skirt that has a similar shape and style to the runway version. Add an oversized navy blue tank top to recreate that slouchy-yet-chic look. Black ballet flats keep things comfy, but the glitter cap-toe adds a hint of sparkle. Last but not least, swipe on some bright red lipstick for a pretty pop of color.
Your thoughts?
What do you think of this collection? Are you a fan of Akris? Which look is your favorite? Would you wear any of these outfits? Which designers would you like to see featured here next? Remember to leave a comment below and let me know what you think!