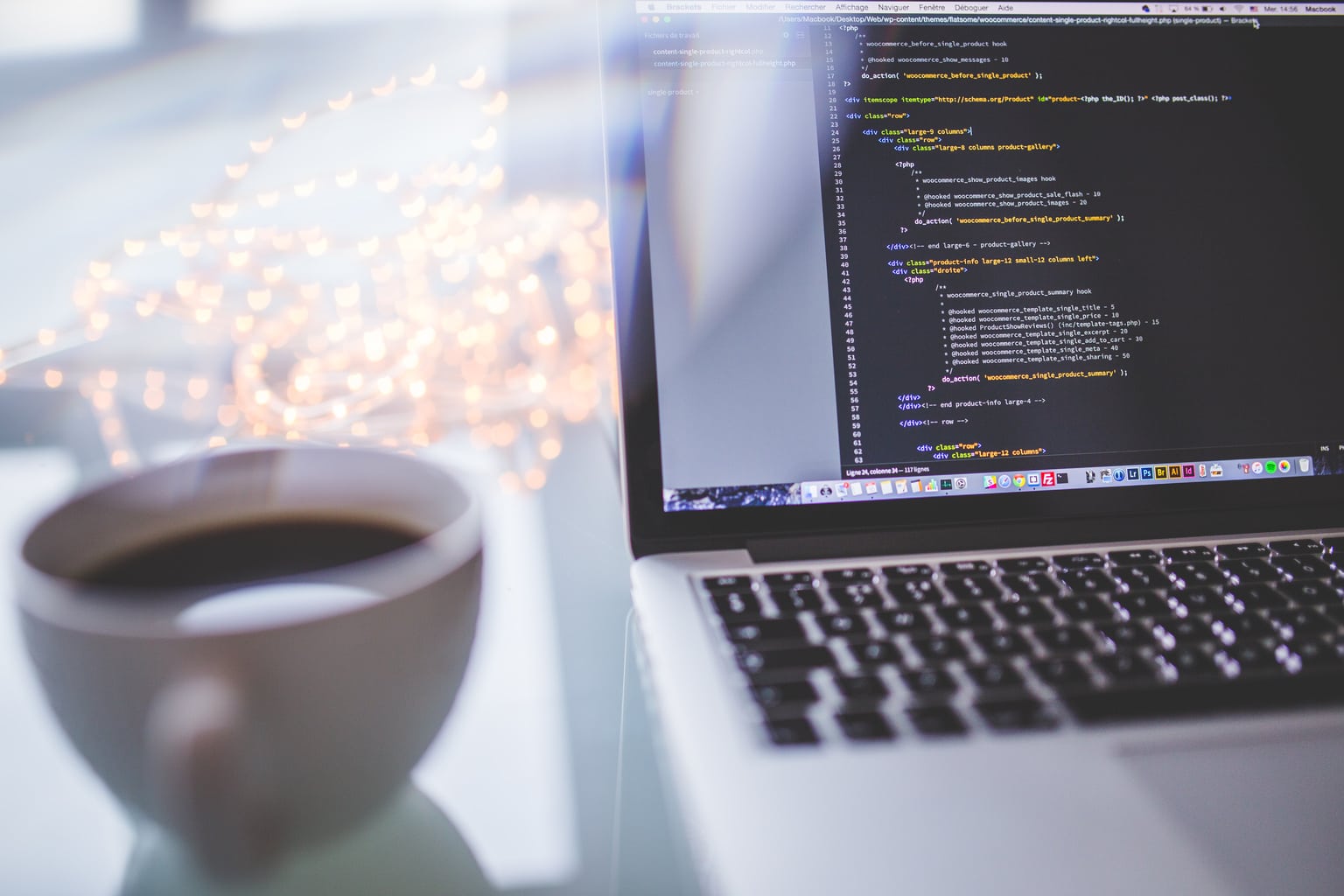 How would you feel if you found out your favorite piece of literature was written by a robot? Do you think you would be able to tell whether a poem was created by a human or a computer?
For the past few years, coders have been developing algorithms to create programs that randomly generate phrases, forming what is known as "robot poetry." Words are categorized into parts of speech like nouns, verbs, and adjectives so that sentences are grammatically correct, and phrases can even be related by assigning connotations to words, e.g. +1 for positive, -1 for negative, and 0 for neutral. Many of these poems sound like a Shakespearean play that's been tossed into a NutriBullet; however, some of these poems actually pass the Turing Test and sound like they were written by people.
This, then, begs the question: what defines art? Can art be created by non-sentient lines of code?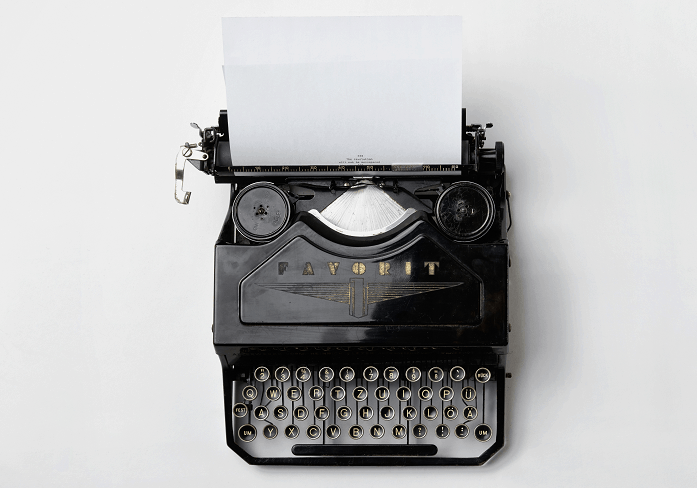 Poetry is defined as a condensed form of writing that may use different technical styles and rhythms to express ideas and emotions. A random word generator has no feelings or real-life memory, so if a distinguished literary magazine publishes one of these "artificial" poems, it would suggest that the complex human psyche can be reduced down to a somewhat predictable algorithm.
All these points are valid, but to make a long story short, I believe that art is anything that can elicit a mental image, a feeling, or a mood. In particular, the key factors at play in beautiful poetry are the words, connotations, and rhythm, perhaps even beyond the literal content or original inspiration of the work. If a chance amalgamation of words can create these things, then to me, it should be considered art. (What do you think?)
With those sentiments in mind, it's time to get some inspiration. Let's get to the outfits we can create from this poetry! (I promise, these outfit sets were created by me, a person, and not a robot.)
"Paint The"
by Ray Kurzeil's Cybernetic Poet
Paint the sun

the type of perfection

the type of depressed moods

the type of teacup tapping

the type of soft pillows

type of water

of force,

of light

soft parade of trees

contempt

for a burn, a sod of life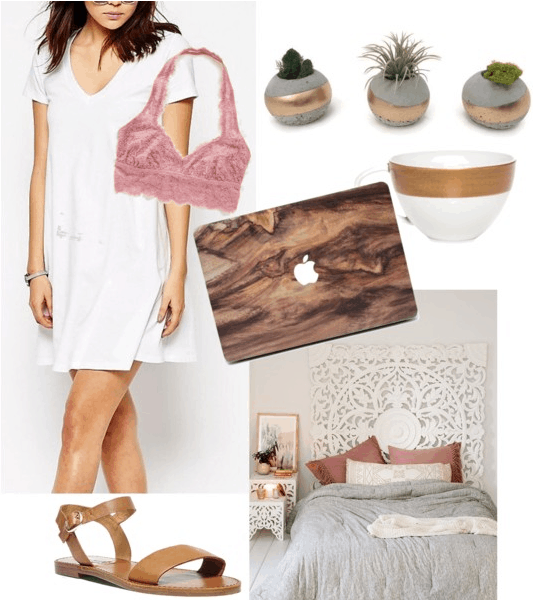 Products: Dress | Bralette | Sandals | Laptop case | Teacup | Plant orbs
This poem is a perfect snapshot of a lazy Sunday morning. The repetition at the start of lines 2 to 5 allows you to hone in on the mood that's being formed: a kind of bittersweet note mingled with a sense of calm, a.k.a. realizing it's the end of the weekend but knowing you have the whole day to yourself to relax.
The imagery of the light, trees, and life brought into my mind an easy, earthy aesthetic, inspiring an outfit made for lounging and sleeping in. A soft t-shirt dress with a peek-a-boo dark blush bralette will allow you to be comfortable while enjoying your favorite cup of tea. Snuggle into airy sheets and watch your favorite Netflix shows with this sleek, wood-inspired laptop case. In case you do decide to go for Sunday brunch with the girls, just slip on a pair of brown leather sandals; your t-shirt dress will gladly help you indulge in a tall stack of pancakes.
"#6"
by JanusNode
you

are

inscribed

in the

lines on the

ceiling

you

are

inscribed in

the depths

of

the

storm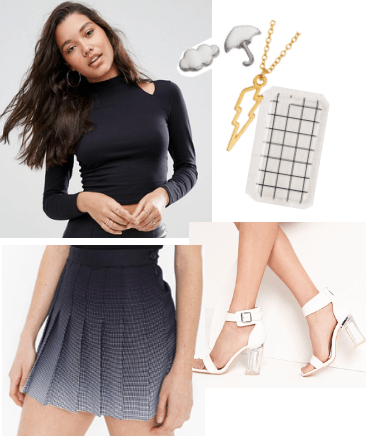 Products: Top | Skirt | Heels | Earrings | Necklace | Phone case
This piece is more cryptic, but it's unique because of the spacing and the aesthetic blend of words. Starting dark and lightening down towards the shoes, the whole outfit has an ombre effect, which is reminiscent of the words that seem to be cascading down the page; this color play adds depth and dimension to the neutral look.
Many details are at play here: The shoulder cut-outs add intrigue to the simple black long-sleeve, and the clear block heels are trendy and sleek. The grid phone case and the subtle lines in the skirt give a nod to the "lines on the ceiling" as described in the poem. The dainty jewelry pieces refer back to the storm in the last line, but do not steal the thunder (pardon the pun) from the focus on the dark-to-light gradient.
"The Bookcase"
by Ray Kurzweil's Cybernetic Poet
Off the bookcase

searching for art's sake. Life for myself to

this solitude among

collective images.
Products: Dress | Shoes | Glasses | Tote bag | Notebook
Short and simple, this piece immediately transports me to the stacks at my favorite library. The words "bookcase", "art", "solitude", and "images" remind me of moments flipping through old novels and art catalogs. Ah, bliss.
This shift dress, with its peter pan collar and lace fabric, combines retro details with a modern silhouette. Maroon oxfords provide style and stability for reaching that top shelf, and glasses will help you take notes in these chic notebooks decorated with iconic city skylines. Of course, a good canvas tote bag in a vintage design and hue is necessary for carrying all your books at check-out.
Do you think robots can create art?
Can you tell the difference between a computerized poem and a human-authored piece? Do you want to learn to code a robot that can write? Let me know in the comments below!