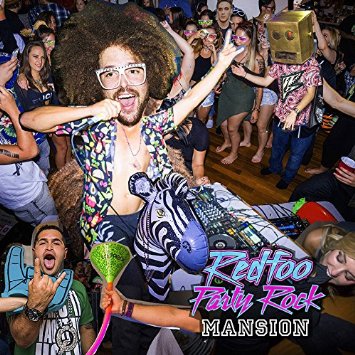 Previously one-half of the pop rock duo, LMFAO, Redfoo is now going solo with his new album "Party Rock Mansion."
Redfoo is the youngest son of Berry Gordy, the legendary founder of Motown, so music is in his genes. It has been a view years since LMFAO has released a song, and in the meantime Redfoo has been keeping busy performing in clubs all over the world, creating his own fashion line, and branching out with new creative projects.
"Party Rock Mansion" is aptly named. Almost all of the songs are fast-paced and bouncy and will call you to the dance floor. On the album, Redfoo showcases his talents, which include singing, playing piano and keytar, producing, and songwriting. The album is fun and sounds like the retelling of a crazy, epic weekend.
The best time to listen to this music: when you want to be embrace your weirdest, most fun self
Here are three outfits inspired by "Party Rock Mansion" by Redfoo:
Lights Out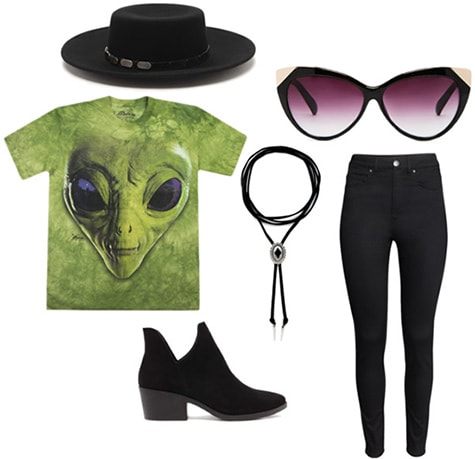 Products: Hat, Glasses, Pants, Necklace, Tee, Shoes
In life, you meet people who make you feel like you are not yourself. That's what this song is about. Sometimes love hits you hard and turns your life upside down, but that is no reason not to keep the party going.
Love can feel weird and alien, like an out-of-body experience. Start with a rad alien tee, and tuck it into a pair of high-waisted jeans to keep it chic. Accessories are key so try some gold tipped cat-eye sunglasses, a bolo tie necklace, and a black fedora. Complete the outfit with a cool pair of open-sided booties.
Keep Shining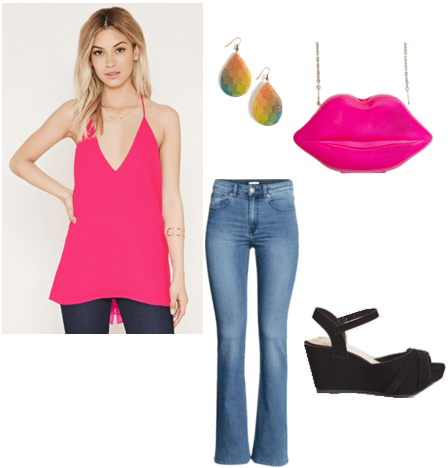 Products: Top, Earrings, Bag, Shoes, Jeans
The theme of this song is – wait for it – "party." The beat makes you wanna get up and dance around, while the lyrics inspire you to have fun with your friends. The message here is very simple: party until you can't party anymore!
This outfit is perfect for going out and having fun on spring break or when spring hits on campus. Retro flared jeans are comfortable and give you plenty of room to bust a move. A bright pink top is cute and perfect for showcasing a post-vacay tan. The black wedges are tall enough to give you some height, but not so tall that you can't dance. Finish off the look with a quirky smooch-shaped bag and rainbow earrings.
Juicy Wiggle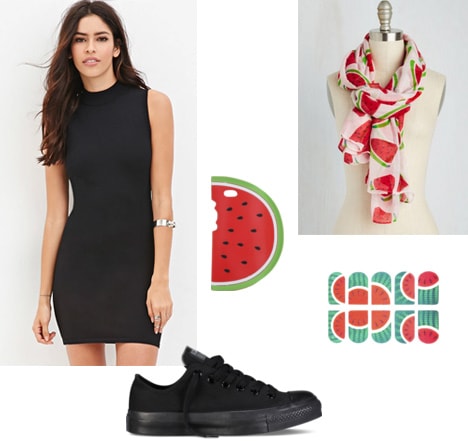 Products: Dress, Phone Case, Scarf, Nail Wraps, Sneakers
Sometimes we get caught up in responsibilities and stress and we have to remind ourselves to let our hair down and relax. This song is that reminder. The lyrics are silly and the melody features a kazoo. It's not complex and there is no deeper meaning. All this song wants you to do is get weird and dance your problems away.
A black basic shift dress is a cute and simple base to this outfit. Put the juicy in the "Juicy Wiggle" with watermelon-themed accessories like a scarf, a phone case, and scented nail wraps. Add some all-black sneakers and you're done.
What do you think?
Redfoo's new album "Party Rock Mansion" is available now. Check out his music on Spotify here.
Do you like dance music? What do you think of the outfits? Let me know in the comments!