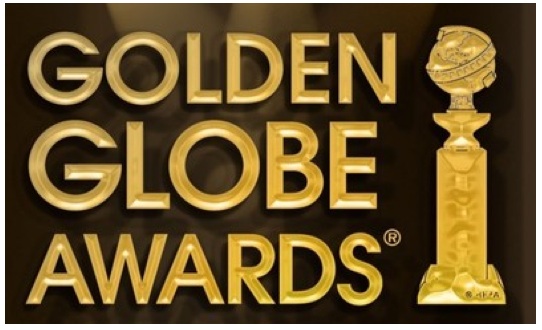 I don't know about you, but the best part of Hollywood's award season for me — by far — is the fashion. (If you're reading this, I'm sure you agree!) Each year, the trends seen on the red carpet are good indicators of what we can expect to see in stores during Spring. We've already shown you some of our favorite looks at the Golden Globes. Now we're going to break down the trends of the night, and show you how you can translate these looks to your everyday wear.
Emerald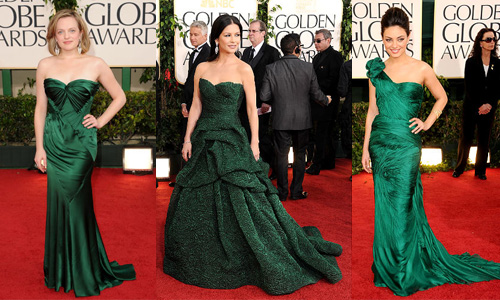 Emerald was a hot color at the Golden Globes this year. Actresses like Elisabeth Moss, Catherine Zeta Jones, Mila Kunis, and Angelina Jolie (pictured later in this post) were all seen in this trend at the Globes.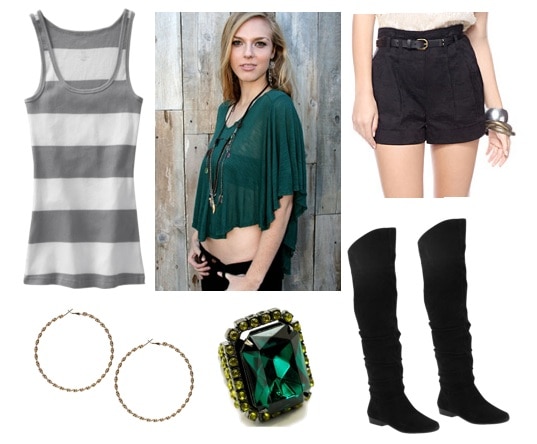 Product Information:Tank, Top, Shorts, Boots, Ring, Earrings
The outfit above uses these beautiful emerald dresses as inspiration for your everyday look. Layer this emerald green cropped top over this gray and white striped tank. These black shorts allude to the interesting textures of the Golden Globe looks, while black over-the-knee boots help to keep your legs warm, and gold accessories like the ones Mila Kunis' wore keep the look interesting.
Pink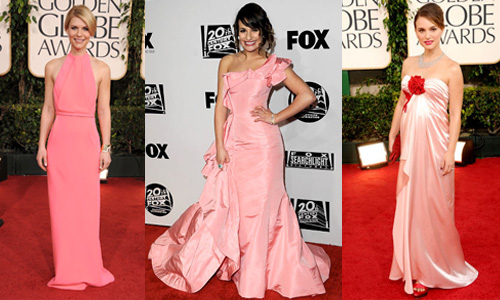 Pink is known as the ultimate girly color. But the looks worn at this year's Golden Globes proved that pink is not only for little girls. Claire Danes, Lea Michele, and Natalie Portman each glowed while wearing this color and you can, too!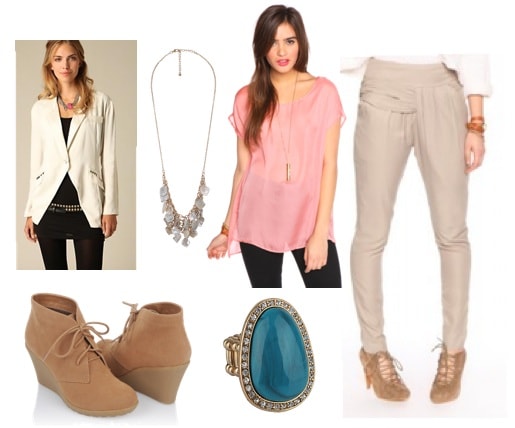 Product Information:Blazer, Necklace, Top, Pants, Ring, Shoes
In this outfit, I chose a loose-fitting pink top to recreate this trend for a less formal setting. I then added these tan trousers, a cream blazer, and suede desert ankle booties. A long necklace and a turquoise ring (reminiscent of the one Lea Michele wore) complete the look.
Long Sleeved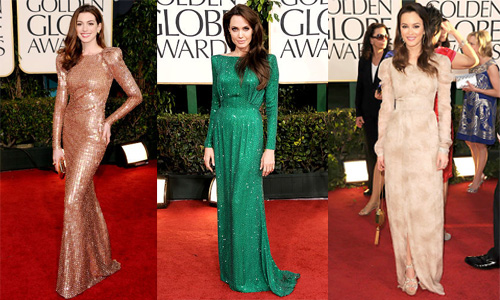 Another trend seen at the Golden Globes was long sleeves, which were worn by Anne Hathaway, Angelina Jolie, and Leighton Meester. Long sleeves on the red carpet are not typical. But these three starlets nailed their looks despite this fashion risk, and thus proved that covered arms can be elegant.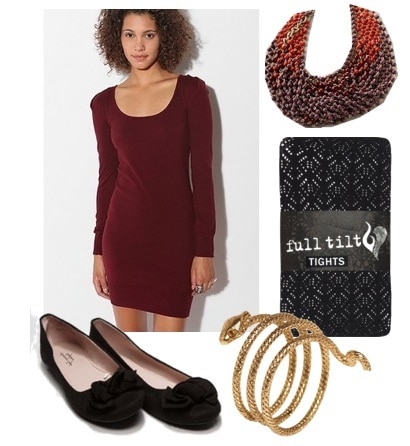 Product Information: Dress, Necklace, Tights, Bracelet, Shoes
For this look, I wanted to stay true to the long sleeved dresses seen in the above red carpet examples. At the same time, however, a full-length, long-sleeved, shimmering dress would not be appropriate for daily wear. Instead, I decided to use this long sleeved mini dress in a pretty maroon hue. Since the inspired dress is not full of glitz like the others, a bib necklace that complements the color of the dress amps up the dress' simplicity. Finish the look with black patterned tights, black flats, and a serpent bracelet.
Sparkle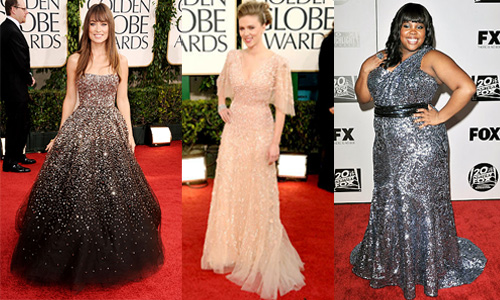 At any event — whether it be the Golden Globes or a night out with the girls — sparkle is always a popular choice. And like last year, shimmery dresses made a noteworthy appearance on the carpet once again. Olivia Wilde, Scarlett Johansson, and Amber Riley are only a few of those who chose to glitz up the night.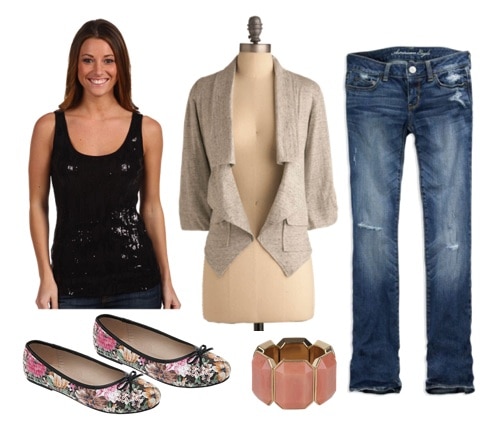 Product Information:Tank, Cardigan, Jeans, Bracelet, Shoes
In this outfit, I wanted to show how you can translate the over-the-top sparkling looks worn at the Golden Globes and wear the trend to class. While an all-over sequin tank like the one above is often worn at night, you can dress the look down by letting it peek through this comfy cardigan. Keep things simple by wearing some straight leg jeans like the ones above. A simple rose-colored cuff allows you to add on jewelry without overdoing it. Finally, slip into these pretty floral flats that are also covered in clear sequins to continue the sparkling look.
What do you think?
Which trend was your favorite of the night? Were there any other trends you would have liked us to cover? Do you think you will try one of these trends for everyday wear? Do you have a favorite outfit? Which one? Be sure to leave a comment and let us know what you think!