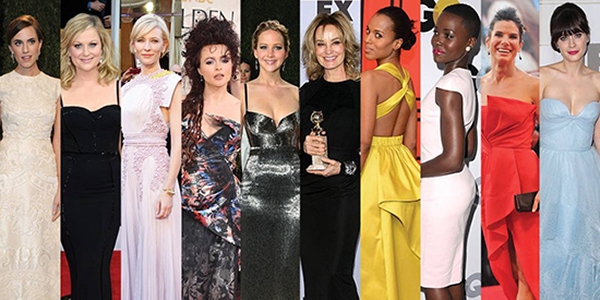 Photo Credit: ELLE
The official start of "Awards Season" is now because the Golden Globes are on tonight at 8 ET/5PT! However, if you're like me and every other fashion-crazed individual, you'll be tuning in a few hours early to see all your favorite celebrities walk the red carpet in those stunning gowns.
Curled up on the couch sipping hot cocoa with your friends, you can't help but wish you could walk that coveted red carpet. You can see it now: stepping out of a sleek black limo with cameras flashing and reporters shouting your name. You know it'll probably never happen, but hey, a girl can dream, can't she?
While we can't all attend an award show during our lifetime, we can always gain inspiration from our favorite celebrity looks. So, which red carpet style speaks to you? Take the quiz below to find out!
Quiz Results!
Below are the results to the quiz. If you haven't taken it yet, please don't peek! I've created an outfit to go with each red carpet style. Scroll down to take a look:
Fun and Flirty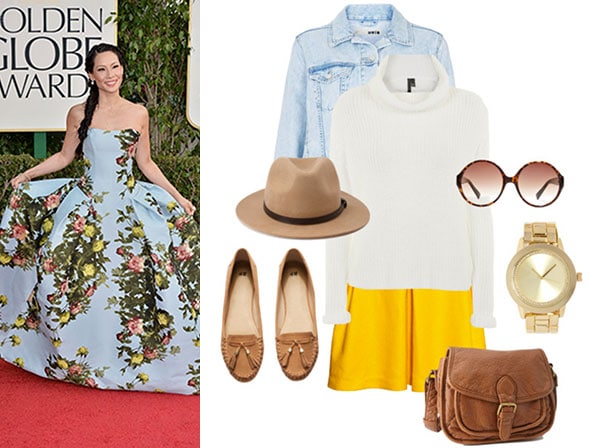 Photo: ELLE | Product Information: Sweater, Skirt, Jacket, Hat, Bag, Watch, Sunglasses
Lucy Liu's ballgown is all about being bold and playful, so channel this in your own look with pops of color and a carefree vibe. I love the idea of wearing bright colors during the dull winter months to liven up any day. Round sunnies, a floppy fedora, and an oversized jean jacket complete this outfit that's fit for a fun day spent in town with friends.
Classic Chic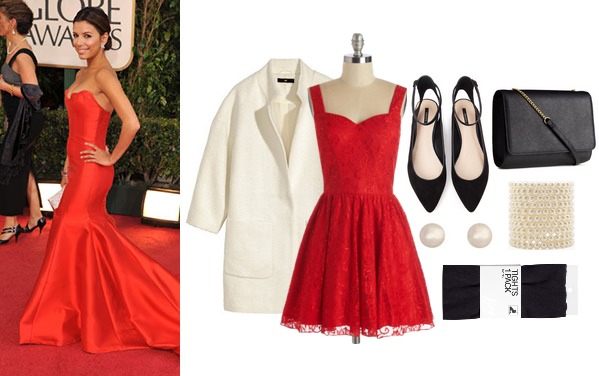 Photo: ELLE | Product Information: Dress, Coat, Shoes, Earrings, Bracelets, Tights, Bag
Much like Eva Longoria, you prefer to stick to the basics, but you still want to make a statement. A red dress and pearls are all you need to be a showstopper at any event. Grab that gorgeous white coat to protect you from any chilly weather, and you'll be good to go!
Rockin' Edge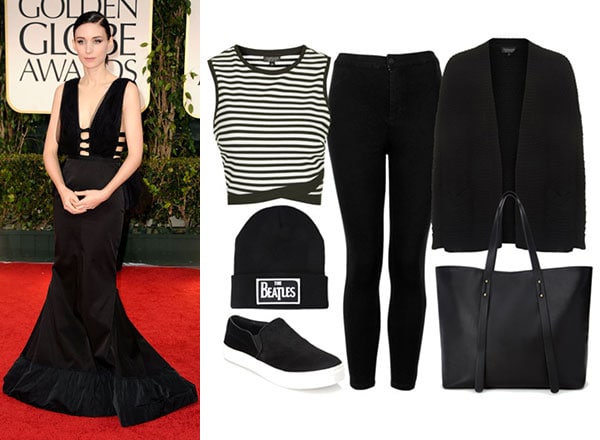 Photo: ELLE | Product Information: Jeans, Top, Sweater, Hat, Shoes, Bag
An all black ensemble is your go-to outfit for day or night, but you never let it get boring. You can channel Rooney Mara's edgy look with black skinnies, a throw-on cardigan, and a pair of laid-back sneakers. Top it all off with a ode to The Beatles on your beanie, and you have the perfect outfit.
Sweet and Simple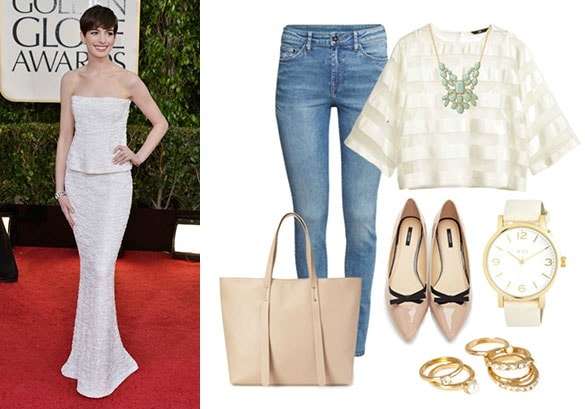 Photo: ELLE | Product Information: Blouse, Jeans, Bag, Shoes, Rings, Necklace, Watch
Anne Hathaway nailed it in this simple, tailored gown back in 2013. By sticking to a neutral color palette, you too can easily achieve this look. Nude flats, a statement necklace, and a carry-all tote are perfect for a long day of classes or even a study date at the library.
What do you think?
Will you be watching the Golden Globes? (Psst – we'll be live-tweeting the red carpet arrivals starting at 6PM EST and our fashion recap will go up first thing tomorrow!) Which celebrity are you most excited to see? Which of these looks is your favorite? Let us know what you think in the comments below!