This post may contain affiliate links, which means we may receive a commission if you purchase through our links. Please
read our full disclosure here
.
Over the past few years, fashion bloggers have taken the fashion industry by storm. In the past, corporate leaders and gigantic media outlets ran the fashion world. Today however, highly influential style blogs allow everyday consumers to have a say. (P.S. Check out #39. Woo whoo!)
I get a lot of my inspiration from fashion blogs, and I know many of you do too, so I thought it would be fun to do a fashion blogger personality quiz.
Just take the fun quiz below to find out which fashion blogger inspires your style. If you take the quiz here on the site, the widget will automatically total up your answers for you. If you print the quiz, total up the letters you got and find which one you selected the most. Once you get your answer, find your letter and corresponding result below for a sample outfit based on your personality type.
Quiz: Which Fashion Blogger Inspires Your Style?
Quiz Results – No peeking!
Below are the results of the quiz. Don't look if you haven't taken it yet! I've created one outfit inspired by each result to help give you some ideas for what to wear. Enjoy!
Mostly A's: Andy of Style Scrapbook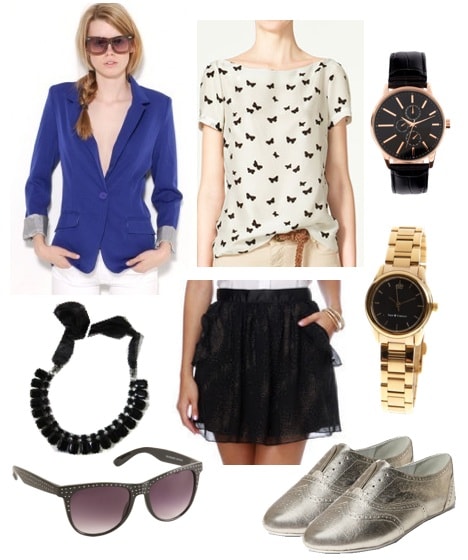 Product Information: Jacket, Top, Black Watch, Gold Watch, Shoes, Skirt, Sunglasses, Necklace
Andy of Style Scrapbook loves to mix trendy items with classic pieces. One her signature items is the structured jacket, and she particularly loves jackets in unexpected colors like this blue one. Layer the jacket over a printed blouse for some fun contrast. Andy also wears lots of skirts which is why I chose this black one. A statement necklace and silver oxfords accessorize the look. And don't forget Andy's trademarks — she loves to wear sunglasses and two watches at once.
Mostly B's: Bebe of Fated to be Hated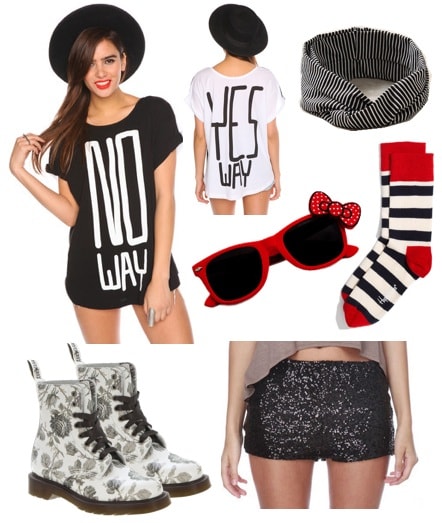 Product Information:Top, Turban, Socks, Sunglasses, Shorts, Shoes
Even though Bebe's blog is titled Fated to be Hated, her success in the blogging world proves how much readers love her individuality. To start off the look inspired by Bebe, this fun graphic tee captures her carefree attitude. Prove that sequins are not only for nighttime by wearing these black sequined shorts during the day. Next, striped socks peeking out of floral Doc Martens are a perfect combination of punk and femininity. Just add on a striped turban and some fun red sunglasses to complete this eclectic look.
Mostly C's: Emily of Cupcakes and Cashmere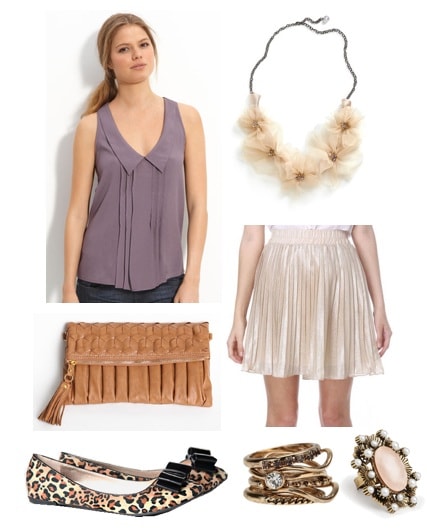 Product Information: Top, Necklace, Skirt, Cocktail ring, Stacked ring, Shoes, Clutch
Emily's style is all about breezy, feminine details, as displayed on her adorable blog Cupcakes and Cashmere. A soft mauve blouse tucked into a pretty pleated skirt is a good starting point for an Emily-inspired outfit. Add on a delicate floral statement necklace for a hint of whimsy. A pretty pair of leopard print ballet flats are a staple in any feminine wardrobe and they pair nicely with this outfit. Complete the look with a simple clutch and a few cocktail rings.
Mostly D's: Shea of Cheyenne Meets Chanel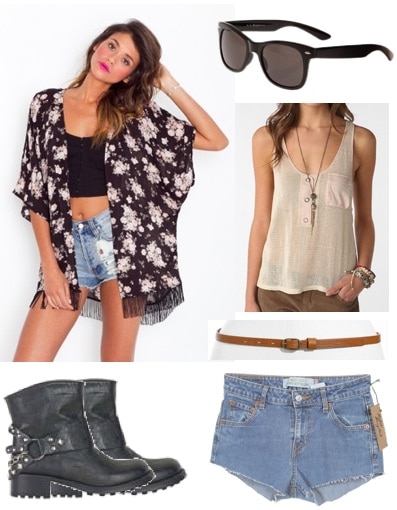 Product Information: Kimono jacket, Sunglasses, Top, Belt, Shorts, Boots
Shea's blog Cheyenne Meets Chanel is a relative newcomer to the blogosphere, but it's already clear that Shea is a fashion pro. I love how Shea mixes her bohemian wear with rocker-inspired pieces, and this outfit captures that same style. Shea is in love with mesh tops right now so this top was an obvious choice. Layer it – and some vintage denim cutoffs – under this breezy kimono jacket for boho appeal. Slip into some black moto booties and finish the outfit with some black wayfarer sunglasses – a Shea signature.
What do you think?
Did you like the quiz? Which result did you get? Do you think your result represents your personality well? Did you like the outfit inspired by your result? Who is your favorite fashion blogger (other than us, of course!)? Do you enjoy these personality quizzes? Please let us know what you think by leaving a comment below!