This post may contain affiliate links, which means we may receive a commission if you purchase through our links. Please
read our full disclosure here
.
Over the past few months, we've done quite a few different quiz posts here on the site, including Which City Best Represents Your Style, What Summer Activity are You, and What Color Should You Wear Today. In honor of back to school, we now ask you, if your fashion sense had to pick a major, which one would it choose?
Just take the fun quiz below to find out which college major inspires your style. Once you get your answer, find your letter and corresponding result below for a sample outfit based on your college major quiz personality type.
Quiz: Which College Major Inspires Your Style?
Quiz Results – No peeking!
Below are the results of the quiz. Don't look if you haven't taken it yet! I've created one outfit inspired by each result to help give you some ideas for what to wear. Enjoy!
Mostly A's: Visual and Performing Arts — Art, Drama, Music, Dance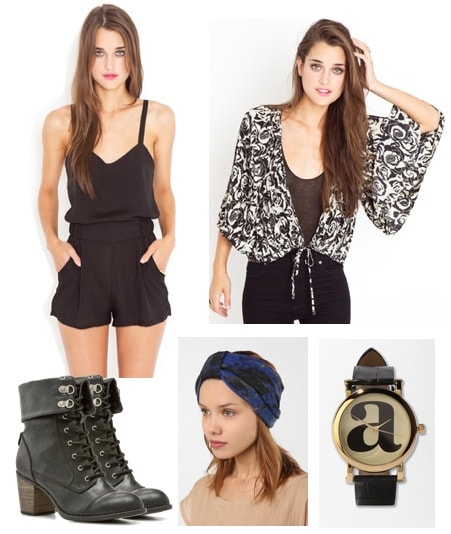 Product Information: Romper, Cardigan, Watch, Turban, Shoes
Artists tend to express themselves through tangible forms, and what better way to do this than through your clothing? The first item I chose for this outfit was the graphic rose print cardigan. I think it has a great relaxed feel to it, yet it is still pretty and delicate. To showcase this bold piece, wear it over a plain black romper. Accessorize the look with a trendy turban, an initial watch, and some fold-over booties.
Mostly B's: Humanities — Literature, Foreign Languages, Art History, Philosophy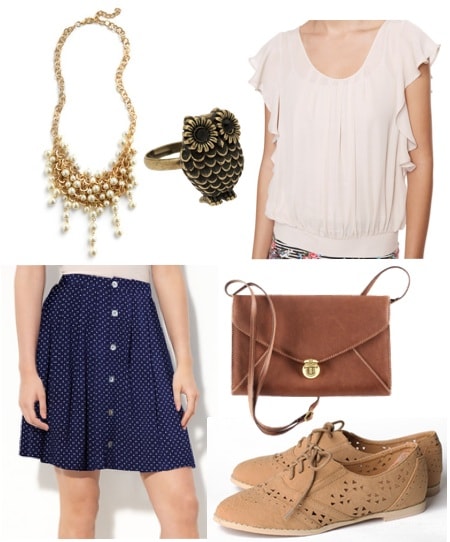 Product Information: Necklace, Ring, Top, Bag, Shoes, Skirt
This outfit showcases the combination of whimsy and sophistication often associated with the humanities. A polka dot button-up skirt, paired with a soft cream-colored top, is simple and polished. The look comes together with a collection of eclectic accessories, namely a pretty pearl necklace, owl ring, cross-body bag, and cutout oxfords.
Mostly C's: Sciences — Biology, Chemistry, Physics, Mathematics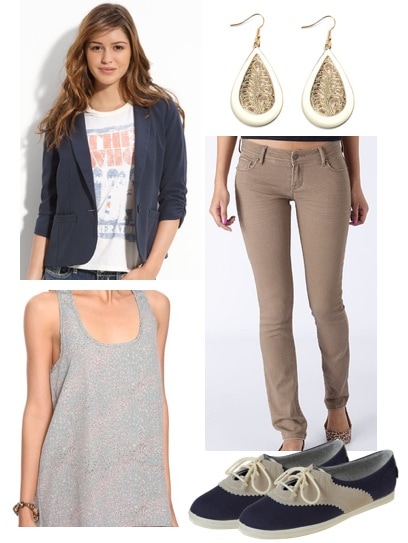 Product Information: Jacket, Earrings, Pants, Shoes, Top
The sciences are all about precision, so a structured jacket and tailored skinny pants were natural choices. Layer the navy blazer over a printed top and accessorize with some simple drop earrings and a pair of oxford-inspired sneakers.
Mostly D's: Social Sciences — Sociology, Communications, History, Political Science, Economics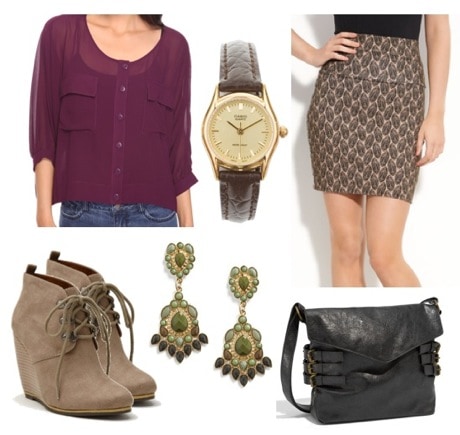 Product Information: Top, Watch, Skirt, Bag, Earrings, Shoes
The social sciences combine elements of science and art. Although their study mandates a methodical approach, the social sciences often focus on people, a subject that mirrors the flexible nature of the arts. Wear this maroon button-up with a leaf-printed skirt to capture this same precise-yet0relaxed feel that is typical of the social sciences. A black bag and leather watch are practical, while these chandelier earrings and wedge booties add a layer of whimsy to the look.
What do you think?
Did you enjoy the quiz? What did you think of your result? Does your style major match your college major, or are they complete opposites? Which outfit is your favorite? Please let us know what you think by leaving a comment below!