It's been over a year since our last quiz that told you which city inspires your style. Many of you asked for a part two, and now we're back with another quiz representing even more cities from across the globe. Both cities themselves and the people who live there are great sources of fashion inspiration – so which one will inspire you this week?
Just take this fun quiz below to find out which city best represents your style! Once you get your answer, find your letter and corresponding result below for a sample outfit based on your personality type.
Quiz: Which City Best Represents Your Style – Part 2
Quiz Results – No peeking!
Below are the results of the quiz. Don't look if you haven't taken it yet! I've created one outfit for each result to help give you some ideas for what to wear. Enjoy!
Mostly A's: Amsterdam, the Netherlands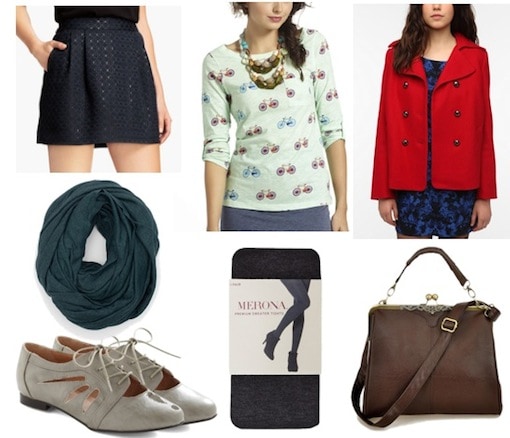 Product Information: Skirt, Top, Jacket, Bag, Tights, Shoes, Scarf
For a look inspired by the charming capital of the Netherlands, I wanted to create an enchanting, feminine vibe. To do this, I paired a mini skirt and gray tights with a bicycle print top that plays homage to the transportation of choice in this beloved European city. Top off the look with a red coat (click the link to see the pleats on the back, too – so cute!) and a teal infinity scarf. Lastly, add on a vintage-inspired satchel and cutout brogues.
Mostly B's: Marrakesh, Morocco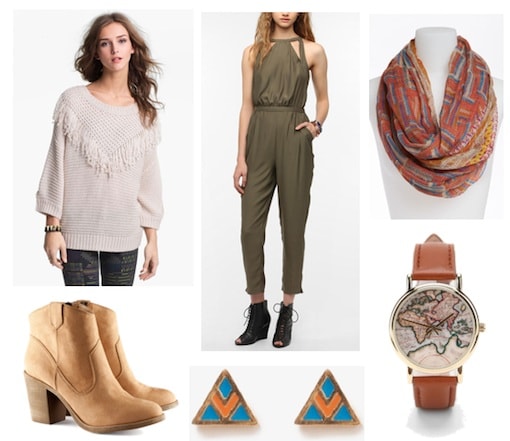 Product Information: Sweater, Jumpsuit, Scarf, Watch, Earrings, Boots
While the natural landscape of Marrakesh is filled with warm, desert hues, the city itself is full of bright, bold, and lively colors. In order to incorporate these divergent color schemes into one look, I started with a basic fringe pullover sweater, worn over an olive green jumpsuit. Pair the look with some neutral tan ankle boots that continue the neutral color scheme. To mimic the vibrant colors of the city, add a brightly-colored, printed scarf and triangle post earrings. Complete the look with a worldly watch.
Mostly C's: Rio de Janeiro, Brazil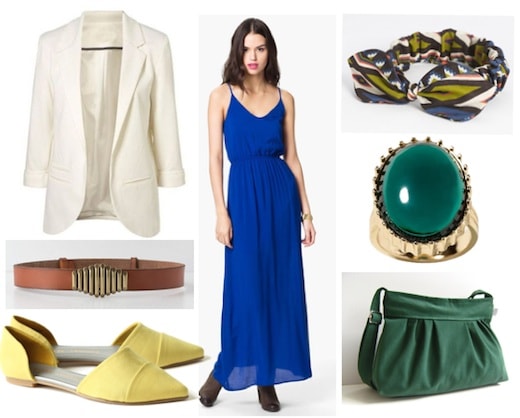 Product Information: Blazer, Dress, Headband, Ring, Bag, Shoes, Belt
Rio de Janeiro is perhaps Brazil's most famous city. Since Rio is a coastal city, the juxtaposition of the green landscape and the blue water creates a breathtaking array of colors, which serve as the inspiration for this look. For this outfit, wrap a belt around a royal blue chiffon maxi dress. Next, add on a crisp white blazer. Finish the look with accessories inspired by the city landscape including a printed headband, emerald bag and ring, and yellow flats.
Mostly D's: Stockholm, Sweden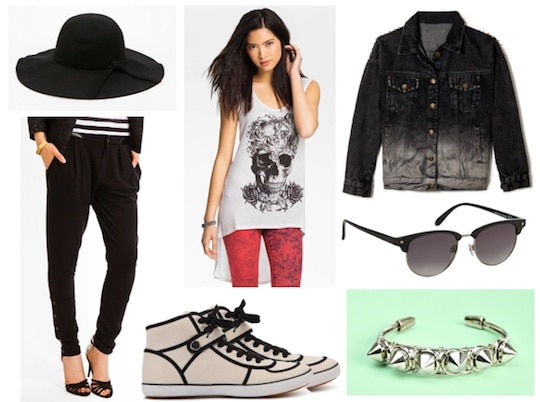 Product Information: Hat, Shirt, Jacket, Sunglasses, Bracelet, Sneakers, Pants
Home of world-famous fashion bloggers and numerous street style trendsetters, Stockholm has established itself as a world fashion capital. For a look inspired by this cutting-edge city, pair a skull printed tank with some loose-fitting black trousers. Next, add on a studded, ombre denim jacket and black hat. Finish the ensemble with some cool sneakers, sunnies, and a spike bracelet.
What do you think?
What was your result? Was it a good representation of your style? Have you been to any of these cities before? Would you like to see more of these types of quizzes in the future? Please let us know what you think by leaving a comment!