This post may contain affiliate links, which means we may receive a commission if you purchase through our links. Please
read our full disclosure here
.
We're back again with another personality quiz. This week's quiz is a fun one – a celebrity style quiz.
Celebrities are a great place to look for fashion inspiration since they have the help of the most talented stylists in the business, plus easy access to the newest fashions. And because there are so many Hollywood stars, you are bound to find a celebrity fashion muse that fits with your personal style.
Just take this fun quiz below to find out which celebrity is your style icon. Once you get your answer, find your letter and corresponding result below for a sample outfit based on your personality type.
Quiz: Which Celebrity is Your Style Icon?
Quiz Results – No peeking!
Below are the results of the quiz. Don't look if you haven't taken it yet! I've created one outfit for each result to help give you some ideas for what to wear. Enjoy!
Mostly A's: Alexa Chung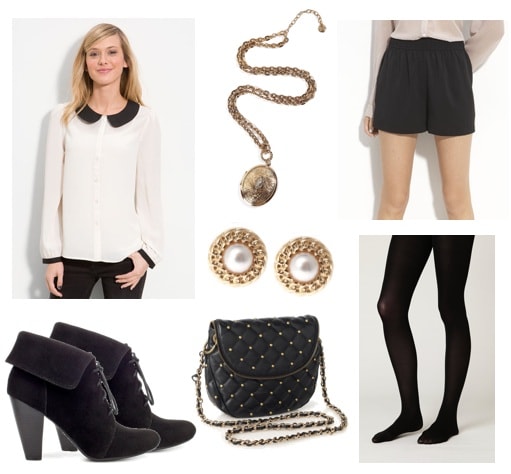 Product Information: Shirt, Necklace, Shorts, Tights, Bag, Earrings, Shoes
To recreate Alexa Chung's sophisticated style, try pairing this peter pan collar blouse with some simple black shorts and some opaque black tights. Alexa loves wearing ankle booties, so any look inspired by this style icon would be incomplete without a pair. Accessorize the outfit with a pendant necklace, some classic studs, and a quilted, studded bag.
Mostly B's: Mary-Kate & Ashley Olsen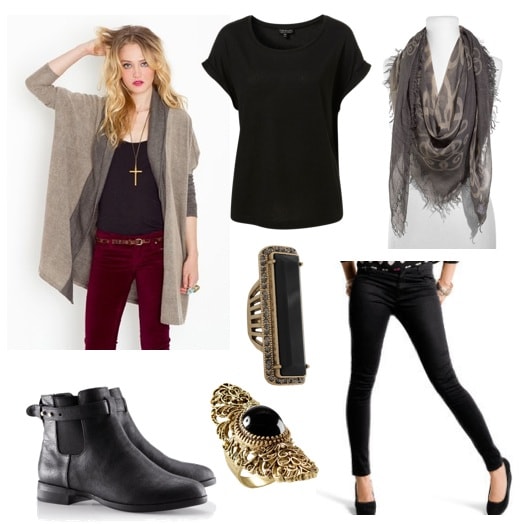 Product Information: Sweater, Shirt, Scarf, Pants, Rectangle Ring, Circle Ring, Shoes
Mary-Kate Olsen and Ashley Olsen were just featured on the cover of Vogue with the title, "Hollywood's most fashionable sisters." For a look inspired by these icons, start off your base outfit with some simple black jeans and a black tee. The twins are famous for their layering abilities, so layer on this knit sweater and printed scarf. Black ankle boots and some statement cocktail rings complete the look.
Mostly C's: Rachel Bilson
Product Information: Jacket, Scarf, Shirt, Pants, Sunglasses, Bag, Shoes
Rachel Bilson's look is simple and classic. A great way to get her aesthetic is to pair a black blazer and striped tee with some simple jeans. Tie a bright yellow scarf around your neck to give the outfit something extra. Rachel is also known for wearing wayfarer sunglasses often, so don't forget to grab a pair as well. Finish the look with a structured bag and some classic cognac boots.
Mostly D's: Taylor Swift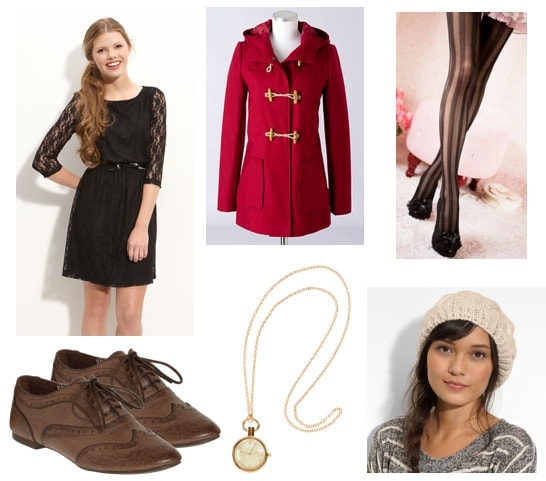 Product Information: Dress, Coat, Tights, Hat, Necklace, Shoes
Taylor Swift's style is girly and slightly whimsical, and this lace dress is right up her alley. Pair it with a bright red coat for a fun pop of color, and try a pair of vertical striped tights to add in an element of whimsy. A crochet beret, brogue shoes, and a clock necklace add the finishing touches to this Taylor Swift-inspired look.
What do you think?
What was your result? Do you think your result matches your style? What outfit is your favorite? What other celebrities inspire your style? Please be sure to leave a comment and let me know what you think!