This post may contain affiliate links, which means we may receive a commission if you purchase through our links. Please
read our full disclosure here
.
It's that time of year again: Valentine's Day is approaching fast! Whether you embrace the candy hearts and punny pick-up lines or feel like February 14 is just another day, there's undeniable hype surrounding this holiday. Drugstores have gone wild with aisles and aisles of stuffed animals and boxes of chocolate, and hilarious valentines are blowing up on social media sites everywhere.
Whether you're hoping to receive some goodies this Friday or if you're planning on buying some for yourself once they go on clearance (that's my plan!), there's no reason why this Valentine's Day can't be your best yet.
If you're feeling at all unsure about what you want to do this V-day, fret not. Take this Valentine's Day personality quiz for inspiration on how to spend the evening and how to dress for the occasion:
Valentine's Day Date Quiz
Quiz Results!
Below are the results to the quiz. If you haven't taken it yet, then don't peek! I've created an outfit for each of the Valentine's Day activities. Scroll down to check them out:
Mostly A's: Romantic Date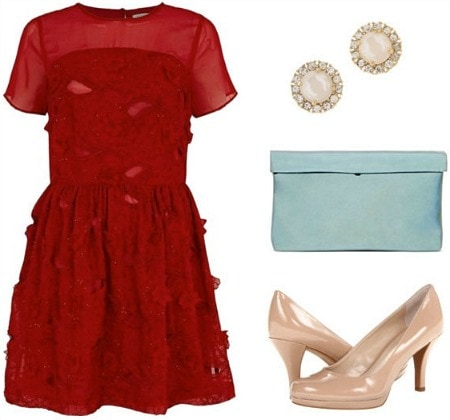 Dress, Shoes, Earrings, Clutch
There's no better way to spend Valentine's Day than on a romantic date, right? This ensemble was inspired one of my fashion faves, T-Swift, and I'm sure this red dress would be right up her alley. The high cut neckline and the delicate embellishments create a sweet and feminine look, while the stud earrings keep things classic and chic.
If it's still unbearable to even think of being bare-legged where you are, be sure to add some neutral tights to warm up the look! When combined with these pumps, your legs will go on for miles.
Mostly B's: Mini Golfing/Go-Karting Adventure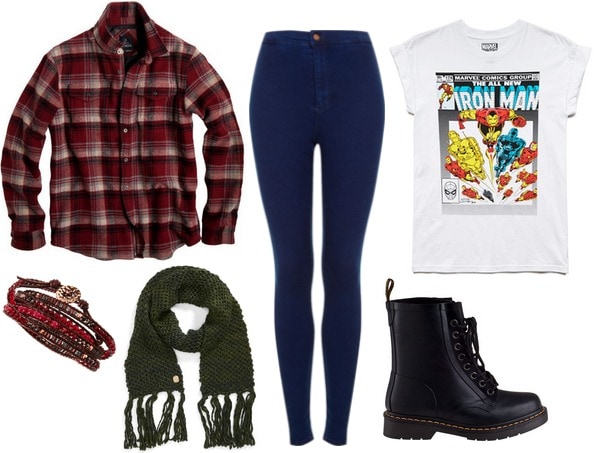 Jeans, Flannel, Top, Scarf, Bracelets, Boots
With all the concession food and arcade games, a night at the driving range or mini golf course is the perfect way to reminisce about your childhood. For this look, I wanted to create a casual and playful vibe. Leaving the flannel open with the sleeves rolled up over a cool graphic tee looks fun and effortless. Now, the flannel I chose for this set is on the pricey side, but I absolutely loved how it looked with the rest of the items. For a budget-friendly alternative, try pursuing your local thrift store! Seriously, you're almost guaranteed to find a good, worn-in flannel shirt.
These combat boots are not only stylish, but are also perfect for pushing the pedal to metal in a go-kart race. A knit scarf and a beaded wrap bracelet add the finishing touches to this fun outfit.
Mostly C's: Movie Night In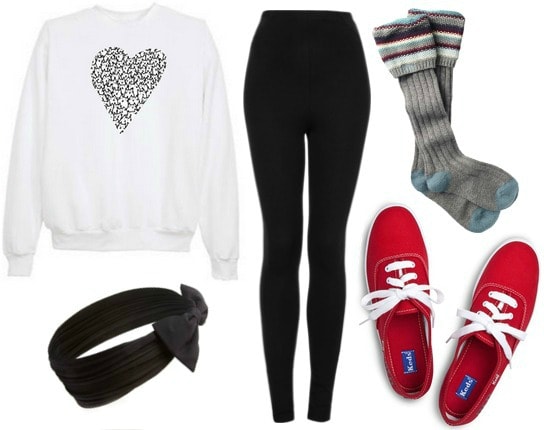 Leggings, Sweatshirt, Headwrap, Ked's, Socks
Let's be honest, sometimes the idea of going out is actually almost painful – especially on V-Day, when restaurants and movie theaters are jam-packed. So I say sit this one out and stay in with your special someone (or closest friends) and watch movies all night.
Leggings are a must for vegging on the couch, and this adorable oversized sweatshirt is super appropriate for the holiday. If you look closely, you can see that the heart is actually made up of cats! (To all my other cat ladies out there… holla.) Don't forget the sneakers and comfy socks, and be sure to pull back your locks with a cute headwrap. Now, snuggle up and pass the popcorn!
Mostly D's: Night Out on the Town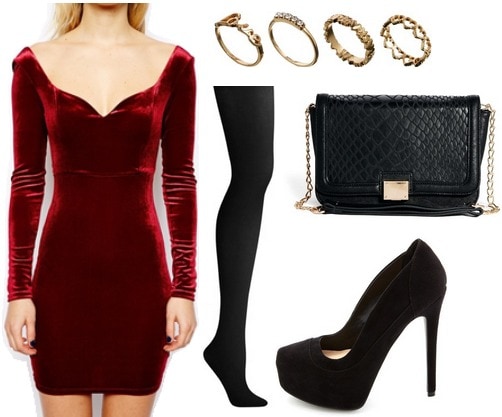 Dress, Rings, Tights, Shoes, Crossbody
Valentine's Day is a great excuse to get the gang together to strut your stuff and hit the town! The big wow factor of this getup comes from the unique material of this body-con dress. Opt for pumps that you can dance in and grab a matching bag. Finish the look with several trendy gold midi rings. You'll be smokin' either way, but pairing this dress with opaque tights also gives you some added warmth.
What do you think?
What are you doing this Valentine's Day? Would you wear any of these outfits? Which is your favorite? Let us know what you think in the comments below!